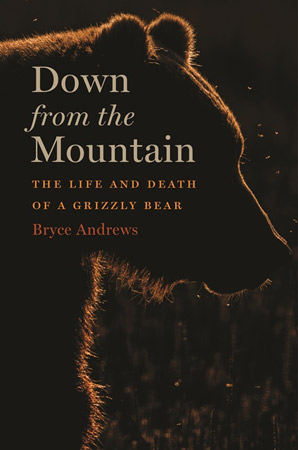 Mariner Books, 288 pages, paperback, $15.99
I admire (and envy) author Bryce Andrews for where he lives, the work he does, the tenacity he displays, and the way he seems to follow both his dreams and his conscience. The conservation work he describes in this book (creating an innovative fence at a Montana cornfield to prevent grizzlies from entering and becoming dependent on the crops) is important for both bears and humans.

However, I still found Down From the Mountain to be a bit underwhelming. While the final 125 or so pages are quite engrossing, the first 150 tend to be tedious. The book's subtitle is "The Life and Death of a Grizzly Bear," and having recently read American Wolf, I went in to this expecting the same in-depth treatment of a grizzly family.

But Millie — the mother bear in question — and her two cubs seem to be an afterthought through the first seven chapters. What you get instead is largely the author's memoir of a summer spent building his electric cornfield barrier.

And again, this is important work, and interesting too — but the focus of the book caught me off-guard. Further, Andrews can be so verbose that powering through the pages tends to become a chore. With better editing focused more on concision, the page count could have been likely trimmed by a quarter or a third.

Still, I read on, and was heartened by the successes Andrews had with his fence; regarding it, I was left with the sense that his trial run has (hopefully) led to further adjustments to his prototype and adoption of it by neighboring farms in Montana's bear country.

When focusing on Millie and her two cubs, the book is far more compelling. But other than Millie's sad end and the fate of her two cubs, very little action is based on direct observation by Andrews. It's hard to fault him for this — grizzlies are difficult to track in the wild. Besides, her day-to-day life in the wild is not the story here. Rather, it is her fate and the implications of humans living in grizzly territory and all the conflicts and conservation issues that arise that make the story. Andrews himself states in the afterword that "Down From the Mountain is braided from research, experience, and invention. All three strands were necessary to make the story whole."

A more honest title and subtitle of this book would indicate to the prospective reader the contents of this book. Because really, it's a good book, and I'm glad I read it. If you love Montana and care about bears, it's worth picking up. If you have an interest in agriculture and/or conservation, pick it up. But if you want a truly in-depth, first-hand story of the life and death of grizzly bears, grab a book by Doug Peacock.