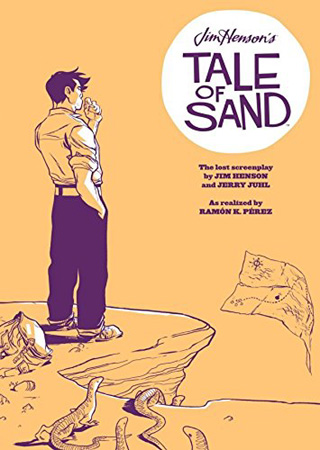 Archaia Entertainment, 120 pages, paperback, $19.99
This is a wild, abstract tale, and as someone who has loved Jim Henson's work my entire life, it adds a new dimension to my impression of the man.
To be honest, I'm not sure what the hell is going on in this story; I don't know why the main character has been dropped into this surreal Southwestern nightmare. But once it gets going, I don't care. Henson and Jerry Juhl loved the desert as much as I do, and it sparked their imaginations. The "why" of this journey is not terribly important; the ride is just as fun without a reason as it would be with.
Ramón Pérez's artwork is absolutely gorgeous. Short of making an actual film, this is the best possible presentation of this long-lost story. Now to delve deeper into Jim Henson's pre-Muppets output — hopefully a viewing of Time Piece in the near future.