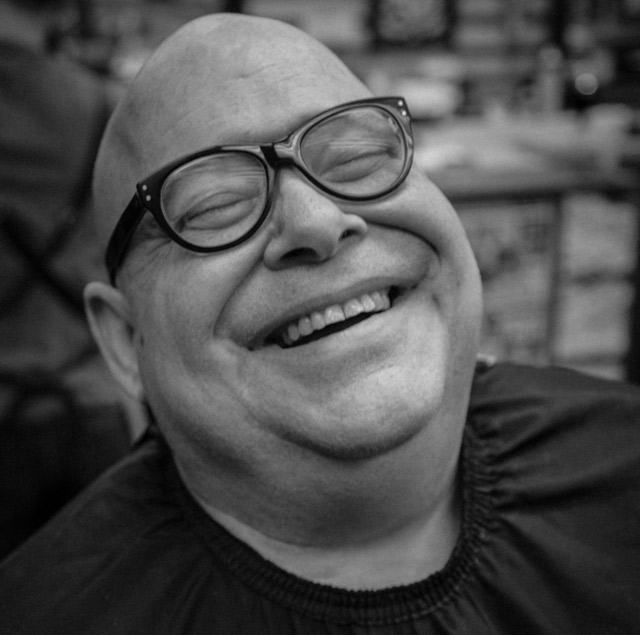 If you're ever in Toronto (and let's face it, millions of people usually are), you should consider checking out k | f | b (Knife Fork Book) when you hit up Kensington Market in the Spadina and Dundas area in downtown area. It's located on the second floor at The Dark Side Studio, (244 Augusta Avenue) and is literally teeming with local, national and international poetry titles, in addition to hosting numerous launch events and readings.
The store, now known as an angelic upstart from coast to coast in Canada, started out in 2016 and has blossomed into one of the top must-read venues for poets from all over North America. This interview was conducted by email with J Kirby, the founder and curator of k | f | b.
What inspired you to start Knife Fork Book, and how have you seen it grow over the last couple of years?
Knife Fork Book is one of those rare happy accidents of time and place. I was juggling contract work as a librarian, and managing digital/social media for a small Canadian press, both under-utilizing my talents, and I thought if I'm going to work this hard staying afloat in my fifties, I might as well do what I want. Even better, my fantasy shop, a poetry-only bookstore, a place I would travel to go to. And, in a very short window, KFB has become that destination.
Our first year in Rick's Cafe was a lot of fun, many, many nights of poetry to remember, starting with poet Hoa Nguyen's Violet Energy Ingots launch (Wave Books) which literally put us on the map our first month. Tonight, in our glorious new digs, we launch Daphne Marlatt. Tonight, I get to say, "Readers, poets, please join me in welcoming, Daphne Marlatt." Hoooooleee, c'mon.
With so many poets converging in large cities such as Toronto, visiting writers read along side local talent on a regular basis. Do you enjoy the merging of local and visiting poets in your space?
No question, the most exciting aspect of 'the job' is the relationships I have with poets and publishers. Not a day goes by without meeting someone new. Today, I was able to book Annick MacAskill/Gaspereau Press debut launch in Toronto, and my in next 36 hours I'll be with A.F. Moritz, Emma Healey, Mikko Harvey, Daphne Marlatt, Mercedes Eng, Catriona Strang, Cecily Nicholson, Alice Burdick, MLA Chernoff, JC Bouchard, Adeena Karasick and countless others who will be at the shop. Yes, I typed all those names by heart. It's a joy.
The publishing community has truly embraced your operation. With the poet marque status of This Ain't The Rosedale Library in recent years, Pages Bookstore, etc., the area in question (Kensington, Queen West) has been in need of a boutique space such as yours.
Well, I love a beautiful marquee, don't you? Two shops book lovers still lament over. There's damn few of us left. Charlie (This Ain't) came in one day, said he'd like to volunteer here, I nearly fell out of my chair. So, I know we're doing something right. Those were the models.
I fucking hate the word "boutique," but it certainly helps that we're a poetry-only shop. As poet Stuart Ross said first visit, "Kirby, you're clearly not in this for the money." And, he's right to a point, that's not my motivator, never has been. What KFB does really well is treat poets, poetry, and publishers like gold. Everybody is this business works their asses off. Nonstop. So you best decide exactly what your reward is. I'm enjoying myself.
You yourself are a poet and create chapbooks on a regular basis. It's all so Ferlinghetti of you. How do you find the time to be book creator/maker, curator and live a life independent of these pursuits?
Ferlinghetti. That Poetry Room. So much to aspire to.
This is year two, still working on the "independent" part. It helps to decide when you're working and when you're not, (again, not always successful, I'm doing this interview). I have a few touchstones/friends essential to making certain I do. And, it's a bad time to ask during National Poetry Month, the behemoth of our existence. Ask me again in another year.
You recently had to move shop and thankfully someone in the hood took you, in so to speak. Could you imagine KFB working in other neighborhoods?
There's no "so to speak," that's exactly what happened, in less than two weeks notice, with a full schedule of readings already booked.
In this instance, it could have only happened in Kensington. Word got out quickly, nobody wanted to see us go, our friends Joseph & Leo at Orbital Arts asked if we knew Audra, we met for the first time, loved what each other was doing. Struck an agreement. It all happened in 10 days, without interruption to our schedule.
We're very fortunate to share space with artist/dancer Audra Simmons who created The Dark Side Studio in Kensington Market (Toronto). It's a glorious dance studio, sunny, spacious, with a lovely salon space in back. Perfect for the variety of our readings/classes/workshops. The poetry shop fits nicely in a little nook at the front window. We're both blessed to be artists with space/businesses that compliment/support each other to do what we want.
We check other spots — always looking, we'd be foolish not to. Four hundred square-foot space in Parkdale on Queen W asking $1,850 CDN. Not bad, but we'd still have to share. We're a poetry-only shop. Unfunded. Our sophomore year. Small, mighty. Killing it.
Vancouver recently had a poetry pop up shop. Do you think that alternative retail platforms such as this are the future of publishing?
Certainly the future of retail, that and shared arts/creatives spaces, cooperatives. That's not really new, and it's not really different than setting up a table at book fairs or at readings, which is still the best way to move books. We do quite a bit of off-site events/sales.
Bricks and mortar rent can be tough. It was an especially harsh winter. It's against the stream of online sales ["deals"], and it's not either/or. It is however imperative that Knife Fork Book is an actual, physical place, a destination for poets/poetry to meet, visit, shop, point to on a map.
Here's the real "deal." We're a poetry-only bookshop with one of the most vibrant reading schedules on the face of the earth. In Toronto. You can't get that online. We're worth the actual retail cost of a book. And a little more.
What are you working on these days? Any personal projects that people should know about and also, where could they get them from?
We just launched three new KFB beauties, Roxanna Bennett's Unseen Garden, John Stintzi The Machete Tourist, and Lauren Turner's We're Not Going To Do Better Next Time, along with our first broadside from Dale Smith's Sons (printed by master printer Kyle Schlesinger Cuneiform Press in Austin). She's Having a Doris Day is in her fourth, final, printing, soon to come out as an audio book, e-book, with a broadside by artist, Philip Hare. We're working on a new line of merchandise, because people want KFB stuff, journals, totes, tees, socks.
We've started a second imprint, wQr, What Queer Reading, focusing on publishing queer poets, edited by the amazing Fan Wu, and our first magazine publication, Not Your Best with concrete poet Eric Schmaltz editing the premiere issue. Our fall roster includes Kate Sutherland, R. Kolewe, and Lynne DeSilva-Johnson.
Also, to make full use of our space, we're launching our Poetry Lab, where poets meet poets, editors, publishers, place/means to practice their writing through workshops, reading groups, classes, peer support.
Yes, it's nonstop. Good thing she's young.
For more information on Knife Fork Book, visit it online here.