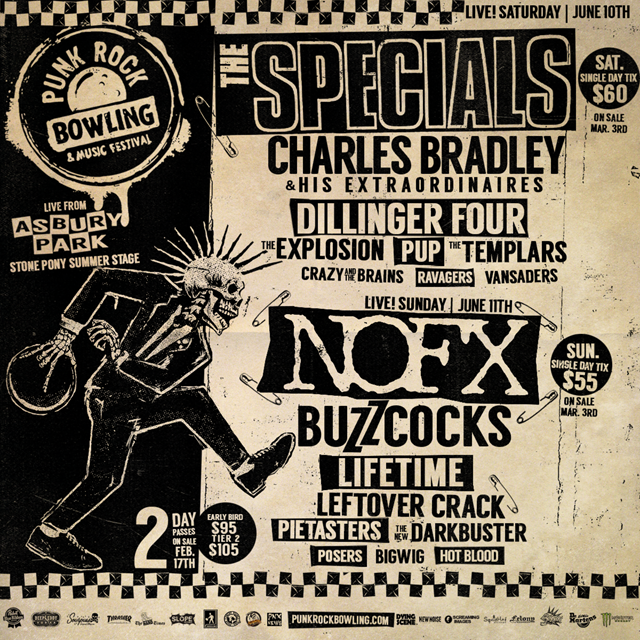 Punk Rock Bowling is returning for the second year in a row to the Stone Pony in Asbury Park, New Jersey. This year's two-day festival takes place on Saturday, June 10th and Sunday, June 11th.
Headlining the 2017 event are The Specials and NOFX, who will be joined by the Buzzcocks and Charles Bradley & His Extraordinaires. Additionally, The Explosion will appear in a rare reunion appearance, as well as Dillinger Four and Canadian upstarts PUP. See the confirmed lineup below, with more bands to be announced soon.
Tickets for Punk Rock Bowling East go on on sale Friday, February 17, 2017 at 4 p.m. (EST). Limited early-bird two-day passes cost $95 (regularly priced at $105).
Single-day tickets go on sale March 3, 2017 at 4 p.m. (EST). Saturday tickets cost $60, while Sunday costs $55.
Saturday, June 10, 2017
The Specials
Charles Bradley & His Extraordinaires
Dillinger Four
The Explosion
PUP
Templars
Crazy and the Brains
Ravagers
Vansaders
Sunday, June 11, 2017
NOFX
Buzzcocks
Lifetime
Leftover Crack
Darkbuster
Pietasters
Posers
Bigwig
Hot Blood
Click here for the full lineup of Punk Rock Bowling 2017 in Las Vegas, Nevada.