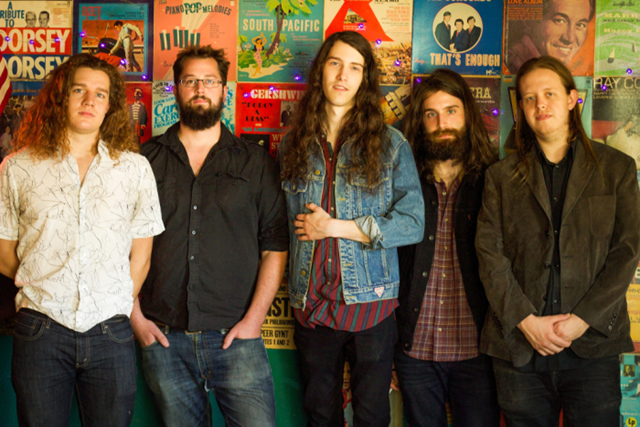 Apollo Wild formed in 2014 in the midst of its collective members major life changes: leaving school, changing cities, starting and ending romantic relationships, and finding like minds with whom to jam. Reece Presson (vocals/guitar) from Texas and Ethan Barton (vocals/guitar) from Ohio met in college in Fort Worth and moved to Nashville upon graduation. They added Alex Rodriguez (drums) from Virginia, Chris Malone (bass) and Parker Donaldson (guitar), both from Pennsylvania, before the latter was replaced with another PA native, Phil Campbell (guitar), nine days before they entered the studio to record their six-song debut, which was tracked at Glass Onion Recordings and produced by JD Tiner & Markus Midkiff.
"The themes of the album as a whole cover growth, fear, loss, love, loss of love, but mainly, ignoring issues that eventually have to be dealt with," says Presson.
Regarding "Shaky Knees," which premieres today at VerbicideMagazine.com, he states, "'Shaky Knees' is the first song I wrote after moving to Nashville. I'd never lived anywhere other than Texas, so there was a lot of uncertainty and anxiety in moving. When I wrote 'Shaky Knees,' I was struggling to make new friends, trying to fit into a new lifestyle, a new job, and was battling some pretty nasty cocaine dependency. The process of writing 'Shaky Knees' actually really helped me work through a lot of the things I was struggling with. The whole song is about connecting to and loving your past, but not allowing that to keep you from jumping headlong into your future. It's a tale of fear, anxiety, nostalgia, but also of exploration, understanding, growth, and ultimately, of conquering. I suppose that, in short, 'Shaky Knees' is my love ballad to Texas, to youth, to family, and to the future."
No Love Lost is set for release on Valentine's Day with a release show in Nashville at The High Watt with Kelsey Kopecky (Kopecky Family Band) and Kneel Jung.