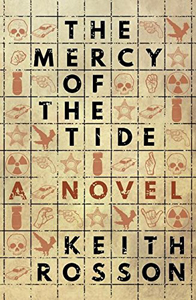 Meerkat Press, 300 pages, paperback, $16.95 (digital $8.49)
Keith Rosson's The Mercy of the Tide, which sees its release in February 2017, takes place in a small coastal town where mutilated animals begin appearing, seemingly sacrificed, on the town's beaches. It then unfurls into a superb monster story of a bygone era to be enjoyed in a new era.
At the heart of the story are Sam Finster, a senior in high school who mourning the death of his mother, his best friend, 19-year-old misfit Toad, and his sister Trina, a nine-year-old deaf girl who denies her grief by dreaming of a nuclear apocalypse as Cold War tensions rise. Then there is Sheriff Dave Dobbs and officer Nick Hayslip who are desperately trying to get to the bottom of the weird goings-on in the town.
The three youngsters mentioned above end up finding a human skeleton at the local park during a normal rainy Oregon day. They immediately notify the police (Nick Hayslip being the first to make it to the scene) and then the police then invite local archaeologists from the local school to come help dig up the bones.
It is quickly deduced that the bones are of a young female and are more than a hundred years old, and that if foul play was a part of the burial, those responsible would be long gone by now.
Nick begins to go into a downward spiral, simultaneously down memories of his troubled past as he descends into the rabbit hole looking into what exactly killed the poor girl buried out in the park. Eventually, he finds a microfiche of an 1860s newspaper which talks about a young native american girl who was found dead near a beach. The body was mutilated to the point of being unrecognizable, and the locals buried her close to that spot. The Native Americans believed it was an evil spirit who killed her.
As soon as the school staff finishes digging up the last of her bones, Sam experiences another personal tragedy – and from here the book barrels toward an epic monster-movie climax. Highly recommended.
Feels like: Dead Zone meets Cycle of the Werewolf
Smells like: Portlandia meets Stranger Things