We're reaching the end. Though we know there is more to come in 2017, the final releases of the Omar Rodriguez-Lopez fourth quarter release extravaganza is nearing. Beyond the fact that having a career's worth of music for some musicians dropped on us is a tremendous gift, these releases have opened a new window into the creativity and talent of Rodriguez-Lopez; and at its close, the man who you thought had no more tricks up his sleeve unleashes his most unexpected venture with the first of these last four releases, Weekly Mansions.
Co-written with his brother Marcel, the opening track of Weekly Mansions is almost a trap. It has to be there just to make you think you're in for a long, strange trip through Ambient Noiseland. Rhythmic drums accompanied by long sustained synthesizer notes drone on and on, as distorted hammerings join a cavalcade of other sounds, leading nowhere until the song drowns out. Disappointment swept across my face at first listen. The next track, "Rotten Straw Lips," opens with what I like to call "muted wub-wub percussion" — just another sign that we have opened another experimental album in the ORL discography. But with the sudden crack of an electronic whip, "Rotten Straw Lips" turns on a dime and welcomes you to Omar and Marcels' electro-dance album — and by fucking god, it is glorious!
The album's 14 tracks alternate between experiential connecting audio, intertwined with fist-pumping, body groove-inducing delight. While many of these connecting tracks do have their own melody and attractiveness, there are seven solid, undeniably delicious tracks that really make Weekly Mansions shine. Even the lyrical trip of the album feels a bit different for ORL; playful in ways, but still cryptic — yet lofty — in others.
"They sat at home in boredom throwing birthdays…out of the window to the rain," are the lyrics to open up the eighth track, "A Little Old Picnic in Fort Co." So strange, though light in ways; it's a mix I never felt I got from Omar's lyrics.  As the song's chorus pumps up and out there is sense of power that comes crashing down as the lyrics and beat meet for one glorious moment: "The tenderness of wolves, you're in their care. You try and nurse the wounds; they're always there…sending thunder." I'll tell you right now, I'm going to be severely pissed if this is the only album of its ilk we get from Omar and his family — bring me part two right now!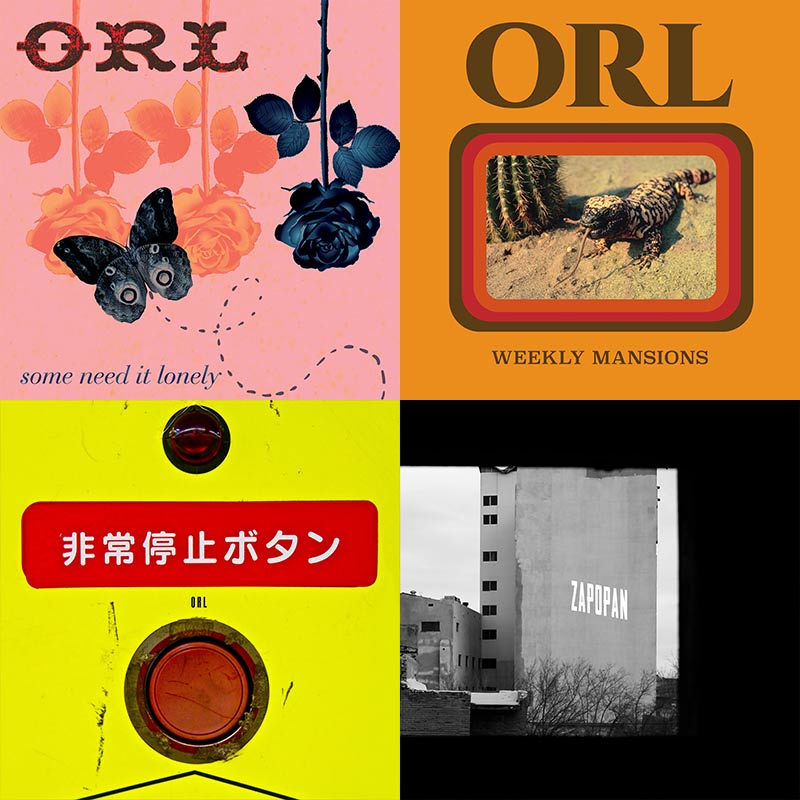 Now don't get overly excited and expect to hear any familiar musical cues from Omar's past works, but I have a feeling that the next release in line, Zapopan, was either the afterbirth of songs that were being prepped for The Mars Volta's Noctourniquet, or maybe the skeletons of the songs being worked on after that album was recorded. I'll get back to that point soon, but I don't want to jump around too much, so let's start with the album opener.
The first three tracks are all one song that you've probably heard. It is the track "Pi4" from those demos again. As each part of the song starts to really build and create a crescendo, the song fades out and the next track picks up 10 seconds down the song. It's still very interesting and listenable, but I do wish the track came as a whole and showcased those top moments that get lost in transition.
The album does take a bit of a turn though at its fourth track, opening up a different sound. Let's have a test: based on that track's title, do you think you may know what it is? The song is titled, "What's left in you." Now, if you were keen enough to recognize the lyric, or scanned ahead just a bit, you'll realize it is another version of "Sea is Rising." This version is 100 percent the track from the demo songs, just with some extra bleeps and bloops added on top. It's still a great song and does its job in opening up the soundscape of Zapopan.
Let's get back to that Noctourniquet quote though. There are tracks littered through Zapopan that feel as if they belong next to "The Malkin Jewel" on some strange lost EP. "Spell Broken Hearts," which is by far my favorite track and houses the most adorable Omar yelp, has that very distinct krautrock sound. If you told me it was a lost B-side, I'd totally buy it, no questions asked. The same goes for ways for "Harboring a Sadist," though it may require a little more of a stretch of imagination to believe it.
Much like the entire release schedule, the final releases, while not bad, don't have the same staying power and melodic balance to hold my interest for a full listen. Nom De Guerre Cabal is a very strange album to me on two levels. For the most part, most of the songs and so oversaturated and loose that I'm not sure where the songs even begins. It's hard to even distinguish the instruments in the songs, and I find myself moving from track to track, looking for something different. The strangest thing though is that I think the title track is not even from the same recording session. It's the one song I really like off the album — but on an album that feels to be built on the trademark staccato percussion of Deantoni Parks (though this is still just a guess on my part), the song kicks off with some very hard-hitting, dominating Thomas Pridgen-like beats. Again, this is not a song that sounds like anything The Mars Volta put out, but it screams to be the book-ending tracks of a Volta album. When you get Nom De Guerre, put the title track in a playlist immediately followed by "L'Via," and tell me they don't belong next to each other in a twisted way.
Some Need It Lonely closes out the release loop in a similar way, as a group of disjointed tracks that never seem to find their footing. The only standout track is the opening song, "Bitter Sunsets," which is actually just a more accessible version of a song with the same title from Nom De Guerre. I can't help but be a little disappointed though. After seeing that title Some Need It Lonely, I really felt like I was in for "Umbrella Mistress: Part 2," but we can't always get what we desire.
All of that being said, this massive audio drop from ORL couldn't have been more successful. As a fan, it far exceeded my expectations as a whole, and it was exactly what I needed. I'm sad it is coming to a close, but thrilled for what is coming next.
(Ipecac Recordings, PO Box 1778, Orinda, CA 94563)