To say I was excited when it was announced that Omar Rodriguez-Lopez was going to unleash 12 albums in the span of a few short months would be an understatement. That being said, I convinced myself that at least half of them would probably be experimental in nature, and probably would contain sounds akin to an elephant making love to pile of steel wool. After being taken aback by the brilliance of the first batch of releases, I was sure my auditory senses were in for a beating with the next slew of albums on the way.
In a spark of glorious fate though, I couldn't have been more wrong. Not only is the forthcoming release Umbrella Mistress a mixture of moody mellowness, intertwined with catchy upbeat swings here and there, it is by far my favorite of these wonderful year-end treats. The album relies heavily on a somewhat somber, but intoxicating, aura. If you've listened to the preview track on the ORL Bandcamp, "Tell Me What I Did Wrong," you'll already understand what I am referring to. However, the true glory of this darkly moving sound lives on the track "Eastern Promises," which acts as a warm blanket wrapping the listener up in low-tone love and soothing vocals.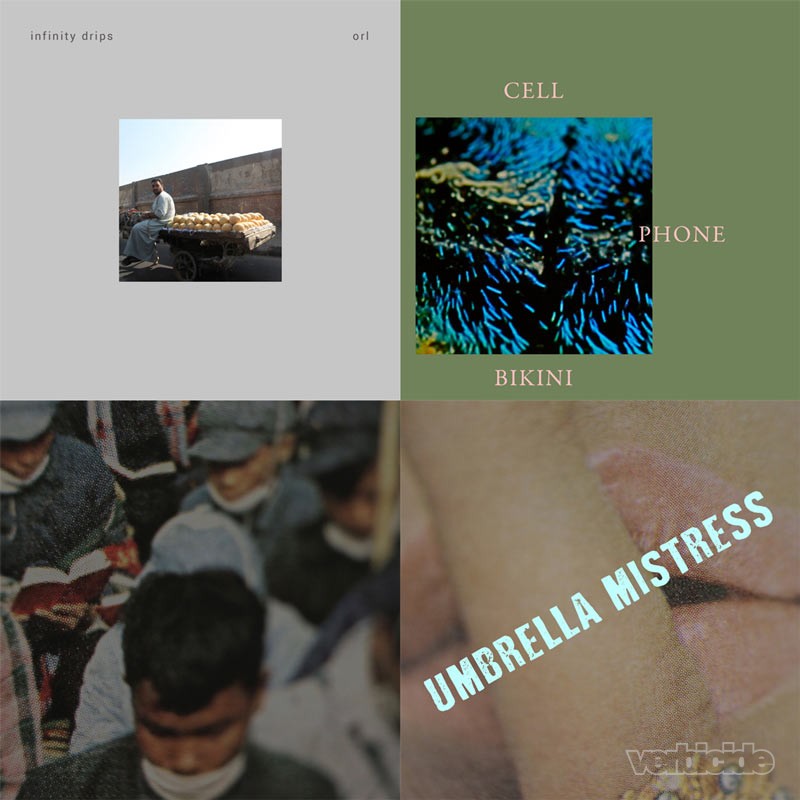 Though these tracks illustrate the overall tone of the album, there are many tracks that burst out of this soundscape, but run so far off that they sound like they belong on a different album. The title track itself oozes with shades of Mr. Bungle, and "Blood Count" kicks off with a creole-esque piano roll that would wake Allen Toussaint from his grave. "Through Wires" starts off with an almost choppy yet crisp acoustic opening that turns on a dime halfway through, housing a searing guitar solo that cuts in like a knife. My only complaint is that it ends too soon; what I wouldn't give for an extra minute or two tacked to the song.
"Winter's Gone" should be familiar to fans, as the song was made available for download when Nadie Sound was first announced. The version here though has a full arrangement behind it and turns up the pop factor to 11. The real gold though is the album's closing track, "Diamond Teeth." Presented in the style of a Vegas hotel lounge act, "Diamond Teeth" is so infectious, I find myself wandering the streets singing along out loud as each chorus revolution comes around. So if you ever find yourself walking around New York City and see some random guy exclaiming, "All these sad, sad songs…will never amount to anything…but if these sad, sad songs should give you hope," don't run from him — it's just me, completely enjoying the shit out of this fantastic album.
The following album in this arm of the release schedule is El Bien y Mas Nos Une. Much more like an amalgamation of Omar's Xenophanes and the recent Arañas en La Sombra, the glowing moments of this Spanish-language album come from those slightly catchier melodies that have been infecting most of these solo releases. The chorus of the opening track, "Violencia Cotidiana," breaks off a bit from the song's more experimental nature. The opening of "Un Acto de fe" opens with what sounds like a newborn sex robot grunting over an a-cut section from the score of Real Genius, if it were produced in China. This chime-infected melody dominates the entire song and is highly addictive. This is the track you'll be hitting repeat on when you first hear the album. Then you'll find your way to "Peridado," and that repeat button will come in handy once again. "El Bien y Mas Nos Une," ends up being a collection of catchy choruses wrapped up in funky synths and your not-so-standard sampler sounds. It's a perfect addition to play in a marathon along with many of Omar's other Spanish-language albums.
Some tunes on the next release, Cell Phone Bikini, will be familiar to rabid Omar fans as more of those "Mars Volta Demo" tracks rear their head. Those the lyrics and vocals for the album were arranged by Teri Gender Bender this time around, songs such as "Amarillo" will be unmistakable to anyone who spent some real time with those "demo" tracks. "Amarillo" is also where the album starts to truly take form. It is followed by "Sell Myself In," another track that entertains the listener from the first second, only to end with a blaring guitar solo that ends all too soon.
Cell Phone Bikini's main weakness is that it takes its time to really get going. Once it does, it doesn't slow down, almost coming off like a mimic of the first of these solo releases — Sworn Virgins sans the electro overtones. It even plays games lyrically in an almost traditional Omar fashion, sharing lyrics across songs between the tracks "Wolf" and "Kisses are Fishes." It does feel that maybe the album would perform a little better as an EP, cutting out the opening two tracks and starting with "Amarillo," but I'm not going to complain or shun the entire thing for a few so-so tracks. It's a rarity for an album from any artist to be filled exclusively with standout hits. By this point, Omar has hit us with six stellar releases, so two or three tracks is not about to bring me down.
That being said, the final release in this next batch of four is definitely more for those looking for the more experimental Omar sound. From its cover alone (an image that some may compare to the back cover of The Mars Volta's The Bedlam in Goliath), it's no surprise that the overall sound of Infinity Drips is inspired by a decidedly Middle Eastern sound structure. With slightly buried vocals encompasses in tabla drums and sitars, Infinity Drips is an acquired taste that will not hit with every fan. Without a doubt, it has it merits and will hold you in for at least one listen through if you're not the adventurous type when it comes to your music. But by the point I tried to delve into Infinity Drips for a second time, my utter love and adoration for the other releases tore me away from even attempting to get to the end for a second time. Though, it's like I said when we started this adventure together — by now I expected to be buried to my neck in experimental releases. At least Infinity Drips has a unique sound to offer, and is not just Omar and his family screaming into microphones while living inside a plastic igloo.
This release structure is an adventure, and I'm all in for whatever is coming next. News has filtered through that there will be a possible physical release of these albums as a large box set sometime in 2017 once all the albums have been released. I say 2017 not because the final release of these 12 albums is coming in December of this year, but because there is actually a still undefined number of albums coming after these initial 12 next year. Yup, 2017 holds another slew of unreleased Omar solo albums — the tap is open and the handle has broken, let it flow.
(Ipecac Recordings, PO Box 1778, Orinda, CA 94563)