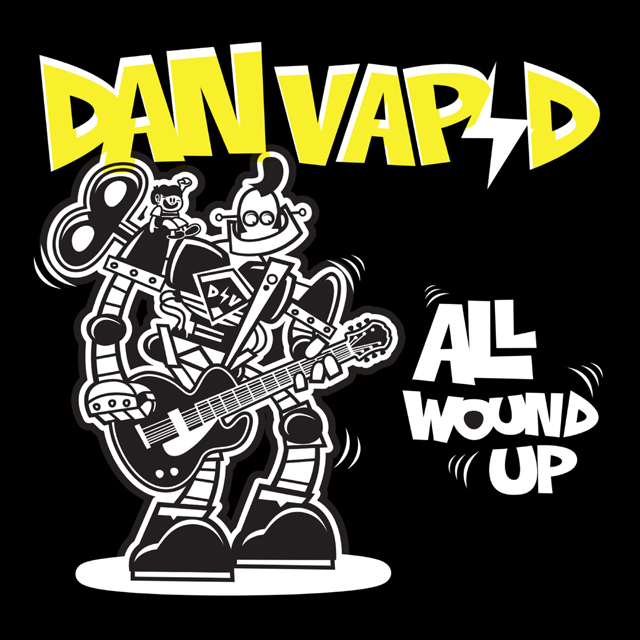 I've been a fan of everything Dan Vapid has ever worked on, regardless of how in-charge of the songwriting he actually was: Screeching Weasel, The Riverdales, The Methadones, Dan Vapid and The Cheats. I love his lyrics and how the things he gets off his chest usually resonate with me big time. However, on All Wound Up (due out September 6, 2016), this is the first time his lyrics don't reflect his own view of the world around him; rather, the album bounces between perspectives that could be held by any little kid and the of parents of said kids.
>On the surface, the music has pop (punk) sensibilities, harmonies and sing-a-long choruses. This is a departure from the other Fun Fun Records releases (such as Koo Koo Kangaroo's Whoopty Whoop) that truly sound like they belong in the children's preschool section of the library. No, All Wound Up (due out September 6, 2016) belongs on punk rock turntables and elementary school kid's iPods alike — preschoolers might shake their booties, but they might not get it.
Below the surface, Vapid weaves his stories with morals and life lessons. A style he perfected with The Methadones, but this time instead of extremely personal battles the themes of these songs revolve around how kids view the world ("I Wanna Play in the Dirt"), to a father's advice on how to live life ("Green Means Go": "Always move forward, and stay true to what your heart is telling you!").
On first listen, I got through the album quickly and without too much fanfare. But as I listen to the album again and again to prepare for this review, I can see how this is probably one of the best, most heartfelt records Dan Vapid has ever released. Some of these songs are so beautiful sonically, which makes them great, but then the lyrics bust in and my eyes tear up thinking about the things I teach my own kids and what they might think when they hear me play these songs.
I hope Dan Vapid never stops recording music, and I hope more than one of those future albums are followups for the younger kids.
Best backing vocals: "I Don't Wanna Eat My Vegetables"
Most charming, heartwarming message: "Green Means Go" (Runner up: "When Seasons Change")
Best chorus: "Gimme Ice Cream"
(Asian Man Records/Fun Fun Records, PO Box 35585, Monte Sereno, CA 95030)