No one was more excited when musical mates Omar Rodriguez-Lopez and Cedric Bixlar-Zavala introduced Nadie Sound – their own label that housed their new project at the time, Antemasque. Along with the announcement was the promise of a vault of backlogged recordings to be unleashed on the public in a calculated and dramatic fashion — but that was it. Nothing really ever came out of the dark that was life-changing or shocking. But now, a true bombshell is being dropped on die-hard Omar fans: 12 never before released solo projects to be offered up by Ipecac Recordings, two per month starting July 15, 2016. What more can a fan ask for?
With the first release, Sworn Virgins, the dedicated fan base was given a nice little treat to whet their appetites. And while that record does have a lot to offer, it is nothing like the utter joy followers will revel in when the next three releases hit.
It has already been mentioned by Omar himself in interviews that the next release, Corazones, started off as music for a film he was working on, and that it is a far cry from what you expect to hear from the mad genius. The morsel that is the track "Running Away" that has been offered on the ORL Bandcamp page is proof of that. That being said, you have no idea what a fucking treat you are in for. Though there are signs of his other work strewn through out, Corazones is an animal I never thought was possible. The third track opens up with an acoustic riff that screams "Trinkets Pale the Moon," from The Mars Volta's Nocturniquet, but swiftly shifts into a flighty ballad of yearning and desire. , it's like a rising sun. The album does a fantastic job of starting off on the right foot, but then refuses to left you go as the second half takes a commanding control of your senses.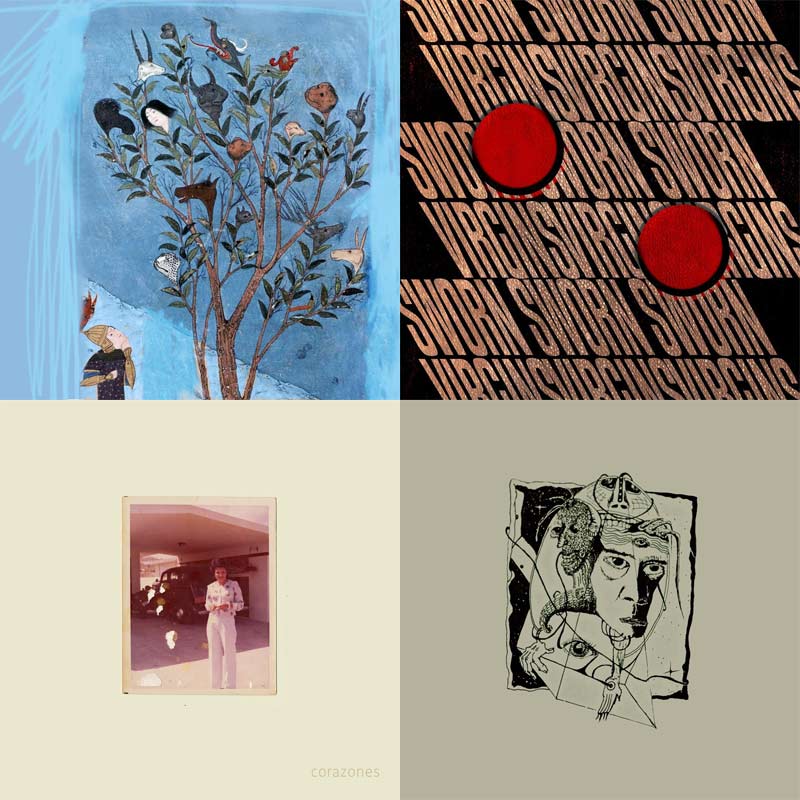 The production on the album is bright and clean throughout, and while the first half of Corazones is a delightful treat, complete with a song you can easily envision as part of the montage of a disgruntled teenage babysitter finding a new side of themselves while caring for a small baby ("Lola"), the album takes a dominant stance of brilliance in its second half, starting with a familiar song to the Omar faithful. "Sea is Rising" already appeared on a previous Omar solo record, Unicorn Skeleton Mask, yet, the version of the song on Corzaones is almost unrecognizable — and brilliant. It sounds like a cut track from Keith Caputo's Died Laughing album recorded during a Tom Waits' percussion session. Another track, "Arrest My Father," is what Reverend Horton Heat would sound like if they wanted to be mainstream music stars. Though they don't exist on the recording, I could hear whip cracks and pop gun pistols going of in the back of mind throughout the entire length of the song. The album never lets the listener down, and the closing two tracks, "Five Different Pieces" and "If I Told You The Truth I Would Be Made of Lies," just solidifies Corazones as a dreamy masterpiece.
While it will be the fourth album released in this 12-album throw-down, let's talk about Arañas en La Sombra for a moment. You may have already heard about this album, but just under a different name, The Somnambulists. Now, I can't really say that it is definitively the intended album it was meant to be when under that title, but let's look at the facts. That album title was announced when the song "Casate Colmillo" appears on the Omar retrospective Telestrion. It was known at the time that Jon Theodore was playing the drums on that track. It is also now known that Arañas en La Sombra contains original The Mars Volta members Ikey Owne, Eva Gardner, John Frusciante, and Theodore. Also, "Casate Colmillo" does appear on the album, except now it is called "Extravagants Dientes." The opening is now a little cleaner, the bass sounds a little different, and the song ends with a nice solo that unfortunately fades out, but it's the same song. The album does show off some traditional Omar tricks, such as multiple tracks that are really one longer song when played back to back. Also, at least two other tracks from those leaked "The Mars Volta" demos that surfaces a few years ago appear on this album. I won't tell you which ones — you'll have enough fun going back and connecting them yourself, even though they are pretty obvious. The album does kick off with a faster speed punk sound, but then settles into a sound everyone will be familiar with, and certainly enjoy, especially songs like "El Vacio" that closes out with a lovely Omar/Ikey jam out.  I should also note that the albums artwork is a piece from Julio Venegas, the artist's whose life and death inspired the story of The Mars Volta's De-Loused in the Comatorium.
While I have no official personnel list to work off for Blind Worms, Pious Swine, the final album of the initial four releases, it sounds like it is simply the Bosnian Rainbows crew with a slightly different sound, and Omar on the lead vocals with Teri backing him up. Much like Corazones, the first half of Blind Worms, Pious Swine does a great job of keeping the listener entertained and interested, the middle of the album hits, and the whole game changes. The sixth track of 11 is titled "Savage Letters," and it sounds like a Mike Patton cover of a Burt Bacharach song, and it's goddamn glorious! Following it up is a track named, "Mariposa," and it literally feels like Coldplay (yes I said Coldplay, but bear with me) and Michael Jackson wrote a song for Flock of Seagulls to record, and there is nothing you can say to make me think otherwise, and nothing you can do to downplay the like-ability of the song!
I have no idea what to expect from the next slew of releases in this wonderful prize pack we are all getting from Omar Rodriguez-Lopez and company, but if it is anything like these first four releases, the world we be a better place, even if Trump is elected.
(Ipecac Recordings, PO Box 1778, Orinda, CA 94563)