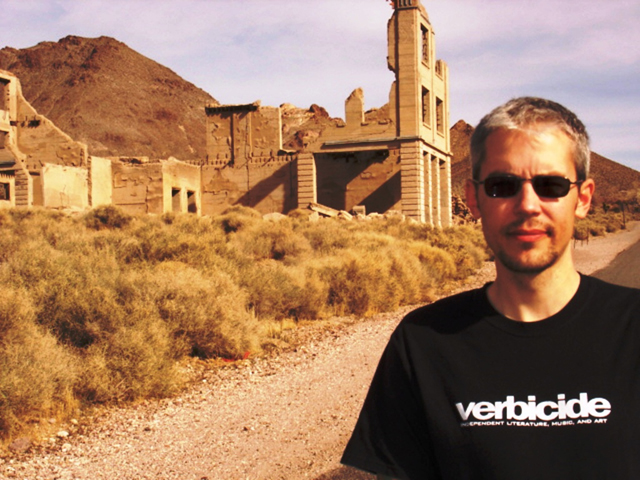 "20 Questions With Verbicide" is an interview series in which an artist is handed a list of more than 100 questions and they select 20 from the list they would like to answer.
Poet and author Raegan Butcher is a longtime contributor to Verbicide and the author of numerous novels and books of poetry, including Stone Hotel, Rusty String Quartet, and Siege of Station 19. His latest book, Fury of the Chupacabras, saw its release on April 1, 2016 via Necro Publications.
What is your favorite musical act of the 1990s?
Everclear. I think Art Alexakis is one of the best songwriters of his generation.
Which city or town is the farthest north you've ever been? Which is the farthest south? (In the world, not just the United States.)
The farthest north I've ever been is Juneau, Alaska. The most south would be Cuernavaca, Mexico.
What is your absolute oldest memory?
Coming out of a coma at the age of 18 months old. I was in a crib packed with ice, and my arms and legs had IV needles sticking in them and were wrapped with surgical tape like a mummy. I was screaming my head off. The nurses, just silhouettes above me, wore those weird hats that made them look like the flying nun.
E-reader or paper books, which do you prefer?
Paperbacks. Everyone says that, but my e-books outsell my paperbacks by about three hundred to one, so somebody likes their e-readers.
What was the first album you ever bought? What format was it in? Do you still have it?
The first album I remember buying was The London Sessions by Jerry Lee Lewis. I have it on CD now, but don't have the vinyl. Pretty much all of my music collection was lost when I went to prison in 1996, but even before that, being a half-crazy person, and frequently homeless, music was very low on my list. I had boxes of books that I carted around, kept in storage under my parents' house and things like that, but music was not a priority.
What is one surprising thing about you that most people wouldn't know?
Jackson Ellis said I was more cheerful and funnier than he expected me to be. I thought that was interesting. I guess he thought, A) I'm a poet, and B) an ex-con, so I must be a serious, grim-faced fellow. But I am a goofball.
Have you ever had a part in a film?
Yes. A very small part in The Year of My Japanese Cousin (1995) with a bunch of Seattle rock stars. It's on YouTube.
If you were to write an autobiography, what would the title be?
This is Not About You, or Ruffling Feathers & Tickling Funny Bones.
What do you believe is the easiest way a person can make the world a better place?
Be nice to old people, little kids, and all animals. Don't litter.
Which social media site do you use/like the most? How can people find/follow you?
I am on Twitter and I check it almost every day. I've been able to communicate with a lot of writers and film directors I really admire, like Joe Landsdale, Eric Red, John Sayles, and Tom Holland. I try not to be an ass-kisser or a stalker — I just tell them I am an admirer of their work. And I must admit, I am always jazzed when Kirk "Sticky Fingaz" Jones from Onxy answers my random tweets telling him what a kick-ass Blade he was in that TV show.
Ever been to prison?
Yes. I spent seven years in various Washington State penitentiaries for armed robbery back in the '90s. You can read all about it here.
Australia or New Zealand?
It would have to be New Zealand. Australia has enough ex-convicts, and they don't want any more  I am not allowed in the land Down Under.
In your eyes, what is your biggest accomplishment in life?
Considering the amount of times I've contemplated killing myself, I'd say just being alive is an accomplishment.
If you could live in any era/time period of human civilization, which time period would you choose, and why?
The American West in the 1870s. I don't mind riding a horse and it would be a lot easier to rob banks.
Who is your all-time favorite author?
Andrew Vachss. Here's why: I've never encountered such an extraordinary combination of strength and compassion. That's what comes through for me when I read Vachss: his compassion.
And forget writing, the man himself is formidable. Everything in his life, from volunteering to go to Biafra in '68 (now there is some heartbreaking history, does anyone remember Biafra?), to his work in juvenile delinquent facilities, to working for the New York City health department tracking syphilis, to all of his work as a lawyer fighting for the rights of children — in all of these actions there is such a clear sense of both toughness and intelligence coupled with compassion.
He is a very moral writer. His writing is hard-boiled but with enormous heart.
What is your favorite charity? What causes do you support?
I have an affinity for rescuing animals because I've spent seven years in a cage myself, so I can relate to their plight. I'd love to be able to donate wads of cash to a lot of places. There is a woman in Kirkland, Washington named Vondell McLaughlin who runs the Washington Ferret Rescue and Shelter located at 12514 128th Lane NE, Kirkland, WA 98034. This lady is an angel. She helps feed and house literally hundreds of aging, sick, and unwanted ferrets. If I had some money to donate, it would be to her and her organization.
I would also give money to the Wounded Warrior Project that gets therapy dogs for soldiers. Homeless shelters are also close to my heart, because even though I never stayed in a shelter, I was homeless many times back in the early '90s and I understand how hard it is to get back on your feet once you've been on the streets.
Did you prefer life prior to the internet and cell phones and social media, or do you think we're better for it?
I liked not having to deal with the phone when I was at work or in my car. I think all of this technology is a double-edged sword. I love using the internet to research my novels, but I am not a big fan of social media, which seems to be making a lot of people into cyber-bullying assholes. And as an artist these days, it feels a lot like high school — there is always someone more popular than you, getting more hits, more applause, more love or whatever. I am only on social media sites to try to promote these books, not to tell people what I ate for breakfast.
What is your favorite film based on a novel by Stephen King?
The Mist or The Dead Zone.
What kind of car was your first car?
My stepfather worked in an auto-wrecking yard, so I could get cars cheap. My first car was a puke-green 1970 Cadillac that I paid $200 for, but even back then in the '80s I couldn't afford the gas for that monster, and so I quickly traded it for a dark green 1974 Chevy Nova.
Where did you grow up?
I grew up in a podunk town in northern Washington called Snohomish, population 6,000. It was a very rural area back then, very redneck, very football-oriented. I was the first punk rocker at my high school and got into too many fights (for my taste, certainly) because of it. I never felt comfortable living in Snohomish as a young man. Now it's overpopulated, overpriced, and everyone who lives there has an over-inflated opinion of themselves. Weird.