Did you forget about Chicago rapper and polyamorous biochemist, Psalm One? Since she just launched her third studio album, P.O.L.Y., it might be time to play a little catch up. A lot has changed.
Always a complex and witty lyricist with weight behind her jokes, Psalm One (AKA "Hologram Kizzie") has grown a lot since her previous effort, and I don't just mean musically. As her album title suggests, the self-described "serial monogamist" has done a 180 turn, embracing the philosophy of polyamory, and with it, supplementing her already substantial flow with more lush productions driven by deeper, more heartfelt artistic collaborations. Central to these collaborations is Rapperchicks, a collective of musicians characterized by their throbbing electro production and warm neo-soul hooks.
This new influence is felt all over P.O.L.Y., which transitions smoothly from sexy serenades to social commentary. As a complete package, it's an interesting change of pace, but Psalm One wears it well.
We caught up with Kizzie to learn more about her album, journey of discovery, and continued commitment to youth education in Chicago's underserved communities.
For your new album P.O.L.Y., you've mentioned being inspired by a recent exploration of polyamory. Not to pry too deeply into your personal life, but how did this come about? How has this new change impacted your musical direction and outlook?
Since college, I've always thought of myself as being more than capable of loving multiple people, simultaneously. When I first told my friends, they shamed me, so like most people who respond to peer pressure, I tucked those feelings away. Serial monogamy hasn't worked as well for me as it has others, so when I was in a relationship that challenged me enough, I decided to give it a chance. This lifestyle change has taken me through so many emotions it can't be anything but healthy.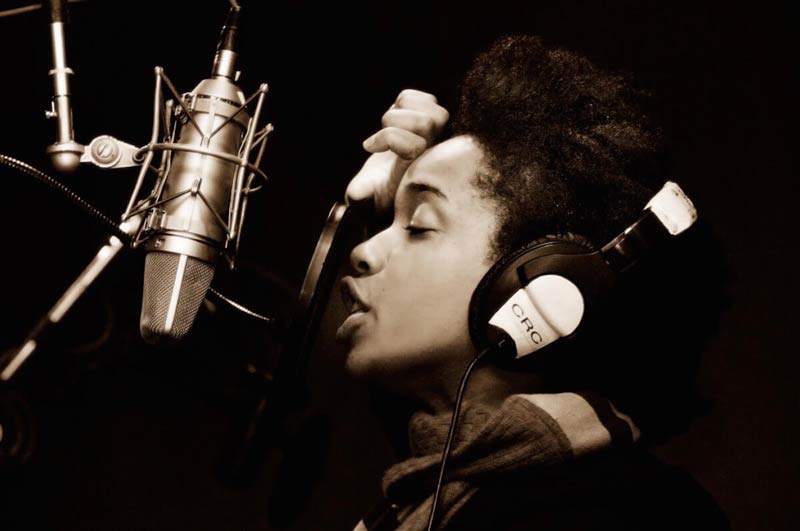 I've learned so much about myself that it naturally comes out in my art. Any true artist is really shining the light on themselves. And I'm not fearful of what people might say or think. I've been through that. So now I'm getting comfortable in telling my story. All sides of it. And I'm more collaborative, so I'm getting all these beautiful minds working with me. I'm honored.
When we last talked to you, you were trying very hard to skirt the line between social criticism and sillier themes. The implication was that you didn't want to come off as preachy. Do you feel like time has changed your focus in that regard? Are you embracing the more personal, socially conscious aspects of your music?
I can't just do humor music. I can't just do sexy music. And I can't just do party music. And for certain, I can't preach all the time. Nobody wants to hear that. So I am always searching for exciting ways to toe the line and say everything I have to say without overplaying any one aspect. With P.O.L.Y. I am definitely speaking more about my relationships, but I'm also commenting on relationships in general.
With songs of mine like "Queen Until" and "A New Phaze," I put the medicine in the vegetables, so to speak. I make music that makes you think while you nod your head. I can make you laugh and I can also make you uncomfortable. I'm just mastering the presentations.
What's the flavor of the current arts and music scene in Chicago? Has there been a shift in the overall identity of a Chicago hip-hop artist since voices like Kanye, Common, and Lupe Fiasco have become a part of the music mainstream?
Right now Chicago is in the spotlight, but it's the same as ever. There are many flavors and it's always been that way. But now there are just so many rappers. Dare I say, there are too many rappers? Quite possibly. But there's so much talent, and the cream usually rises to the top.
We've gone from being underdog to Chiraq though, and that's troubling to me. I have been associated with such macabre themes like our children dying over bullshit, but we do have the spotlight. And the spotlight is important. Kanye, Common and Lupe are veterans, and I'm a young OG. Hip-hop is primarily a youth culture, but we as OG's still need to set an example. So we have something to look forward to if and when the spotlight goes away again. I know I'll still be here though.
What's up with the whole Hologram Kizzie name change, and how did you come up with it?
I was Kizzie Tangents before I was Psalm One. "Kizzie" is a name I got from Kunta Kinte's daughter from the legendary Roots saga. Google it. When I was looking for a pseudonym I just looked to my past. And I slapped a Hologram on it to look toward the future. This allows me to stay in the moment. Kizzie means a lot about my growth and how much I've grown since being signed to Rhymesayers.
Break down the mud wrestling-filled experience of making the "Plenty of Wins" music video.
This mud wrestling idea had been with me for over a year. The timing just wasn't right until this summer. We had the concept already: that I would think about a career in mud wrestling after rap. We wanted to make it serious and funny at the same time. I think we achieved it, and the addition of my Rapperchicks was the icing on the proverbial cake.
You are an academic with chemistry chops with real ties to philanthropy. For the unfamiliar, break down your involvement in Rhymeschool. Why have you championed this and other initiatives like "Child Support" to engage young people?
Rhymeschool is an after-school mentoring program headed by myself and my friend Fluffy. I partner with the Intonation Music Workshop to bring this program to Chicago Public Schools in underserved areas.
Music — and especially rap — has a huge global impact, and kids in the hood are very susceptible to images of rappers that aren't real. I am committed to showing them educated, hood-raised, world-traveling musicians who use hip-hop as a way out and a way into even more opportunities. I'm living proof it can be done — you don't have to be a celebrity to "make it," and you don't have to do what everyone else is doing.
Before you committed to music full-time you had a lot of jobs. What's the worst job you've ever had?
The worst job I ever had was being a phone operator for a cold call company. It sucked speaking to people who didn't wanna speak to me, and I only lasted about a month.
If you could look back and give any advice to The Death of Frequent Flyer-era Psalm One, what would you say?
Just because record label executives say they're interested in your career, and say you're family, it doesn't mean shit. You have to take charge early, in every aspect, and don't let anyone keep you waiting with empty promises.