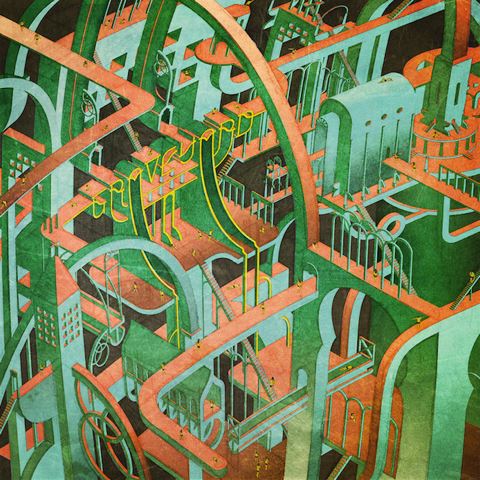 These Swedish proto-metal masters have refined their sound over the course of four studio albums, and their newest one continues down the path they started many years ago. The band is at the top of their game, infusing their doom rock with nods to the blues, soul, and even an honest-to-goodness blast-beat in one of their songs. (More on that later.)
The heavy blues influence shows up in songs such as "Exit 97" and "Too Much Is Not Enough," which have a late night mournful feel to them. Graveyard are masters of subtle dynamics, allowing these songs to slow-build into a ripping and cathartic guitar solos. In addition, "Too Much" features some soulful female back-up vocals, which add a nice emotional heft to the song.
But it's not all late night confessionals for them.
Opening track "Magnetic Shunk" is a dirty, boogie-laced song about getting nasty in many different ways. "Can't Walk Out" features a driving, high-energy beat, as well as some ripping lead guitar. "Never Theirs To Sell" is high-impact ancient metal.
But the truly WTF moment shows up in the middle of "From A Hole In The Wall." The song starts at up-tempo pace, then breaks down into feedback — and in the middle of that feedback, drummer Alex Sjoberg unleashes a blast-beat that sends the song back into its raucous finish.
Innocence & Decadence contains songs for the party, and the inevitable comedown that follows. Graveyard has managed to keep their sound fresh by adding a few twists to their music, making them one of the finest purveyors of this types of sound, along with their label mates in Kadavar.
Plus, did ever think you would hear a blast-beat on a proto-metal record? I don't think so.
(Nuclear Blast, no address provided)