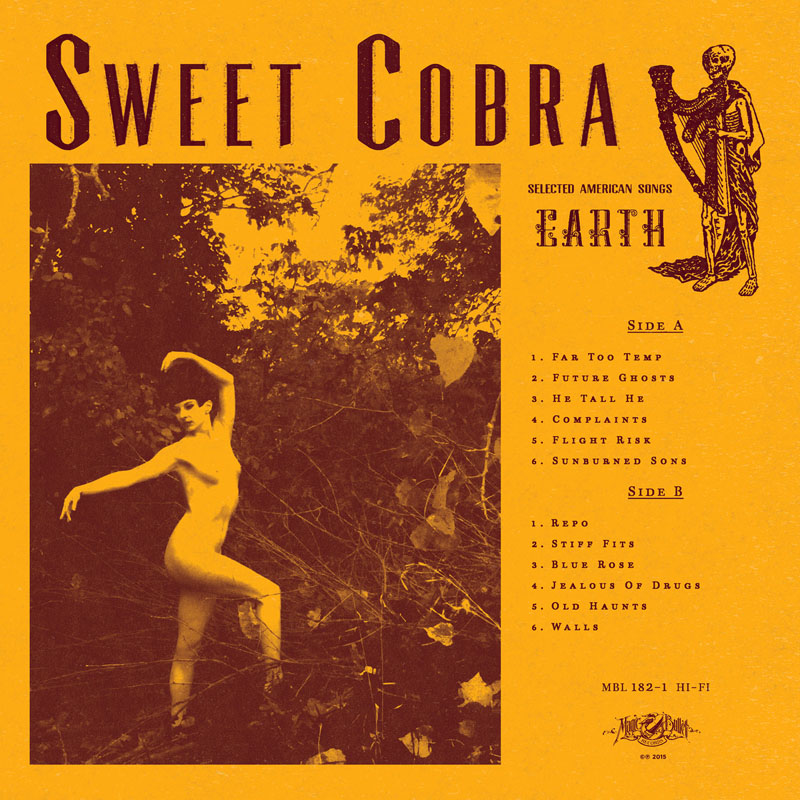 The last time we heard from Chicago's Sweet Cobra they had just lost one of their band members to cancer, Matthew Allen Arluck, and had released the excellent Mercy album, which was a fitting send off to their fallen brother.
But instead of calling it quits, the three remaining members (guitarist Robert Arthur Lanham Jr., drummer Jason Gagovski, and bassist/vocalist Tim Remis, aka "Botchy Vasquez") decided to soldier on as a three-piece, and reinvent themselves in the process.
Five years later, we have an excellent new album in Earth that showcases their growth as a band. They are still very noisy and loud, but they have added touches of melody and hard rock muscle to their sound. In addition, Remis's smooth vocal delivery makes them stand out in a field of bands where everybody is trying to out-rasp the other one.
"Far Too Temp" opens with a fuzzy riff and some driving rhythms from Gagovski and Remis, which splits the difference between noise punk and hard rock. "Future Ghosts" throws a little mathy post-hardcore into the mix, while "He Tall He" is a straightforward, fuzz-drenched, hard-rocking punk number. "Complaints" adds some touches of pop and New Wave into the heavy mix — think of it as Devo gone grunge. "Repo" launches into space rock territory, while "Old Haunts" is noisy punk embellished with evil-sounding keyboards.
Earth is an excellent reintroduction to a vastly underrated band. Sweet Cobra has managed to push their music into new directions while still retaining all its wallop. That's quite an accomplishment.
(Magic Bullet Records, no address provided)