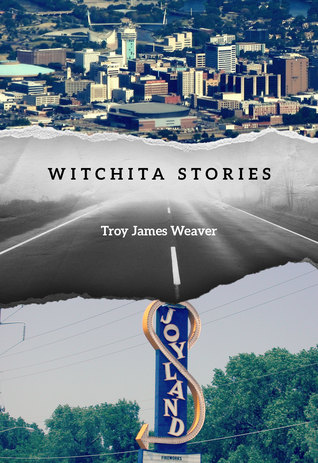 Future Tense Books, 200 pages, paperback, $13.00
Troy James Weaver's career is just starting, but he has already mastered a peculiar style of storytelling in which economy of language is in direct negative correlation with depth of emotion. Weaver prefers short, sharp lines and the kind of stories that can be told in less than two pages, but the amount of feelings and memories he's able to cram into each literary morsel puts to shame much larger works. In Witchita Stories, pain, childhood, familial strife, drugs, and sex collide in a narrative that dances between being a somewhat cinematic trip to the wrong side of the tracks and a thinly veiled autobiography.
Witchita Stories is a collection of vignette-style tales that follow the early years in the life of a regular, working class kid from the Midwest. The short stories are about growing up and learning what life, love, loss, and pain are all about. From fights and first kisses to learning about death and familial horrors, the stories presented are very relatable, and the author's knack for straightforward prose full of meaning allow each fragment to hold an incredible wealth in terms of melancholy. Told in a variety of formats that include microfiction, short stories, and even lists, this collection shifts between hilarity and sadness with the same ease that real life does, and that makes it special.
The beauty of Witchita Stories is that suffering is presented nonchalantly and without the interference of grandiloquent literary snobbishness. The writing here is as close to truth as fiction gets. Weaver's honest, direct approach bring his writing to that strange level in which the words on page cause the reader to nod in recognition because what is being told is something they have gone through or at least know someone who has:
"Then puberty came on like a plague. I started taking Prozac and listening to music that reflected my feelings through its feedback. I hid further inside myself, deeper into my guts, because I knew it would be nearly impossible for anybody to find me there. I felt comfortable in this sadness, alone, deep down in the void of myself, laid out on top of pitiful pillows in a dirty bedroom, where I never found any kind of useful sleep or even rest from the misery of being me."
Drugs and music are just two of the cohesive elements that make this collection of short stories read more like a novella. While those external, nonhuman elements would have been enough to make Witchita Stories a strong, satisfying read, the characters that populate it are just as crucial in achieving that. A the veteran father moping around the house while submerged in his questionable sanity, strange friends and acquaintances who leave an indelible mark and then fade as quickly as a bruise never to be seen again, and an older brother who is a powerful, shaping presence that constantly struggles with a throng of inner demons are all denizens of the too-real world Weaver has created, and they all serve as vehicles for memories and lessons.
From the bizarre to the gloomy, Weaver is not afraid to explore/expose anything, and the result is a book that makes the reader feel like he or she is sitting at the table with a friend full of stories and confessions. There are crushing, emotionally gritty passages, plenty of violence, and some humor, but there's also an uncanny kind of poetry that places Weaver at the head of the new batch of authors to watch:
"You ever smoke coke-dusted weed? Shit, the guy didn't even tell me what it was until after we smoked it. Luckily I didn't freak out like I thought I would. It was just like there were these tiny angels climbing up and down a million microscopic structures crosshatched in my veins."
Witchita Stories is a life presented in words. It's a collection that is read quickly and sticks around because it's packed with an array of emotional punches that leave the reader stunned. Weaver is fast becoming one of the most remarkable voices standing at the crossroads of literary fiction, noir, and the kind of writing that defies categorization. If you like stories wrenched from reality and presented without filters, this one is not to be missed.
—
Gabino Iglesias is a writer, journalist, and book reviewer living in Austin, TX. He's the author of Gutmouth, Hungry Darkness, and a few other things no one will ever read. You can find him on Twitter at @Gabino_Iglesias.