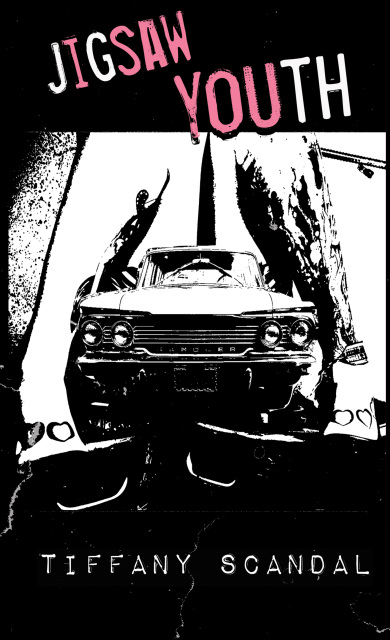 Ladybox Books, 166 pages, paperback, $11.95
Tiffany Scandal's Jigsaw Youth starts with two women making out. Then a relationship traverses the treacherous space between initial magic and that painful point where someone has to utter the words "No more" with tears in their eyes.  There's also drinking and cleaning and cheating and very awkward moments and magical moments and stripping and the birth of ghosts of decisions not made. Then the first chapter is over and the aftermath is probably the same regardless of the reader: someone wondering where Scandal came from and immediately turning the page to read whatever comes next.
Jigsaw Youth narrates the fragmented life story of Ella, a woman inhabiting a triangle of Otherness: she's female, Chicana, and a lesbian. In vignettes that ply around with chronology and range from her school days to her early thirties, the narrative explores Ella's love for music, a few of her relationships, the experiences she has in the world as an attractive, heavily tattooed woman who's a Suicide Girl, and the way her friends and family react to her coming out. Told in a straightforward way sprinkled with philosophical morsels, this is an outstanding novel about life on the fringes that feels like superb fiction while also presenting some apparently autobiographical details.
Scandal's prose is direct and uncompromising, but the true beauty of Jigsaw Youth comes from the fact that she manages to blend together sexuality, pain, the importance of memories, and Otherness in a way that said things act as the narrative's cohesive elements while simultaneously making it clear that they are all much bigger than the narrative framework in which they are presented. In a way, this short novel is the literary equivalent of a perfect Riot Grrrl song; strong, loud, clear, and possessing a strange, lingering power that makes the reader aware of having read something meaningful.
"We were there with a group of friends. Each time Hope and Los Angeles got up, the others would shoot me a glance. I don't know if they actually looked sad, or if I just saw them that way. I looked away at the stage. Fake blonde. Fake tits. Fake face. The dancer flirted with the audience. I imagined her smiling that same forced smile, perfect teeth, carving 'I hate everything' into my skull."
Ella is a very strong, likeable character, and her experiences can be easily extrapolated to anyone outside of the realm of the socially acceptable. In that regard, Jigsaw Youth is a novel about difference and the plethora of unfair, idiotic ways in which mainstream society tends to react to it. Interestingly, the fact that Ella is an attractive woman allows for a powerful contrast with the other parts of her identity. She's been made strong by her struggles, but that doesn't earn immediate acceptance once her homosexuality is known or respect from men who see her as a piece of meat that should conform to make-me-a-sandwich mentality. Against all these obstacles, she emerges as a voice of reason, a force that stands loudly against injustice, a woman who understands that the "rules" are stupid and unfair and need to be destroyed:
"There are unspoken rules that women are expected to follow. Be good. Stay close to home. Never question anything. Be afraid. Never fight.
We don't live that way.
We are human beings and not anyone's property. We don't owe anyone anything. We make our own rules and break them whenever we feel like it."
Jigsaw Youth is Scandal's second book, and it cements her as a raw, crucial voice in the crop of upcoming writers that have decided to keep the beauty of literary fiction intact while allowing their work to share the blunt authenticity and sheer entertainment value of genre fiction. Also, as part of the first wave of books from Ladybox, which only publishes work from authors who identify as female, this novel proves that the press, much like Scandal, are here to make a lot of noise, change things, and stick around.
—
Gabino Iglesias is a writer, journalist, and book reviewer living in Austin, TX. He's the author of Gutmouth, Hungry Darkness, and a few other things no one will ever read. You can find him on Twitter at @Gabino_Iglesias.