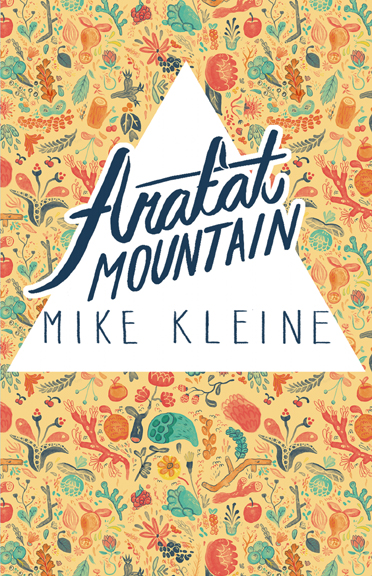 Atlatl Press, paperback, 166 pages, $9.86
Books that try to encompass a lot are usually very thick. Not Mike Kleine's Arafat Mountain. In this relatively thin novel, Kleine tackles everything from the mountain that gives the book its title and the lives and deaths of a few characters to alternate realities and the things that happen in the universe. Told in short, sharp chapters that obey only their own format and sometimes encapsulate an entire narrative that may or may not be loosely connected to the rest of the book, Arafat Mountain is at once an entertaining novel and an exciting literary experiment.
In Arafat Mountain, there is a mountain, a few characters that go to a château, someone watches a Woody Allen movie and cries, a plane disappears, and there's a lever that shouldn't be pulled. However, encompassing everything that appears in Arafat Mountain in a synopsis is impossible because the book does a good job of encapsulating a wild variety of stories, facts, spaces, times, and realities into its 150 pages. Instead of writing about one thing for a long period of time, Kleine wrote about everything for a blazing second and moved on. The result is a bizarre narrative that is about nothing and everything at once; a novel that speaks about very little things and ends up being about life and death, murder and humor, and things that never happened:
"Cormac McCarthy releases Blood Meridian 2. Tintin falls off the face of a cliff. Saturnin from Kuala Lumpur discovers Gnostic Realism. Basilides the man is banished to 47 Ursae Majoris. Munt'Aal-Piil the god begins his ascent, from the depths of the ocean. Peter Weir explains the ending to Picnic at Hanging Rock. In New York City: squid guts, everywhere. 9/11 never happens."
Kleine is a talented author with a knack for phrases that jump off the page and writing that clearly points to elements outside his work without fully revealing what they are or explaining them within the context of the work at hand. These things make Arafat Mountain both a challenging read and a beautiful celebration of language and imagination.
"Words begin to appear in the cornflower blue sky and somewhere far far away — in the Tucana Dwarf Galaxy — a woman kills herself."
One of the best things about this novel is that the poetry it contains and the apparently never-ending array of ideas and situations the author presents serve as a mask for the mayhem, violence, and destruction that lie underneath. Between looks at the universe and the acts of a few deities, it's easy to ignore that there is a lot of blood here. Accidents, shotgun blasts, invitations to suicide, death that comes at night, birds that fall from the sky, and bruises are all present here, and they contribute to making the narrative both eerie in unexpected ways and more multi-layered.
Arafat Mountain is about a lot of beings, places, and things, but the thing that makes it special is that it's also about us, the things we do, and the things we don't do. What Kleine does is present us with both the vast array of possible and impossible things out there and then show us how we, in the face of all that, merely go online and "search for palm trees and things like that." Ultimately, pointing that out also becomes an invitation to stop wasting time on nonsense and spend it reading this bizarre novel.
—
Gabino Iglesias is a writer, journalist, and book reviewer living in Austin, TX. He's the author of Gutmouth and a few other things no one will ever read. You can find him on Twitter at @Gabino_Iglesias.