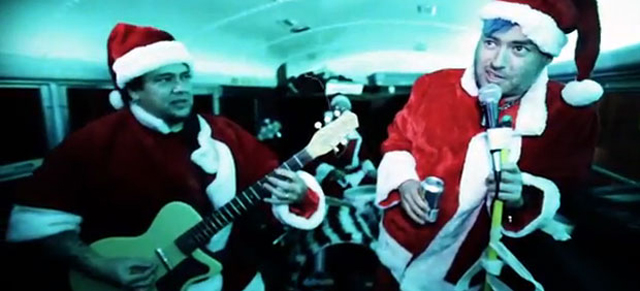 During the month December — rather, from the day after Halloween until mid-January — shoppers and wage-slaves alike are assaulted with Christmas carols nonstop. While there are some excellent Christmas tunes out there, sometimes you need something a little more aggressive to get through the holidays.
Fortunately, punk rock and Christmas go together like peanut butter and jelly. You wouldn't think it, but there are tons of punk holiday tunes floating around out there. Here are 20 of them for you to sample.
The Ravers, "(It's Gonna Be A) Punk Rock Christmas"
One of the earliest punk rock Christmas tunes around, recorded in 1977 by an otherwise obscure band.
The Vandals, "Oi! to the World"
"Oi! to the World" is the title track of The Vandals Christmas album, released in 1996 on Kung Fu Records. A year after its release, the song was covered by No Doubt.
SSD, "Jolly Old Saint Nick"
A great track from a classic Boston hardcore band. This song was part of the "A Boston Rock Christmas" compilation, released back in 1983.
Impact, "Punk Christmas"
Also from 1983, this is Impact's "Punk Christmas" from their holiday EP — the only album they'd ever release.
The Dickies, "Silent Night"
A song about the birth of Jesus Christ never sounded so snotty.
The Showcase Showdown, "Ho Ho Ho Chi Minh!"
A true Christmas classic. On the flip side of The Showcase Showdown's 1995 Christmas EP is a lovely tune called "Merry Christmas, I Fucked Your Snowman."
Phenobarbidols, "O Holy Night"
"O Holy Night" by Phenobarbidols is taken from a punk rock Christmas comp released in 1995 called Happy Birthday, Baby Jesus. Still, I like this version better.
The Muffs, "Nothing For Me"
Another track from Happy Birthday, Baby Jesus, courtesy The Muffs.
The Damned, "There Ain't No Sanity Clause"
A single from 1980 released during what was arguably the peak of The Damned's popularity.
Stiff Little Fingers, "White Christmas"
If this overplayed holiday staple makes you want to scream every time it comes on, don't listen to the track below. Even SLF can't save it. They give it a valiant effort though.
Page 1 of 2 — Click Below for Page 2