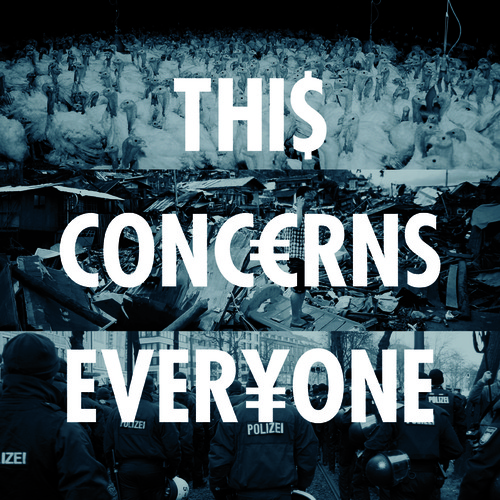 On November 18, 2014, A-F Records released This Concerns Everyone, a 15-track compilation of acoustic protest songs. Originally conceived as a four-way seven-inch split between Chris Stowe, The Homeless Gospel Choir, and Chris #2 and Justin Sane of Anti-Flag, the musicians were given the guideline: "One take. One voice. One instrument." The idea blew up, attracting artists like Rage Against the Machine's Tom Morello and Rise Against's Tim McIlrath, among others.
One thing that sets this compilation apart from any other is the quality of recording. Low-fidelity is apparent in every song because they were mostly recorded on cellphones. On Chris Conley's (Saves the Day) track, you can even hear the clicking of a cellphone recorder at the beginning. Despite this, the voices and guitar are clear and you can make out every word that is sung. Sound quality isn't important — it's the feeling or message you get from a song that matters.
Protest songs have been around for centuries, but listening to This Concerns Everyone brings to mind the protest songs of the folk movement in the 1960s, especially Chris #2's cover of "What Did You Learn In School Today?" by Pete Seeger.
Every song is powerful in its own way, but my personal favorite track off this compilation is Anika Pyle's (Chumped) song "Ugly," because it's a more of a social commentary than a political statement. Pyle sets a scene of a girl out in public and the men who creep on her, so she has to make herself ugly "so you stay the fuck away."
The concept of This Concerns Everyone can inspire anyone to pick up an instrument and write a protest song of their own, which could set off a chain reaction and revolutionize music. In an age where popular music is overproduced, there's a need for a movement that's cheap and simple, and you don't have to leave your living room.
(A-F Records, PO Box 71266, Pittsburgh, PA 15213)