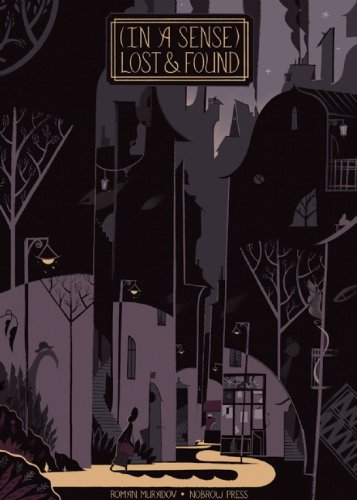 Nobrow Press, 56 pages, hardcover, $15.45
Roman Muradov's (In a Sense) Lost and Found throws the reader headfirst into a strange world of weird angles, somber lighting, bizarre conspiracies, and bookstores where the impossible seems to be commonplace. However, despite the plethora of entertaining elements, the thing that pushes this short graphic novel into must-read territory is the way Muradov deals with innocence, an intangible that he turns into a physical object, something that can be carried around, stolen, misplaced.
F. Premise wakes up one morning after having some troubled dreams and realizes her innocence is missing. She tries to go about her life as usual, but innocence is something other can see, so they easily notice that she has lost hers. In order to avoid public shame, she is told to go to her room and "remain prudent" until further notice. Instead of following instructions, she escapes through a window and starts walking around town. Then she wakes up in a bookstore. The owner found her passed out on a bus and brought her in. While at the bookstore, F. Promise sees a young man who seems to have two innocences on him and decides to investigate further. What follows is a visually stunning and adventurous narrative in which F. Promise learns that what she thought she'd lost was actually stolen, and she has to get it back.
The first thing that makes (In a Sense) Lost and Found enjoyable is the narrative itself. F. Premise is likable and her quest is very relatable because, besides wanting something that belongs to her returned to its rightful owner, she has to put up with the looks and comments of a society that judges her without knowing her story. Also, the author has a knack for language and deals with it here in very playful and interesting ways. Each conversation happens on two levels: between the characters themselves, who live in this world and thus fully understand each other, and between the author and the reader, the latter being new to this universe and thus forced to pay attention to what's being said and try to make sense of it despite the wonderful weirdness.
While there is plenty of dialogue, Muradov gives equal attention to the graphic aspect of his work and allows the narrative to balance between text and images. While there isn't a lot of color here, the somber tones match the story very well and the way Muradov is able to show detail without having to force contrast is superb. The book is a treat to read, and the visuals are just as great. In fact, there are a few pages where F. Premise goes looking for her innocence in a strange place where dogs and birds walk around dressed and acting like people. Those pages take this graphic novel and turn it into a work of art.
(In a Sense) Lost and Found is unique graphic novel with a very intelligent premise and outstanding art to match its story. It's strange, a tad gloomy, and very sharp. If you want to move away from too-colorful graphic novels full of violence and explosions and explore what lies at the opposite side of the spectrum, this is a great place to begin.
—
Gabino Iglesias is writer, journalist, and book reviewer living in Austin, TX. He's the author of Gutmouth and a few other things no one will ever read. You can find him on Twitter at @Gabino_Iglesias.