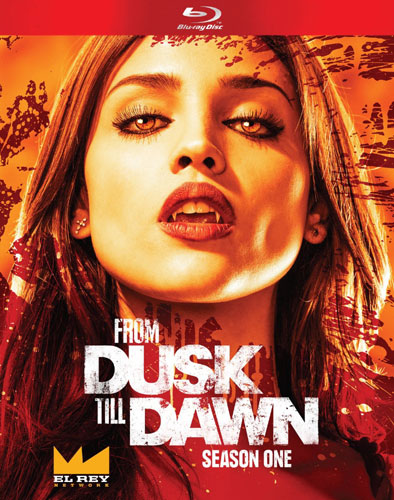 Entertainment One
450 min. (10 episodes), dir. by Robert Rodriguez and Eduardo Sanchez, with DJ Cotrona, Zane Holtz, Eiza González, Robert Patrick, and Wilmer Valderrama
Executive producer Robert Rodriguez brings the first season of the "From Dusk Till Dawn" television series to DVD and Blu-ray. Rodriguez shared directing duties of the episodes with Eduardo Sanchez (The Blair Witch Project). It is very interesting to see how they expanded on the original story line from the original From Dusk Till Dawn film in order to serialize the events that play out. That aspect was what kept me watching.
The episodes feature a lot of flashbacks that clue the viewer in on previously unknown episodes of the main characters lives, namely the RV-traveling Fuller family and the bank-robbing Gecko brothers. Wilmer Valderrama (Fez on "That '70s Show") even has a role playing a Mexican drug lord who will help the bank robbers escape the authorities with safe haven in Mexico.
While I am a big fan of Robert Rodriguez's directorial style, as well as the fantastic production quality of the show, I would much rather watch the movie than watch the show. Why? Well, because unlike the original film, there is nothing fast-paced about it. The violent and very engaging scenes seem to go on and on. Maybe it's all in my head, because I remember all of the story lines and techniques used in the film, and I do truly think it will be interesting to see what they come up with for season two. For everyone's sake, I hope the story lines move beyond the constructs of the original film to start a life of its own.