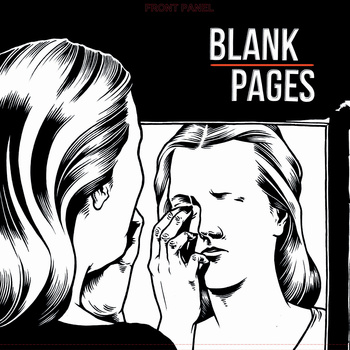 I don't know why, considering all my years chasing this punk rock train, but I actually find it kind of surprising that there a few bands out there calling themselves Blank Pages. (Warning to you Internet diggers: be wary of the striped V-neck-adorned Christian band by the same name that's playing music that could be described as, ah, emotional. The 43 seconds I spent trapped on their webpage, frantically clicking the back button while their music auto-played, was anything but heavenly.) And while I wouldn't say my research is totally thorough, I am comfortable saying this is probably one of, if not the best band called Blank Pages that's active right now.
Hailing from Berlin, Blank Pages features members of Lies Feed The Machine, Idle Hands, Dramamine, and Modern Pets.  Their 10-song self-titled LP was originally released in Germany in 2013 on Hardware Records. Las Cruces, New Mexico label Dirt Cult, god bless their soul, has picked it up for a US release that coincides with the band's August tour of the West Coast.
Blank Pages frequently get compared to The Wipers and The Fall, which isn't inaccurate, but I can't get an image of former MLB pitcher Scott Radinsky (of Ten Foot Pole, Pulley) fronting the Ramones out of my head. My familiarity with Radinsky ends at Rev-era Ten Foot Pole, so forgive me if this sounds way off base. (Pun intended.) The singer also reminds me of the guy who sang for Screw 32, whoever that was. And, yes, I do think using a Ramones reference in the year 2014 is a bit lazy but I just can't help it. It's not as snotty, dumbed-down, or as fast as the Ramones, but their unpretentious approach and melody is similar. Comparable to The Bellicose Minds, Creative Adult, or The Estranged, they also delve into the dark punk spectrum that's been picking up traction lately.
As is often the case with punk, all the songs kind of sound the same — at least, to the untrained ear. But there's enough variation crammed into this short album to keep it high above the dregs of monotony. "We're all Broken," with its agitated rhythm and melodic overtones, is the kind of song a guy could drink a million cheap beers to while swaying to and fro at some dank bar. "Drained" has this unique atmosphere to it, which can be attributed to its lengthy aura-building intro. Same thing can be said for "From the Outside." It's hard to explain, but these songs have a teenage coming of age-like sensation to them. (I don't know, maybe it's because I spent the weekend watching '80s movies like Valley Girl and St. Elmo's Fire.) The final two tracks "Papercuts" and "Do Not Resuscitate" are accurately positioned, as they encapsulate the LP as a whole, flexing an enthralling blend of melodic pop-punk and gloomy post-punk.
This one caught me completely by surprise but has since held a favorable place amongst the most spun of 2014. Really great stuff.
(Dirt Cult Records, 713 Stagecoach Dr, Las Cruces, NM 88011)