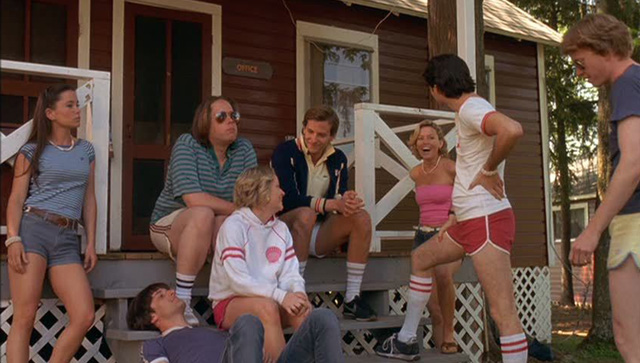 For several years now, it has been speculated that a prequel or sequel to Wet Hot American Summer was in the works. Now, it appears that the idea has been shifted to a television series to be developed by Netflix.
The original 2001 film, co-written by Michael Showalter and David Wain (and directed by Wain) featured an all-star "who's who" cast of comedy actors playing a group of summer camp counselors and campers: Showalter, Janeane Garofalo, Molly Shannon, Paul Rudd, Christopher Meloni, Ken Marino, Michael Ian Black, Amy Poehler, Bradley Cooper, David Hyde Pierce, Elizabeth Banks, H. Jon Benjamin, and Kevin Sussman.
In the decade-plus since the film was released, most of the cast have become bigger stars, with several developing into Hollywood household names. Still, Netflix hopes to bring back as many as possible, and given the flexibility of creating a show (rather than a movie), they just might be able to accommodate busy actors such as Rudd, Meloni, Poehler, Cooper, and Banks. Like the "Arrested Development" season developed for Netflix, the plan is to feature each character only in certain episodes.
Wain and Showalter will return to executive produce the series. The series itself is designed to function as a 10-episode prequel to the film, and will feature most of the cast playing high school or college age characters, despite most being in their 30s and 40s.
No timetable is yet set for the series to air, as it is in the earliest stages of development.
(via Screen Rant)