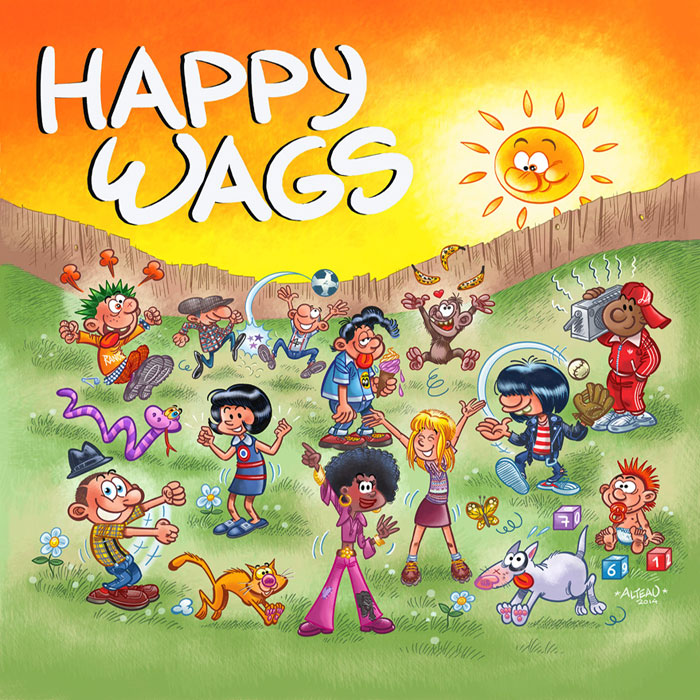 Children's music has made a huge transformation through the ages. Evolving from classic rhymes, it has traversed a long road through generic singers, chipmunks, and Muppets to get to where it is today. The past few years have seen a wide range of musicians take the step into the world of children's music and be successful. New original tunes based on rock, blues, country, Americana, punk, and pop music are slowly taking over the ears of youngsters everywhere.
One such outlet that is exposing kids to great music is the hot TV show "Yo Gabba Gabba!" It was here that California punk/ska/reggae band The Aggrolites unleashed the song "Banana," which quickly became one of the most popular tunes from the show. With this success the proverbial light bulb went off over lead singer Jesse Wagner's head, and thus the Happy Wags was born.
The nine-track self-titled album builds off of the success from TV offering up songs that are humorous, fun, and a tad bit educational, utilizing the same "dirty reggae" style of The Aggrolites. Starting strong with "The Lion the Snake and the Monkey," a classic ska vibe turns silly as they incorporate animal noises into the song. Kids get to harness their inner punk rocker with the hard core "They Wanna Play." At first listen, it mirrors a Ramones tune, but Wagner's unmistakable growl let's you know it's not. Happy Wags is not all fun and games. Songs like "Use Your Words" and "Adding Numbers" mix in a little education with all the fun and games, teaching kids when they least expect it.
Happy Wags is welcome addition to the world of children's music. It has everything a kid could want: crazy voices, plenty of animals, upbeat music they can dance to, and, of course, the ever-popular potty song. It is a fun listen that will enthrall children and not drive the parents crazy like the purple dinosaur always did. Jesse Wagner's Happy Wags builds of the groundwork laid by artists like Dan Zanes (Del Fuegos), Lisa Loeb, and They Might Be Giants, taking children's music into the future.

(Asian Man Records/Fun Fun Records, PO Box 35585, Monte Sereno, CA 95030)