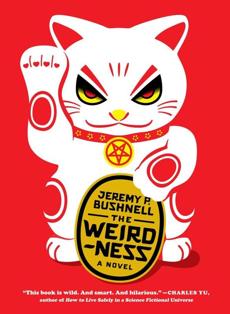 Melville House, 288 pages, paperback, $13.55
I systematically avoid literature dealing with warlocks, magic, and shape-shifters. Likewise, I'm not a big fan of narratives that delve into religion (not because I dislike them, but simply because they became very popular and most of them are very weak). With that in mind, if you had told me a few weeks ago that I would be reading and enjoying a novel that contained plenty of the aforementioned elements, I probably would have laughed. However, the book is not just any book — it's Jeremy P. Bushnell's The Weirdness, and it seems to have been crafted where strangeness, smarts, and humor meet.
Billy Ridgeway is a struggling writer making a living putting sandwiches together. He dreams of a big publishing contract and the respect of his peers, but deep down he understands his situation: he lives with a strange roommate, his relationship with his girlfriend is about to collapse, and one of the most important literary blogs has dismissed his work as clichéd — and the author of the piece, who also happens to run the blog, refused to go to Billy's upcoming reading. Then everything changes.
Billy wakes up hung over and late for work only to find a stranger sitting on his couch. The man, who says he's Satan, offers Billy some coffee and presents him with a business proposition. It sounds simple: get back a lucky cat for him, and Satan will make sure he sells his novel. What follows is a hilarious, twisted, and very entertaining adventure in which Billy will learn a lot about good, evil, and himself.
Bushnell makes it clear very early on that readers are in the hands of an intelligent and very capable writer. This helps suspension of disbelief set in almost immediately. After the first conversation with Satan, the reader is ready for anything, and Bushnell delivers plenty. Also, The Weirdness is one of those bizarre narratives that uses genre elements in a way that is at once a send-up and a bit of an homage.
Billy is a desperate loser, but also a smart guy, and that combination makes him a engaging, likable character. Also, the author uses him as vehicle to deliver thinly veiled pokes at everything from relationships and minimum wage jobs to Christianity and the ridiculous pettiness of the New York City literary scene. As a bonus, almost all characters, and thus their conversations and interactions, are dipped in wit, and that makes everything a tad sharper.
The Weirdness is about Satan with a PowerPoint presentation, warlocks that dig Starbucks, hell-wolves, and doing the right thing…or at least thinking about it. Bushnell delivers a hilarious narrative with a smart tone and a very brisk pace, and the result of that is a very fun book that deserves to be read.
—
Gabino Iglesias is writer, journalist, and book reviewer living in Austin, TX. He's the author of Gutmouth and a few other things no one will ever read. You can find him on Twitter at @Gabino_Iglesias.