Members of punk rock bands will often state that punk is all about the music…but if you don't think it has a lot to do with visual imagery, fashion, and artwork, you'd be lying to yourself. Since punk's inception, bands and labels have prided themselves on coming up with great DIY show flyers and — as the examples below illustrate — iconic and memorable logos. Here are 21 of the best, presented in no particular order.
Descendents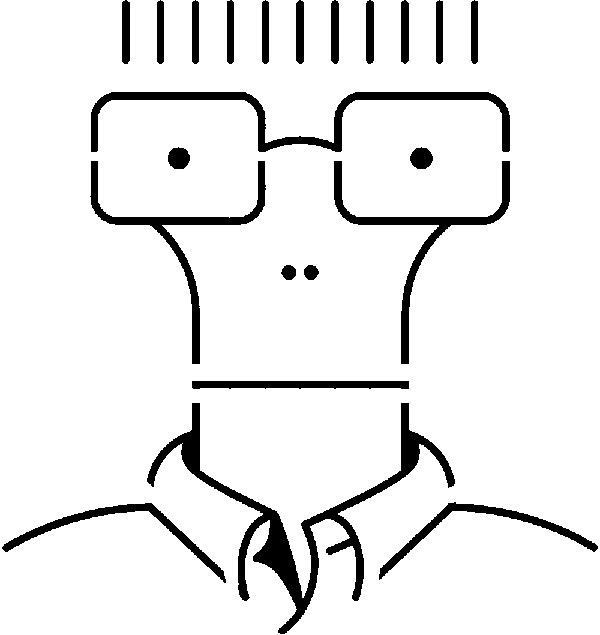 The classic Descendents logo is a caricature of the band's bespectacled singer, Milo Aukerman. It originally appeared on the band's debut full-length, Milo Goes to College, in 1982, and has since appeared on the cover of the majority of the band's releases. The original illustration was drawn by Jeff Atkinson, and was based on earlier drawings by Milo's high school classmate Roger Deuerlein.
Misfits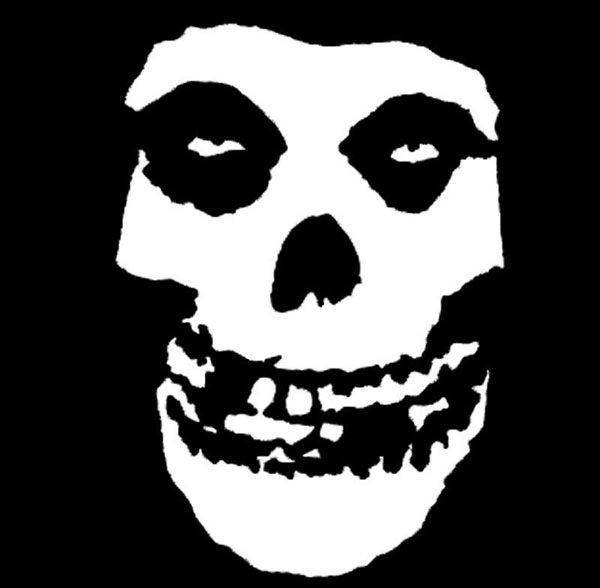 First used by the band on their third vinyl single, 1979's "Horror Business," the Misfits' infamous skull logo was actually taken by Glenn Danzig from the 1946 serialized film The Crimson Ghost.
Today it is a staple of mall-punk t-shirts, key chains, buttons, bracelets, caps, beanies, guitar picks,baby onesies, bibs, women's shoes, sneakers, high-heels, messenger bags, socks, clocks, headphones, shot glasses, Zippo lighters, tongue studs, USB flash drives, cell phone cases, CD visors….plus gloves, coffee mugs, skateboard decks, patches, air fresheners, notebooks, pencils, patches, posters…I can't keep this up, I'll never finish…
Husker Du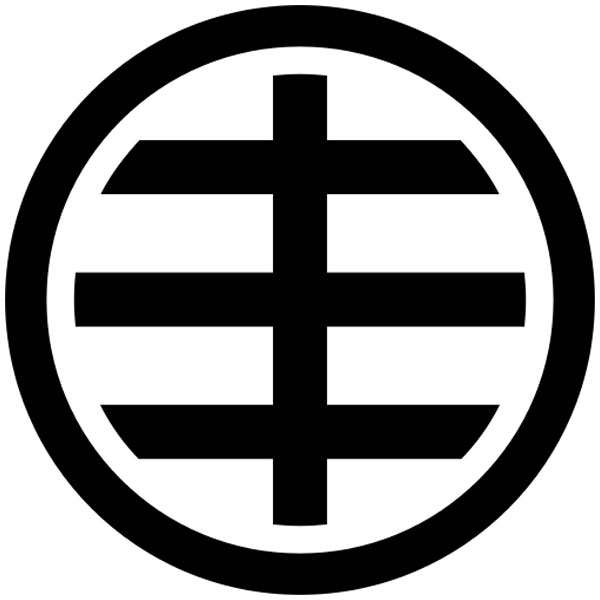 Despite the friction between band members, Husker Du's logo symbolizes their unity: the circle represents the band, the horizontal lines are for the three members (Bob Mould, Grant Hart, and Greg Norton), and the vertical line stands for their creative connection.
Germs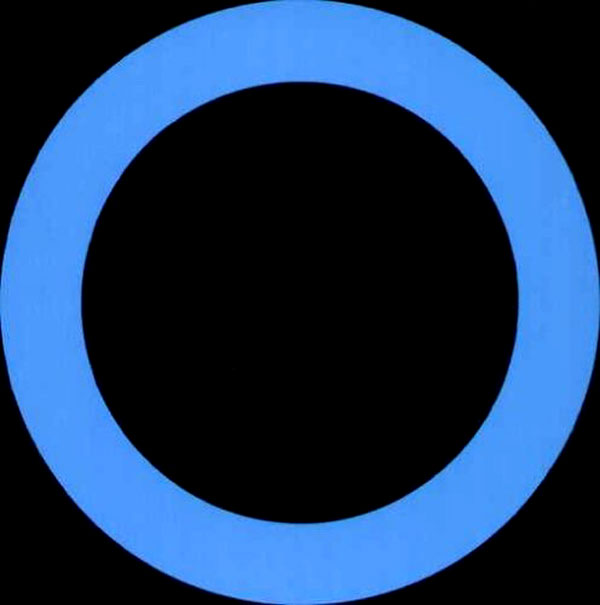 During their brief history, the Germs went through a whopping nine drummers. Dan Bolles, however, was by far the longest-tenured, and he also designed the band's simple logo: a blue circle on a black backdrop, said by some to represent a cigarette burn that vocalist Darby Crash called "the Germs burn," inflicted on the skin of a fan or a member of the band.
Crass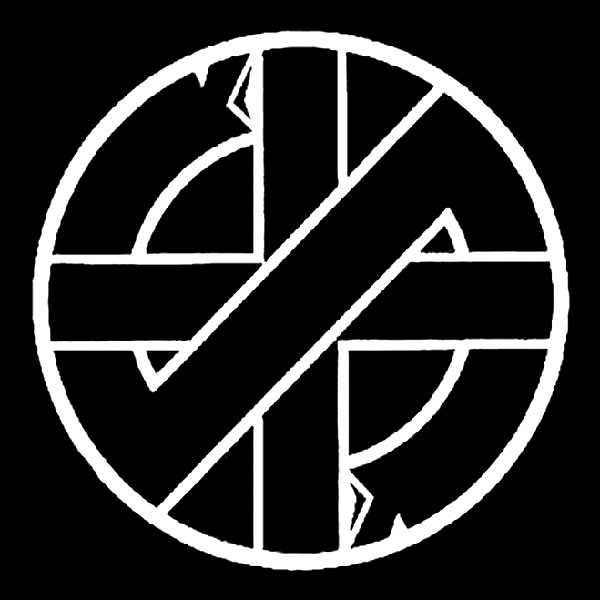 Anarcho-punks Crass had an ironically militaristic logo, and that, along with their tendency to wear second-hand surplus military uniforms onstage, led some to wrongly accuse the band of fascism. The logo was designed by Dave King, a friend of drummer Penny Rimbaud.
Black Flag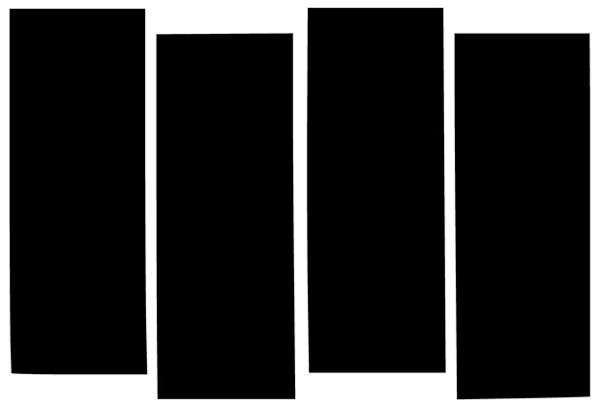 While the Misfits' logo is the most reproduced logo of all time, Black Flag's simple bars logo is likely the most tattooed. Guitarist Greg Ginn's brother, Raymond Pettibon, designed the distinctive logo (meant to represent a flag waving in the wind), in addition to most Black Flag album cover art.
The bars were inked onto each member of the band, and have been permanently branded on a multitude of fans as well.
Dead Milkmen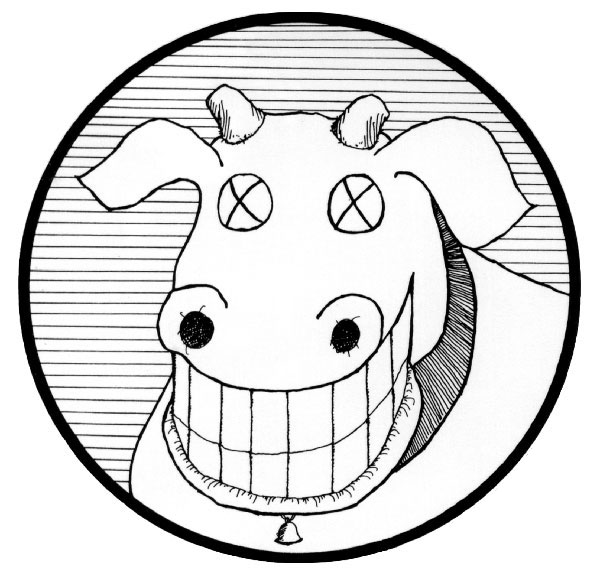 Drummer Dean Sabatino designed the logo of The Dead Milkmen. Of course, this is a dead cow, so perhaps this would have been a more accurate logo.
Social Distortion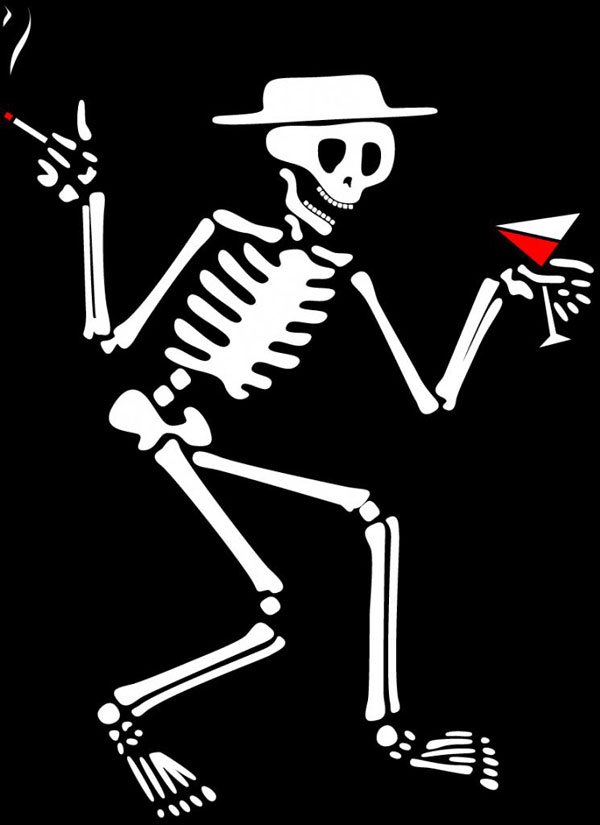 Interestingly, the smoking and boozing skeleton that represents Social Distortion was created by Mackie Osborne, wife of Buzz Osborne of the Melvins. Since 1980, Osborne has created album artwork for many bands, including Circle Jerks, The Vandals, All, Tool, Tricky, Melvins, and many more.
Operation Ivy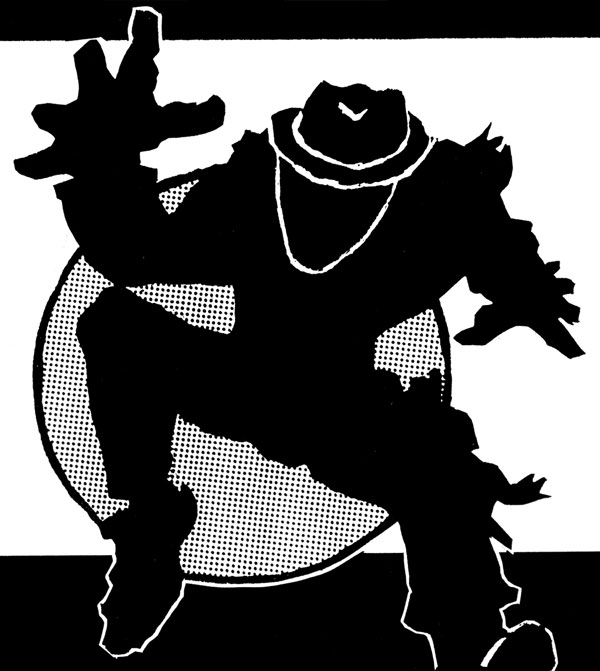 Op Ivy's logo, commonly known as "Ska Man," was created by vocalist Jesse Michaels in 1987. It appeared on the cover of the band's debut EP, Hectic, and on their only full-length LP, Energy, as well as on subsequent compilation releases.
7 Seconds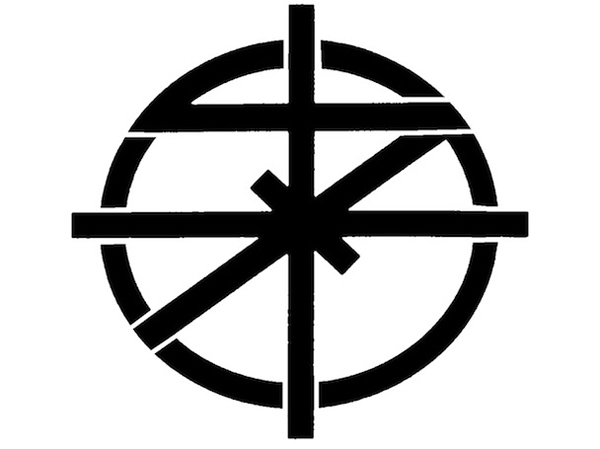 Front man Kevin Seconds created his long-running band's logo, which features a slew of intersecting lines, angles, and a numerical "7" buried in the middle. However, the stenciled band name is much more commonly used.
Bad Religion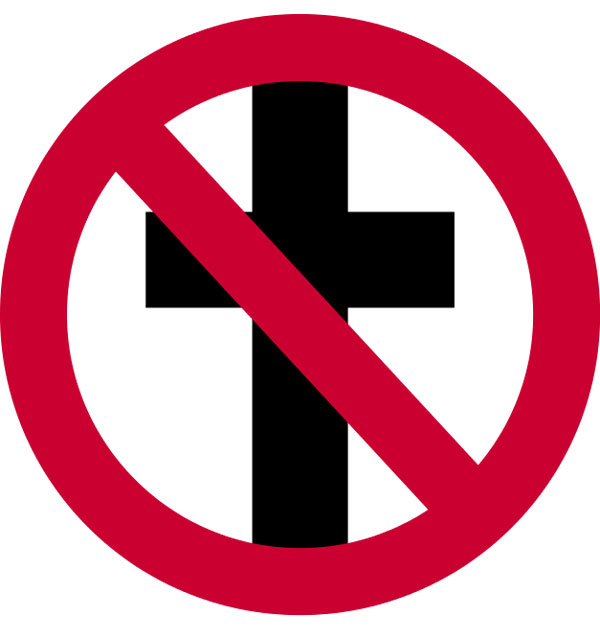 The famous "Crossbuster" logo was created by Bad Religion guitarist Brett Gurewitz way back in 1980, when he was 18 years old.
In 2001, in regards to the logo, guitarist Brian Baker stated, "The name Bad Religion and the Crossbuster logo came to pass in the minds of two [teenagers] who were trying to find the most offensive name and image they could possibly find for the punk band they were starting in their garage… These are not people who thought that 21 years later they would be on the telephone doing interviews."
Fear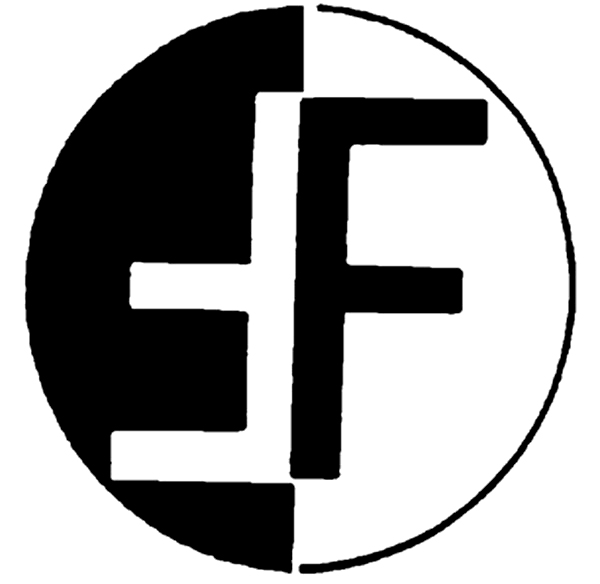 Are you not familiar with this Fear logo? You're not alone. Vocalist Lee Ving created this image in 1978 — but due to the fact that it somewhat resembles a swastika, the band's stencil/spray paint name logo is what most fans have latched onto.
Pennywise
Speaking of logos that bear resemblance to other symbols, I can't help but think of Volkswagen when I see the encircled, interlocking "PW." It was designed in 1991 by Fred Hidalgo, who states, "It was done in one try on a napkin using a Sharpie." Hidalgo has also created artwork for Bad Religion, The Offspring, and NOFX.
Ramones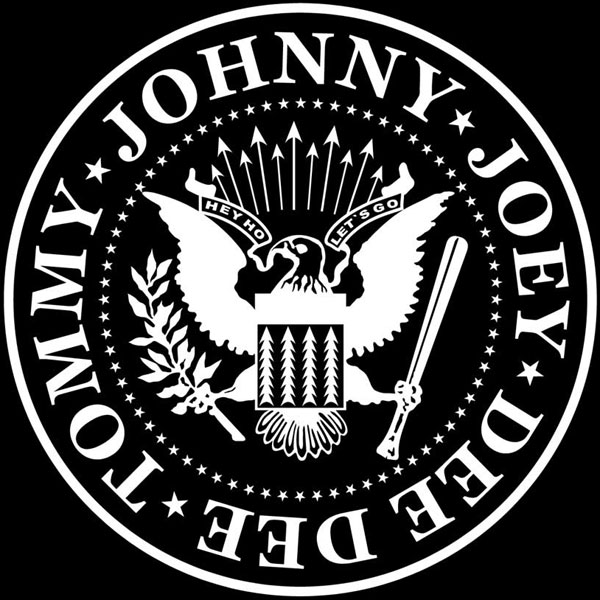 The Ramones' well-known logo was created by punk rock icon Arturo Vega, who served as the band's creative designer and lights operator, and later as their archivist. Sadly, Vega passed away in 2013 at the age of 65.
Flipper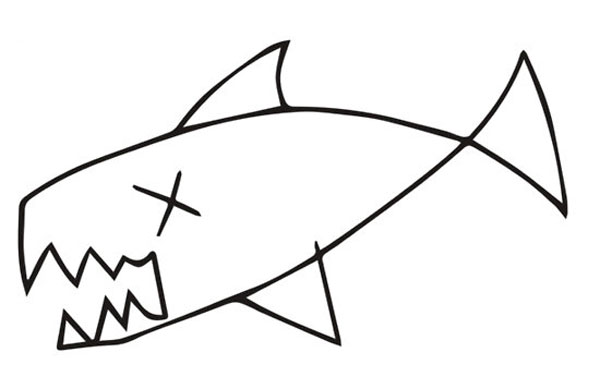 Flipper guitarist Ted Falconi drew the first version of this logo in 1979. It appeared in various iterations on most of the band's releases, and its simplicity made it a popular choice of taggers in the band's hometown of San Francisco and beyond.
The Adicts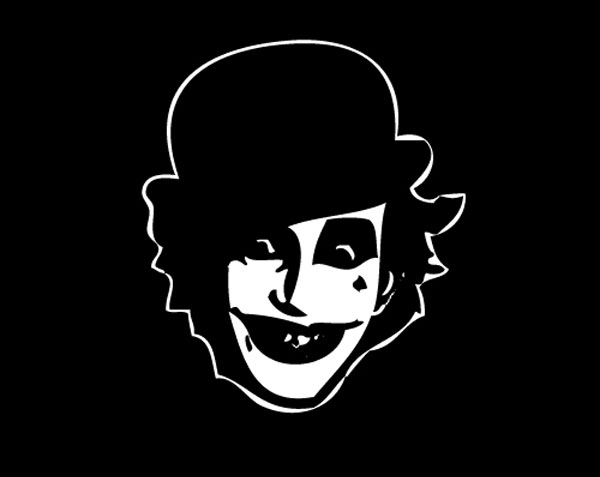 Since 1975, The Adicts have adhered to their A Clockwork Orange "Droogs"-inspired style and image. Their logo, designed by guitarist "Pete Dee" Davison, is reflective of that.
Dead Kennedys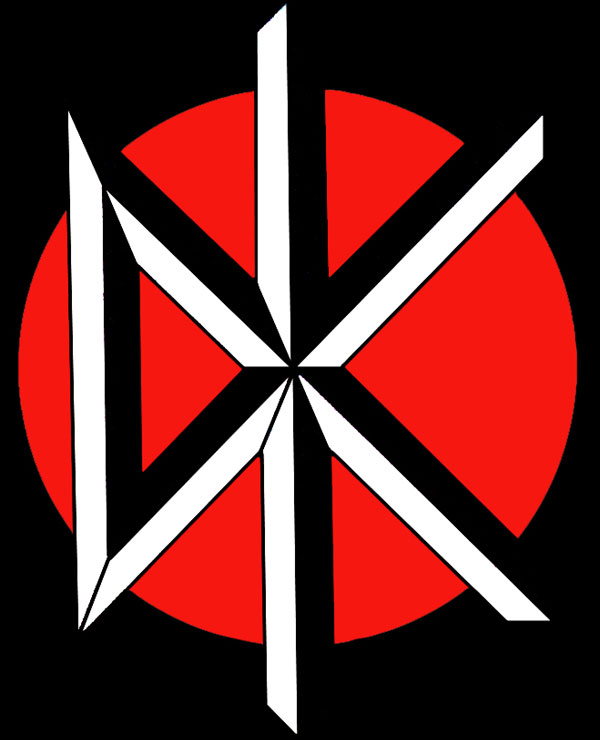 An interlocking "DK," or a sideways picnic table? The Dead Kennedys' logo was conceptualized by bandleader Jello Biafra and created by artist Winston Smith. According to Biafra, "I wanted to make sure it was something simple and easy to spray-paint so people would graffiti it all over the place."
Circle Jerks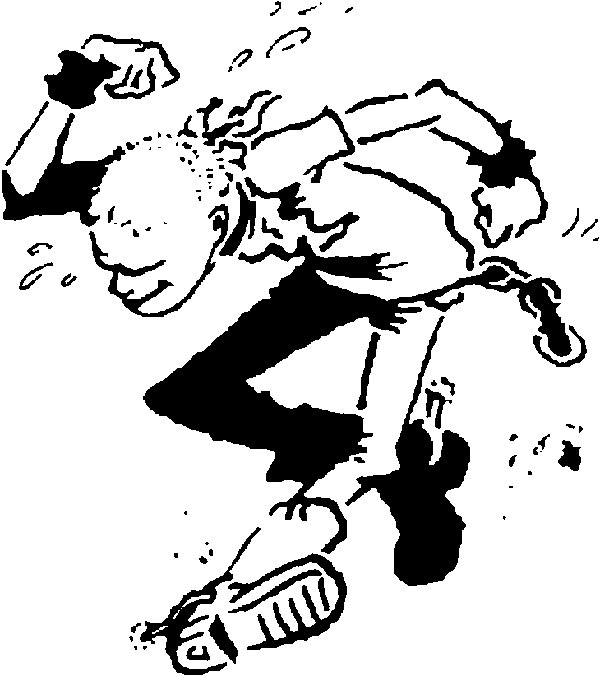 "Skank Kid" was drawn by artist/cartoonist and punk rock fan Shawn Kerri. Sadly, according to internet lore, Kerri was never compensated for her work, nor did she receive any royalties from the band for their continued use of her creation.
Nirvana
In addition to being a celebrated musician, Kurt Cobain was also a talented visual artist, creating album art for both Nirvana's Incesticide and In Utero. He also drew the band's smiley face logo, which was supposedly inspired by the marquee sign at The Lusty Lady strip club in Seattle.
Naked Aggression
The original drummer of Naked Aggression, Cyrus Highsmith, designed the band's logo in 1992. "It's so simple yet powerfully striking," says singer Kirsten Patches. "Most corporations would kill to have a logo that eye-catching."
Minor Threat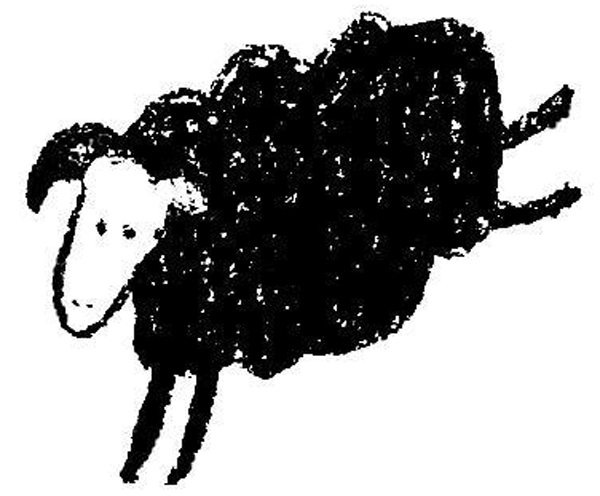 Minor Threat had a number of iconic logos (such as the Bottled Violence man). However, it was Cynthia Connolly's simple black sheep, featured on the cover of the Out of Step EP, that so perfectly encapsulates the essence of the band.