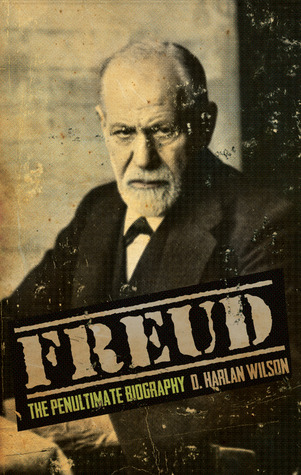 Raw Dog Screaming Press, 146 pages, paperback, $12.48
Freud: The Penultimate Biography, the second book in D. Harlan Wilson's Biographizer Trilogy, offers a second dose of the brilliant weirdness that can be found in its predecessor, Hitler: The Terminal Biography. Although it is as self-aware, self-referential, and as (non)biographical  as the first tome, Freud: The Penultimate Biography manages to break new ground and somehow evades being repetitive.
Wilson packed this narrative with characters that come, go, change, and disappear. The result is storyline that resembles more a literary version of pointillism than a line (and that's good because lines can be very boring). There's a mechanic, a man named John Vitruvian (who is John, morphs into Wilson, and goes back to being John), a famous movie director, and a few others (the list, which becomes Chapter 52, includes Dick Cavett, Benicio Del Toro, Sergei Whatshisname, and Tom Jésus Savini). However, the author takes center stage, along with his family, passion for bodybuilding, and brutal/merciless/hilarious honesty, which comes out very early and explains to readers the reason behind the Biographizer Trilogy:
 "The idea behind this trilogy of biographies, which I referred to as the Angry Black Author trilogy in chapter 3 of Freud: The Penultimate Biography for the first time, is that it will achieve a parasitic connection with other biographies about Hitler, Freud, and whoever I'm going to write the final biography on (either Tom Cruise or Frederick Douglass) at Amazon.com, the only viable marketplace in the twenty-first century publishing world."
And that publishing world is eviscerated by the author here. From conventions to the writing process, and from self-publishing to a warning about how the book will critique the reader as much as the reader critiques the book, Wilson explores, exposes, makes fun of, and has fun with writing and publishing. He also offers nutritional advice, plugs the following volume in the trilogy, and discusses, directly and indirectly, ideas and concepts of Freudian and Lacanian psychoanalysis.
Every Wilson book has a few provoking/antagonizing elements, and one of the best ones here is social media. While Facebook and Twitter give the impression that authors are now more accessible than ever,Wilson takes a different stance, with, among other things, a tip of the hat to Rolan Barthes:
"Don't post the following on my wall: 'Great to connect with you. I hope you'll check out my latest novel. It's a great novel. Enjoy!' I don't care about your dumb fuckin' novel. I don't read fiction. I only read Lacan. I certainly don't run my author pages for Facebook, Twitter, Goodreads, Flickr, Diaspora, Elftown, LinkNLog, Frühstückstreff, StumbleUpon, Plurk, LibraryThing, LiveJournal (Russian only), LAGbook, AbyssinianMaids, IFearTheeAndThyGlitteringEye!, S/Z, Evanrude, Flixster JabFab, BlackPlanet and MotherfuckerBeware. Running my sites is what underachievers and proles and graduate students and homeless people are for."
Just like Hitler: The Terminal Biography, Freud: The Penultimate Biography is a must-read for fans of exciting, unique fiction.
—
Gabino Iglesias is writer, journalist, and book reviewer living in Austin, TX. He's the author of Gutmouth and a few other things no one will ever read. You can find him on Twitter at @Gabino_Iglesias.