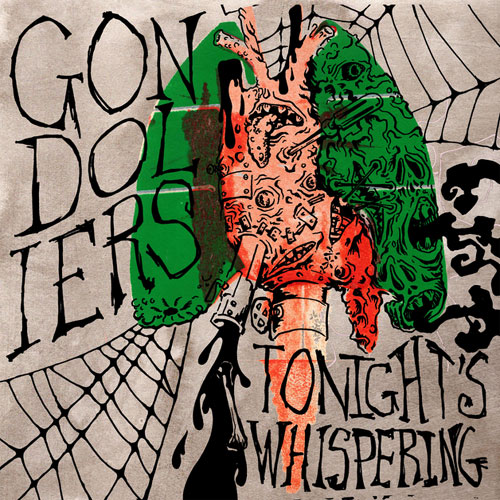 The Boston area trio of noisemakers known as Gondoliers have returned with a new album that dives headlong into their perverse and abnormal world of sound. As a band that's got a rep for being an amusing live act — playing raucous basement shows, complete with floodlights, hardhats, and flung beer — Tonight's Whispering shows them trying as best they can to transfer that chaos and disorder to tape. It's a hailstorm of toxic ether synths, erratic guitar work, and fuzzy yet ever-present vocals.
The opening track "Hair Patterns" has a heavy Independent Worm Saloon-era Butthole Surfers vibe going on, right down to John Manson's vocals, which are reminiscent of those in "Who Was In My Room Last Night" or Gibby's feature on Ministry's "Jesus Built My Hotrod." Meanwhile, "Unshared Beliefs" is redolent of the short-lived post-godheadSilo/Murder City Devils project Smoke and Smoke (whose lone album Love Suffers Long is criminally underrated.) Manson's askew aphorisms and lyrical anticlimaxes are mashed up against Dan Madri's heavily-treated electronics and crunchy guitar, and Brendan Gibson's persistent drumming.
At times, Tonight's Whispering  reeks a bit of a band that's trying too hard — in that it seems like they are just being strange for the sake of being strange — while other times it reminds you that some of the best punk happens when you embrace the weird.  Sonic Youth made a career of it, after all. And while there is nothing here that rivals them even on Thurston and Co.'s worst day, you can't blame Gondoliers for trying. And try they do.
With songs like "Loose Association" and "Broadcaster," the fury of psychedelic noise and tension continues. Imagine a house party scene from a cheesy '80s high school movie — but instead of the band being Wham! or Tears For Fears, it's Einstürzende Neubauten. Then, imagine DJ Screw and Eerie Von collaborated on a remix of the film's soundtrack while they were in art school together. Then imagine they used a time machine to send it to Greg Ginn in 1989. Then imagine he put it out on SST as free cassette that came with the Meat Puppets' Monsters album. If none of this makes any sense to you, then you're totally getting it.
In what is perhaps the best song on the album, "Downward Drift" begins, surprisingly, with a techno-like intro that could be picked off any number of those ubiquitous rave comps from the '90s. About all it is missing is a DJ coming on the mic screaming "Pure energy!" It doesn't take long, however, before everything is flooded out by fucked-up guitars, surging percussion, and Manson's demented vocals — like James Murphy and David Yow tongue-kissing between sips of Purple Drank.
In the end though, Gondoliers biggest fault is not recognizing that over-driven distortion and manic vocals can only be pushed so far. Where bands like Sonic Youth, Fugazi, or even No Age have been known to change tactics frequently — subpoenaing charmingly spare melodies one minute and irrational clamor the next — Gondoliers don't seem to possess the same jazz-like flexibility or surgical skill push their noise beyond what ultimately boils down to near-annoying levels of monotony.
(Midriff Records, 3 Adamson Street, Boston, MA 02134)