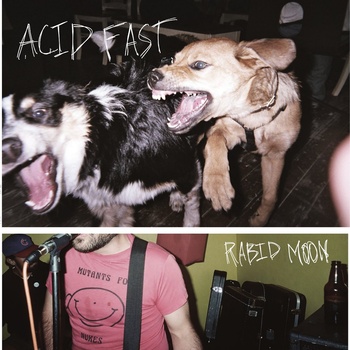 Some of the best tunes and biggest influencers of up-and-coming bands today came from the likes of Archers of Loaf, Superchunk, Small 23, Jawbreaker, and The Breeders. They all delivered bone-crunching rock that wasn't quite punk, but had many of the same qualities. Oakland, California's Acid Fast pack all the same qualities into their debut album Rabid Moon, creating not only a throwback sound, but something that is refreshing and a treat to listeners' ears.
Acid Fast lures you into their musical sphere with a brooding bass line before chunky guitars and thumping drums assault your ear holes. By the time the gravel-scarred vocals kick in (an Eric Bachmann vocal doppelganger) on "Tangle" you are hooked. The songs are loaded with angst and disillusionment, with "Breaking Down the Door of the Law" and "New Paradigm Reading Co." leading the way. The addition of female vocals takes a bit of the edge off, but that is a good thing. Her backing harmonies on "War Goes On" keep the song from plummeting into a mess of audio chaos, and her vocals on "Rupert" intertwine with the vicious guitar riffs to hatch what may be the best song on the record.
Emerging from the critical darlings Big Kids, Acid Fast has upped their game with Rabid Moon. The songs are short, fast, and packed with more music than much of the bloated, over-produced albums out there today. With a rawness to the songs, you get the feel they sat down one afternoon and hammered out a batch of tunes — no frills, no surprises — just straightforward, in-your-face noisy rock music.

(Protagonist Music, PO Box 64574, Tucson, AZ 85728)