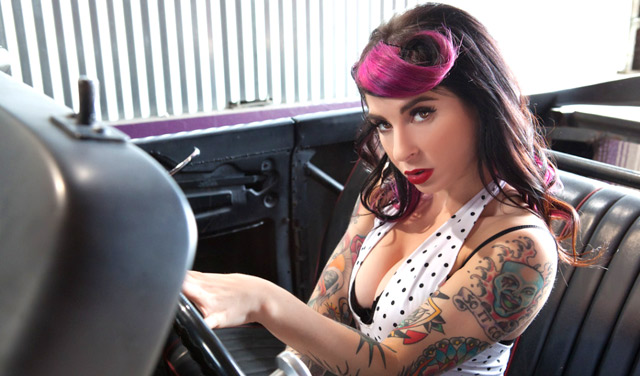 Amidst a troupe of tattooed actresses and a staff dressed in everything from Muppet and cannabis print dresses, to sailor skirts and leopard-print hair, Joanna Angel's pink streak of hair and black dress seem almost tame. The queen of alt-porn is in business mode as she greets fans, texts her company staff, and makes sure the wheels of her company, Burning Angel Entertainment, are moving. It's quite an undertaking to move an entire staff to Las Vegas for a weekend of what looks like fun — but what appears to be partying doubles as work in this profession.
Angel is no stranger to this type of multitasking. She started her company and began stripping after attending Rutgers University in the early 2000s, and became a key player in the expansion of the alt-porn genre. Titles such as Evil Head and Walking Dead: A Hardcore Parody continue to expand Burning Angel's list of award-winning pop culture-inspired tattooed sex scenes, and in 2014, she and Burning Angel were nominated for (among other awards) best director, best screenplay, best song, and various best scene awards — and ultimately walked away with best actor, best comedy, and best makeup. I met up with Angel and Burning Angel's Draven Star after her fan signing at the AVN Fan Fest.
Do you come to Vegas a lot?
Joanna Angel: A couple of times a year. I like it here a lot, you know.
Do you ever get to get off the Strip?
Joanna: I've been to Downtown Vegas a couple times… I had a friend that lived here at some point, and so I went to her apartment, which was off the Strip — but usually when I come to Vegas I'm primarily on the Strip, that's just the truth.
For business mostly, right?
Joanna: This is business… (gestures to AVN floor). But I've been to Vegas to host a party. Do I really call that 'business'? I don't know — I mean, it's for work, but it's fun, and I bring a couple of my friends with me to Vegas. I do love it — if I get hired to host a party or something, I'll stay for an extra day to hang out. There's really no better place to have fun than Vegas.
I was born and raised here, so I'm probably a bit jaded.
Joanna: It seems like most people who live here hate the Strip… You're like, "Get me the fuck out of here!" But to me, it's still fun, and I like all the cheesiness. Before I go to Vegas — and I only do this before I go to Vegas — I get rhinestones on my nails. Like, I do it only before I go to Vegas — I wouldn't be caught dead with rhinestones on my nails in my regular day-to-day life in LA, its totally Jersey Shore. When I go to Vegas, I take out everything shimmery in my closet and I put it in a suitcase and then I'm ready! So I embrace everything and I love it, you know — but it's also nice to go home at the end.
Are these kinds of events still super useful to you, or is it just another tiny part of the giant wheel of Burning Angel?
Joanna: I mean, if you're a company, [you] have to be here. If Burning Angel wasn't here, we'd look like a joke! Every major company in adult entertainment is here. Everyone in the music industry goes to South By Southwest; everyone in the porn industry goes to AVN.
[I've noticed that] there's kind of a mixed vibe: everyone seems super friendly and open and accessible, and then there's, like, two bouncers in every row.
Joanna: Well, you kind of need bouncers.
Do you feel any kind of risk doing [these events]?
Draven Star: Yeah! [AVN] is not like Exxxotica, where it's a little laid back… I watched a dude rip a badge off of some girl's neck — like, he walked past her and ripped a badge off her. So its sort of necessary. But I will tell you a fun factoid: this dude that's been guarding us for two days — I have never seen him speak a single word, at all! He is not breaking character! It's kind of impressive — he's going on, like, two days!
Joanna: People can be drunk, and they might start to get "grabby" with the girls. They wanna use your DVD as a drink holder, and you need people to help — I'm like, guys, this is a DVD!
Draven: They get really mad if you say, "Well, you need to pay for those images" (referring to publicity shots she is signing). [People ask] "Why?" and I'm like, "Because they're not free!"
Joanna: Also, people try to steal stuff off the table. It's so annoying. When I caught someone trying to steal one of my DVDs, I was like, "Why don't you just be a fucking normal person and steal porn the way everyone else does — at home on the goddamned internet!"
Is it different to embrace the other sides of the business after being in front of the camera?
Joanna: I've always [done] both since day one, so nothing was ever weird for me — it's just what I've always done.
Draven: My very first scene was when I was 20 years old — I'm turning 26 on Sunday, so it was years ago — and Joanna was taping it, my very first scene! She's very involved. That's one of the reasons I personally have been with Burning Angel for so long, [and] one of the reasons I've always felt super comfortable at Burning Angel — Joanna's very hands-on, into every aspect of everything.
Joanna: I wanted to do it all. I wear a lot of hats.