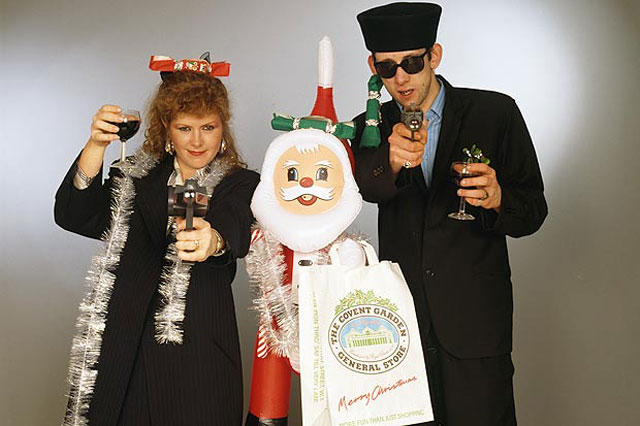 Like most people, you've probably heard enough Christmas music this holiday season to last you the rest of your life. And if you work in retail, then…well, I tip my hat to you for not offing yourself sometime around December 15th.
We can all agree that Bing Crosby and Nat King Cole tunes should be put to rest — but there are plenty of lesser-heard Christmas tunes you should be listening to.  Many of your favorite artists may have recorded a holiday song or two without your knowledge — so check out these songs and swap them into your playlist in lieu of Rocky Mountain Christmas.
Rancid, "Christmas Eve (She Got Up And Left Me)"
Sitting at home on Christmas Eve, lonely and depressed? Has Rancid got the song for you!
The Kinks, "Father Christmas"
And here I was thinking I was the only one who asked Santa for money and machine guns.
Otis Redding, "Merry Christmas Baby"
This R&B tune was written and originally recorded in 1947 by Johnny Moore's Three Trailblazers. However, Redding's version, recorded 20 years later, is a classic. Redding also recorded one of the best New Year's songs.
The Pogues Featuring Kirsty MacColl, "Fairytale of New York"
An all-time classic that can't be omitted in this list. It was once voted the best Christmas song of all time.
Leadbelly, "On a Christmas Day"
I have to wonder, had he survived, if Kurt Cobain would have eventually covered this song.
Kurt Cobain, "Silent Night" (From "The Priest They Called Him" with William S. Burroughs)
Kurt Cobain and William S. Burroughs collaborated on a recorded project in 1993 entitled The Priest They Called Him — it featured Burroughs telling a story over feedback provided by Cobain. The story begins on a Christmas day, and the music begins with an eerie rendition of "Silent Night" by Cobain.
Jethro Tull, "A Christmas Song"
Jethro Tull once recorded an entire Christmas album. It was called Christmas Album. While not a particularly inspired title, it's a great record all the way through, and this is the highlight.
Page 1 of 2 — Click Below for Page 2