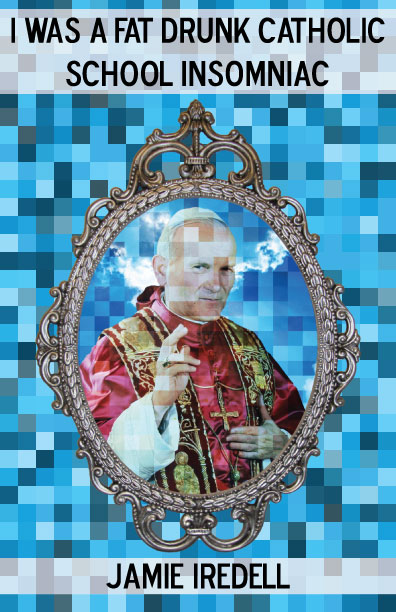 Future Tense Books, 210 pages, paperback, $15.00
The year is almost over, so I can make this statement without fear: Jamie Iredell's I Was A Fat Drunk Catholic School Insomniac is the best nonfiction book of 2013. You know what? I'd probably be making the same statement if the book had been published in January. Or last year. It's that damn good. Iredell's voice is sharp, humorous, and brutally honest. He shies away from nothing, and his prose is always hyper-aware of his situation, which shifts from young and stoned, to fat, to a worried father of a young girl. Despite the sincerity and the author's almost philosophical views on life, there's always hope, absurdity, and love underneath his words, and those elements turn this collection of essays into something that transcends the truths it contains.
To offer a synopsis of each of the 19 essays that make up I Was A Fat Drunk Catholic School Insomniac would be a waste of time. Each piece seems to have been written using a different voice and under a dissimilar frame of mind, but attentiveness and tenderness act as cohesive elements that bring everything together and show how deep Iredell was willing to go when it came to deconstructing himself on the page. When I sat down to read this, I started taking notes and jotting down passages to offer a few highlights in the review. After six essays, I knew that wouldn't do the trick because every piece was a great. By the time I was done reading, it was clear the author was the highlight.
Iredell is a white heterosexual male who grew up in a house where there were always Christmas gifts under the tree. He stays in bed and breakfasts, remembers family vacations fondly, and goes to shows that include words such as "symphony" and "orchestra." Despite what those things might make some people think of him, Iredell is the kind of guy who grew up wanting to be Mexican, had troubles with the cops, got high on a lot more than just weed, tried to kill himself twice, dated insane women, is painfully aware of racism and sexism, and writes with the kind of candor that goes above and beyond race and social status. Furthermore, he's a concerned father who fully grasps the fact that his role is to fight against an unjust world:
"I'm mad thinking that I'll fight a neverending battle against a culture that will teach you to like 'girly' things, like the color pink, and princesses, and that these things are less important than sports like football, or an interest in mechanical engineering. I'm mad that, even though I'm a male writing this letter, women writers are grossly underrepresented in the publishing industry."
I Was A Fat Drunk Catholic School Insomniac is one of those books that starts in what's very clearly a one-man microcosm and ends up being a superb collection of universal experiences seen through a unique, very personal filter. Not everyone is a father who's read Simone de Beauvoir's The Second Sex and wants to adapt some of it for his daughter ("Dear Kinsey," the last essay, is worth the price of the book). Not everyone has gotten high on a variety of dangerous drugs and survived. Not everyone has done extreme diets. However, there's something in the Iredell communicates mayhem that makes it sound like we're all been there:
"We kept going back to each other because we were addicted. Neither of us was the glutton for punishment, nor the oppressor who lavished control. We were equally, like the substances that fueled these fights, coursing through each other's veins, making us elated and enthralled with love one morning, and stomping down the street in our underwear that night, shamefaced and drunk, downing bottles of painkillers, having hospitals pump our stomachs."
If Hunter S. Thompson had decided to write something while pretending to be a anthropologist with a passion for booze and a big heart, the result would probably be something like this. What can happen to you when you read (read the book if you want to get this joke) is that you can stumble across something like I Was A Fat Drunk Catholic School Insomniac, and that makes you stop caring about being poor.
—
Gabino Iglesias is writer, journalist, and book reviewer living in Austin, TX. He's the author of Gutmouth and a few other things no one will ever read. You can find him on Twitter at @Gabino_Iglesias.