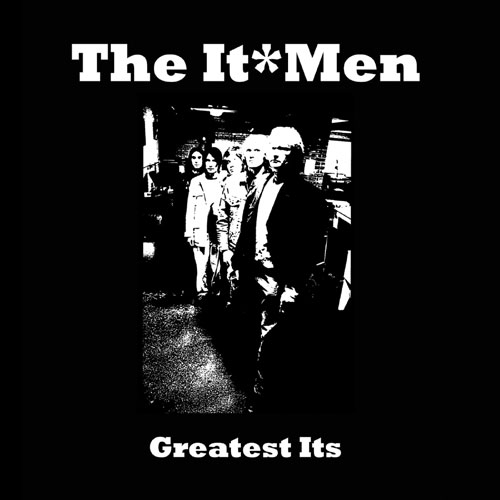 Cleveland has a great history of turning out weird and wild loud rock bands that cut across many genres. (There is a reason Ian Hunter wrote a song that song "Cleveland Rocks" many years ago.) Many of these bands remain somewhat obscure in the grander scheme, through no fault of the music they put out — in the last few years I've heard many excellent bands from this part of the country that normally would have been overlooked if not for a few cool labels willing to put their stuff out.
The It*Men are one such band. Throughout the '90s and the start of the new millennium, they would crank out some pretty righteous loud and lewd rock music. The band reformed last year when lead singer Ken Janssen was diagnosed with ALS, also known as Lou Gehrig's disease. There is also a movie, cheekily entitled The Last Waltz Of The It*Men", making the rounds.
Despite the sad circumstances, this double-album is a celebration of all that is righteous of rock music, as it touches on many different sub-genres such as punk, garage rock, hard rock, and post-punk, plus it features such perfect sex-obsessed lyrics concerned with pick-ups, come-ons, missed opportunities, and all in between. It gives the songs a nice lascivious sheen.
"Tell You The Truth" opens the album with a tension filled riff, that explodes on the chorus. It also features one of the best lyrics on the album, with Janssen singing, "If you think you can fly/Then why don't you jump?" to some object of his derision. Eventually, he turns it into, "If you think you can die/Then why don't you jump". It's cruel, but fun. "Come And Get Some" is a raging garage punk anthem that is about what it's title spells out boldly. "Baby I'm Your Man" has a blues rock swagger to it, while "W.I.P.I.G.A.S." picks up the pace with an incessant and energetic beat.
"Altamonster" and "What's Up, Action" detail the tribulations of dating the hipper set with humor and more righteous rock. "Screw The Pooch" and "Bowie Dick Test" steer the band into harder rocking territories, while "(Lily The) Deepthroat Killer" has equally lascivious music to go with it's sleazy subject matter. "Modified Cobra Position" brings back the hard hitting garage punk of "Come And Get Some".
Then there's the 20-minute "Death Machine," which starts out as raging garage punk set to film noir lyrics before it spirals out into major jamming for most of its duration by the band's guitarists. It's a risk that pays off, and shows that the band is not afraid to mess with certain conventions of their genre.
So, whether you get the vinyl or the download, this is one great retrospective from another so-called "obscure" band from Cleveland that should remain obscure no longer. Plus, it shows that Janssen has a nice legacy of work that he and his band mates can take pride in. Seriously, this a great record that should appeal to all fans of left-field loud rock n roll in all in its various guises. Check it out.
(Gotta Groove Records, 3615 Superior Ave., #4201A, Cleveland, OH 44114)