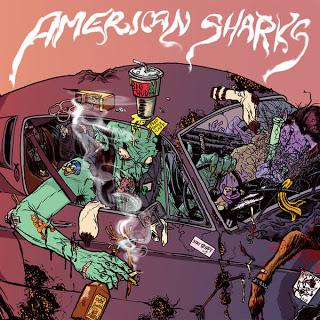 I was recently talking to a friend about why drone rock bands get a lot of positive ink. Not that some of these groups aren't bad — but a lot are simply dull. My friend suggested that many critics consider it to be "thinking man's" music, and while I see his point, I wonder if we've drifted away from the original intent of rock music which was to be, well, wild and crazy.
Well, if you're looking for loud and wild, look no further than the excellent debut from this Austin, Texas trio who rip through nine songs in a only 19 minutes and 41 seconds — they get in, rock out, and get out before you even have a chance to know what hit you. This is one of those "all killer, no filler" affairs, complete with riffs, hooks, and solos that resemble a heavier version of the output of the Supersuckers: big rock attitude, and a sly sense of humor.
"Iron Lungs" kicks off the party with a raging riff and the first of many killer solos from guitarist Will Ellis, who manages to shred, yet keep it short and exciting. "Overdrive" follows and lives up its title featuring another righteous solo. "Indian Man" takes the throttle off a bit, but remains catchy and powerful. "Cocaine" is speedy number that lives up to its title, while "11:11" closes out the album as an ode to a bad-ass woman.
You can save the mopey music for later — once you give this album a listen, you'll wonder why you even bothered with that other stuff in the first place. There's nothing wrong with music that makes you want to drive fast, have sex, and rock out in a most righteous way — so give in to your reptile brain.
(The End Records, 94 Bogart Street, Brooklyn, NY 11206)