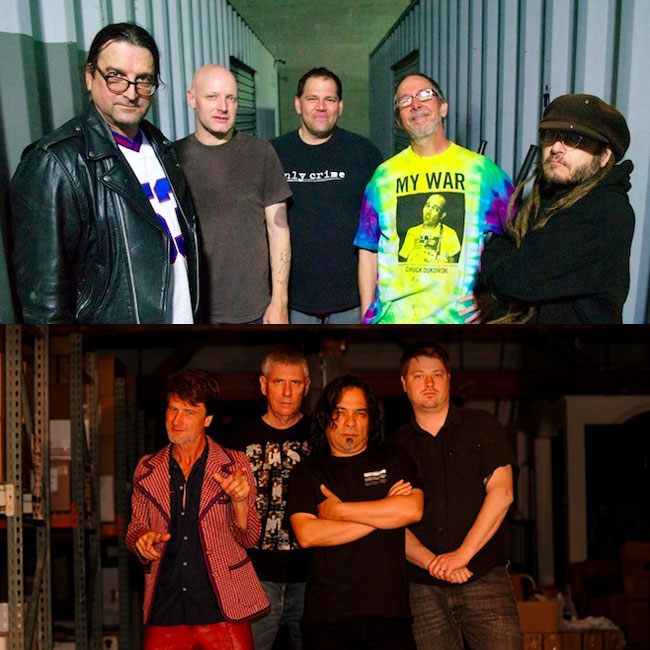 Black Flag founder Greg Ginn has lost his lawsuit against FLAG, the spinoff band featuring original singer Keith Morris and longtime bassist Chuck Dukowski. Henry Rollins, a longtime vocalist of the band, was also named in the lawsuit — likely because he attempted (with Morris) to copyright the Black Flag name and iconic bars logo during the past year.
In 2013, two versions of Black Flag suddenly sprung up: FLAG, a touring band featuring four ex-members of the band, and the "official" version fronted by band co-founder Greg Ginn featuring vocalist Ron Reyes, which toured and recording the first Black Flag album since 1985.
On Friday, August 2, 2013, Greg Ginn sued his former band mates, seeking an injunction against their summer tour. The suit describes the alleged infringement of the logo and name "Flag" as "a colorable imitation" that's "likely to cause confusion, mistake or deception among consumers."
Ginn claims he and his label, SST Records, exclusively own the rights to the Black Flag name (and "Flag" variation) and logo, which FLAG use on tour.
However, a judge has found that SST has no rights to the Black Flag copyright; Ginn has no special rights to any of the trademarks; neither Ginn nor the label cared about copyrghts or trademarks until now; Rollins never quit Black Flag (technically correct, since it was Ginn who "quit" the band in 1985, not Rollins); and fans are smart enough to know which band is which.
Here's what all of that looks like in legalese, via FLAG:
(1) the court found that SST had no rights in the trademarks;
(2) Ginn seemed to have no individual rights in the Black Flag trademarks;
(3) even if either had had any rights in those marks, they had abandoned those rights through a failure to police the mark for nearly 30 years;
(4) the defendants' claim that the Black Flag assets were owned by a statutory partnership comprised of various former band members – even if these members only consisted of Henry and Ginn, based on (a) accepting Ginn's argument that he never quit and given that there is no evidence or allegation that Henry ever quit – has merit;
(5) that even if the plaintiffs had some trademark claim in the marks, there was no likelihood of consumer confusion between Black Flag and Flag given the ample press coverage over the dispute; and
(6) the trademark application and registration that Henry and Keith made was done in good faith (e.g. not fraudulently) – and is thus not necessarily subject to cancellation – given that they understood their actions to have been done on the part of the Black Flag partnership (see No. 4, above).
If you're tired of all this legal talk and would rather just listen to some tunes, click here for the top 10 Black Flag songs.
(via Spin)