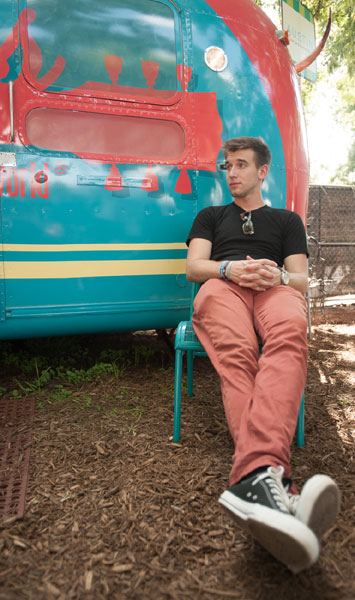 Recently signed to Atlantic Records, Austinite Max Frost knows exactly where he came from and where he is going. Never mind that he labels himself a blues-playing guitar player who sings with a soulful voice and also produces hip-hop — this 21-year-old multi-instrumentalist creates music that has a retro feel and yet still feels modern. Jessica Alexander was able to meet up with him during Austin City Limits Festival 2013 to learn more about this multi-talented songwriting musician.
Signing to Atlantic Records is a huge deal. Congratulations are definitely in order.
Thank you! Everything has definitely happened so fast, and I have to credit the music website SoundCloud and the internet in general for helping build buzz about my new upcoming EP, as well as the single "White Lies."
You were a student studying English at year ago at University of Texas.
It just wasn't for me. I was making music alone, recording all of my own tracks, and school just wasn't working out. I have been playing music here in Austin since I was 12 with locals such as Bob Schneider and decided, "Now is my time."
The use of hi-fi and lo-fi throughout your upcoming EP Low High Low is a welcome change of pace to the ears.
These are modern songs, but with an old-school feel. I love how elements of this record are juxtaposed together. It's a dynamic and emotional release, and I will further explore these ideas with my full-length album set to be released in spring 2014.
My understanding is that you record all of your tracks alone. Tell us how working with a band changes the way you work or think as a musician.
I am still able to make my own statement with my own backing band. I tend to prefer co-creation for making music, but I am still very much able to keep my own voice when working with others.
—
Max Frost's first EP release, Low High Low, comes out Tuesday, October 8, 2013.