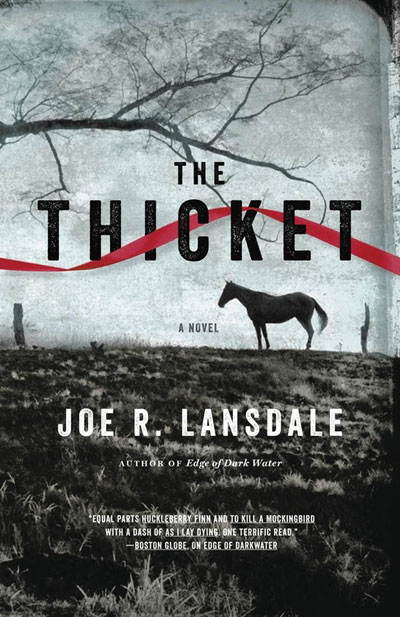 Mulholland Books, 353 pages, hardcover, $26.00
If I ever had to teach a course of outstanding first paragraphs, there would surely be a few Joe R. Lansdale novels used as examples, and the one-sentence opening paragraph of The Thicket, his latest novel, would kick things off:
"I didn't suspect the day Grandfather came out and got me and my sister, Lula, and hauled us off toward the ferry that I'd soon end up with worse thing happening that had already come upon us or that I'd take up with a gun-shooting dwarf, the son of a slave, and a big angry hog, let alone find true love and kill someone, but that's exactly how it was."
The Thicket starts with Jack Parker dealing with his latest and worst tragedy: the death of his parents, both of whom succumbed to the smallpox epidemic that wrecked havoc in East Texas in late 1910s. Jack and his younger sister Lula become orphans, and their grandfather comes to lead them on a journey to their uncle's farm. But they never get there. While crossing a river, the Parkers find themselves in the company of a traveling group of bank-robbing bandits that murder their grandfather and kidnap Lula. Jack goes looking for help from the law, but the bandits made sure there was no law left where they came from. With no one to turn to, he ends up enlisting the help of trackers Eustace Cox, a huge man of mixed race, his large pet hog, and his partner Reginald Jones, a very intelligent dwarf who goes by Shorty and doesn't take too kindly to jokes about his stature. What follows is a fast-paced and wildly entertaining shoot-'em-up that only a genre-bending master like Lansdale could have created.
For a long time I've considered Lansdale the best dialogue writer out there, and if there were any doubts about it still out there, The Thicket will help dismiss them. The dialogue is crisp, very funny, smart, and believable. As an native Texan, Lansdale makes it a point to draw from the plethora of jokes, idioms, and popular sayings the South has to offer. Also, this novel, which takes at the turn of the century, gave him the chance to use sayings that are no longer used but definitely should be. The result is a series of conversations that will make readers laugh out loud more than once.
Besides the outstanding dialogue, The Thicket offers a memorable cast of characters. Shorty, for example, is a pint-sized philosopher who can discuss religion and astronomy with ease. Then he can walk into a bar, interrogate the bartender, and, when the bartender tires of him and reaches for his gun, drops this line:
"If your hand comes back into view, and it is holding anything other than what you might have dug from your butt crack, I will shoot a hole in you."
There's are many reasons they call Lansdale the Bard of East Texas, and all of them are in full display in this novel. Among the author's talents is the ability to smash genres together to create something new. The Thicket is a western, but a dark a violent one with passages bloody enough to feel at home in a horror novel. It's also a comedy, an adventure, and a coming-of-age narrative. Also, there's a wonderful balance between the elements of each genre that show up in the story. For example, Jack is forced to grow up because he learns his devout grandfather visited a whorehouse regularly, which is funny, but there are also horrible tales of torture and mutilation, and a hog that eats a few faces.
The Thicket is dark, witty, bizarre, charming, and very well written. It's also one of the best books Lansdale has written, and that's saying a lot.
—
Gabino Iglesias is writer, journalist, and book reviewer living in Austin, TX. He's the author of Gutmouth and a few other things no one will ever read. You can find him on Twitter at @Gabino_Iglesias.