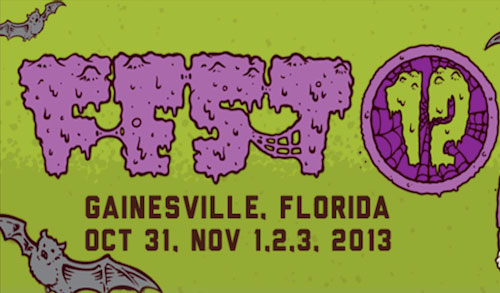 Though still nearly three months away, another Fest will be upon us soon. The 12th annual gathering of punk rockers in the city of Gainesville, Florida will be taking place starting on Halloween night and wrapping up on November 3, 2013.
Some of the highlighted bands this year will include Bouncing Souls, Knapsack, Dillinger Four, ALL, The Lawrence Arms, Samiam, Braid, BoySetsFire, Obits, Lucero, Paint It Black, FYP, Titus Andronicus, Fake Problems, Toys That Kill, Polar Bear Club, Smoke or Fire, J. Robbins (Jawbox), Tim Kasher of Cursive, Andrew Jackson Jihad, Off With Their Heads, The Flatliners, Masked Intruder, Teenage Bottlerocket, Bridge and Tunnel, and many, many more. Click here for the full lineup.
In addition to a bunch of great bands, the third annual Comedy Showcase will also be taking place, and the lineup has just been announced: Kyle Kinane, Andrew Orvedahl, James Fritz, John-Michael Bond, Ian Douglas Terry, Chris Charpentier, Luke Douglas Fields, Andy Sell, Zach Peterson,Goodrich Gevaart, Ryan de la Garza, Cody Wayne Hurd, as well as the Race to the Coffin Comedy Tour featuring: Tim Ross, Shannon Norman, Alex Stypula, Jesse Irvin, and John Dick Winters.
Tickets for all four days are onsale now for $130 — click here to check out all the options.