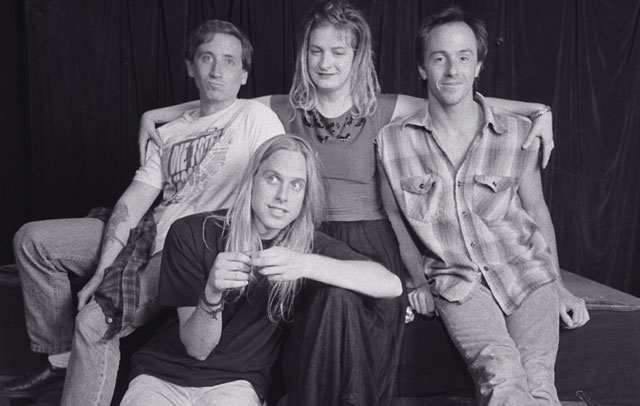 On the night of July 6, 1993, singer Mia Zapata gathered with friends for drinks at Seattle's Comet Tavern. Her band, The Gits, had just returned from a successful tour, and a major label deal was on the table. They were nearing the end of recording their second full-length Enter: The Conquering Chicken — the album that should have been their breakout record, but instead ended up being their final, posthumous release — and despite the fact that she was reportedly feeling down due to a recent breakup with her boyfriend, things were looking up for the young vocalist. She left the bar alone to go talk to a friend, and was never seen again.
Late that night while walking through Seattle's Capitol Hill District, Zapata was abducted, raped, and strangled to death by a stranger. Her body was dumped in an alley, and just like that, The Gits were done and the world had lost a brilliant artist and performer to a senseless act of horrific violence. The case went unsolved for a decade, until a DNA match made in 2003 linked Jesus C. Mezquia to crime. Mezquia was tried in a Seattle court and sentenced to 37 years in prison.
July 7, 2013 marked the 20th anniversary of the death of Mia Zapata, and while her legacy was sadly marred by her tragic fate, she should be remembered primarily for her musical contributions. The Gits were unlike any other band from Seattle. While a punk band at heart and a "grunge" band by default due to geography and timing, The Gits infused their sound with blues, R&B, and classic rock, led by Zapata's aggressive, Janis Joplin-esque voice.
If you are already familiar with the band, enjoy this playlist as rediscover some old classics. If you've never heard The Gits before, prepare to be introduced to one of your new favorite bands. When you are finished, watch the excellent documentary The Gits, available to stream in its entirety on YouTube.
"Precious Blood"

(From Enter: The Conquering Chicken)
"Second Skin"

(From Frenching the Bully)
"Whirlwind"

(Live version heard here from Enter: The Conquering Chicken reissue; studio version is on
Seafish Louisville)
"A Change Is Gonna Come" (Sam Cooke cover)

(From Enter: The Conquering Chicken)
"Daily Bread"

(Live version heard here from Enter: The Conquering Chicken reissue; instrumental studio version is on Seafish Louisville — Mia was murdered before she had a chance to record studio vocals)
"Another Shot of Whiskey"

(From Frenching the Bully)
"Seaweed"

(From Enter: The Conquering Chicken)
"Graveyard Blues" (Bessie Smith cover)

(From Kings & Queens)
"Spear and Magic Helmet"

(From "Spear and Magic Helmet" single; Enter: The Conquering Chicken)
"While You're Twisting, I'm Still Breathing"

(From Frenching the Bully)