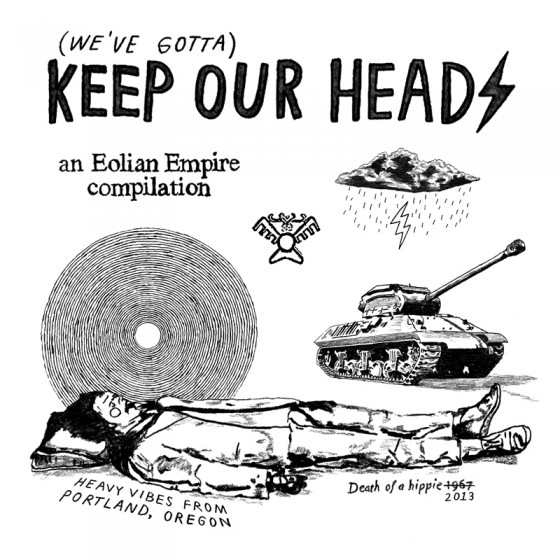 In the last few years, there has been a resurgence of loud music in the Pacific Northwest. It seems as if this part of the country has rediscovered the joys of loud rock, in all shape and sizes, again. In the case of this compilation, which is only being released on cassette and download, and whose name is a play on the old Flex Your Head compilation from Dischord Records, features a wide variety of the loudest and craziest Portland, Oregon has to offer.
This is a great document of what could possibly be one of the most diverse loud rock scenes in the country, because this compilation has it all, from grindcore to sludge to noise rock (and even some black metal and thrash) and everything in between. It covers all the bases. It offers a gritty and grimy snap shot of a scene in full bloom. You would definitely be wise to check this out, because the quality on display across the genres is pretty excellent. So, if you're open-minded, you will find a lot to like here.
Side X, starts off with the down and dirty blast beating grind of Honduran and their song "No Man's Land." Next there is a stylistic shift to Diesto's epic riff-centric rock, and then goes right into evil psychedelic metal with "Bitches Leave" from Fist Fite, which feature some truly terrifying screeches from lead bitch Jonnie Ray Monroe. Lord Dying, who are about to drop their Relapse Records debut later this summer, deliver hard-hitting sludge with "The Value Of Pity," while Norska plays uptempo sludge (if that's not an oxymoron) with "Eostre." Highly touted miscreants Drunk Dad, who are about to drop an EP on this label as we speak, bring the filth with "S.O.U." In addition, Towers' "Hell" is warped and malignant, while Big Black Cloud's "Reptile Brain" is some of the strangest noise rock you are likely to hear all year. That's saying something for this comp.
Side Y opens with the big, burly Soundgarden-esque groove of Sioux's "Ascension", before the Order Of The Gash lay down some wicked, dirty primitive thrash with "The Library Of Leng: Vol. 1 – The Hangman's Wine." The women of Sei Hexe keep it dirty and loud, with the even more primitive first wave of black metal inspired "Minutiae Obsession." LKN delivers some inspired, hard-hitting indie rock. Gaytheist, who just dropped their second album for Good To Die Records in Seattle and are starting to develop a buzz, get all hardcore on your ass with the under-a-minute burst of "Gimme Back My Blow," which also references a line from a certain well-known Metallica song, as well as its title being a play on a Skynyrd song. Rabbits, who are the label heads here, drop "Drink, Drank, Drunk," and provide that punky low-end sludge rock they do so well. Crag Dweller deal in high-octane grungy Camaro rock.
With this compilation, Portland has shown the world that it contains one of the best and most diverse scenes in the whole United States. You might think this is hyperbole, but just take a listen to this cassette and see if doesn't do the same thing for this town, that certain other compilations did for their brothers and sisters to the north in Seattle, back in the day. It's that good.
(Eolian Empire, PO Box 42073, Portland, OR 97242)