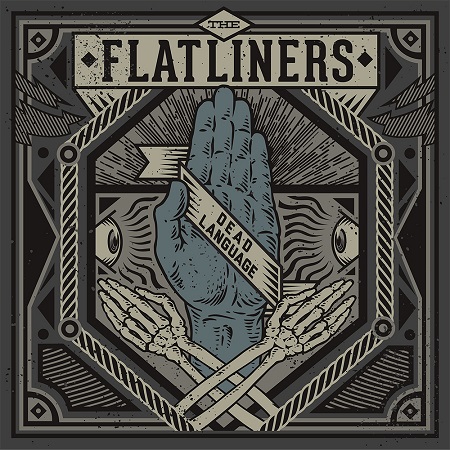 On September 17, 2013, Fat Wreck Chords is releasing Dead Language, the fourth studio album from Toronto's The Flatliners. Dead Language is the follow-up record to the band's 2010 album Cavalcade.
"Dead Language is the culmination of 10 years of hard work – our first album in three years and our fourth overall," said vocalist Chris Cresswell. "We were finally able to capture our sound and energy as a touring band on record, having recorded the majority of these songs live off the floor. This was easily the most fun we've ever had recording and I think that comes through in these songs."
Below is a list of the band's extensive 2013 tour dates.
The Flatliners on Tour
06/14 Montebello, QC, Canada @ Montebello Marina ROCKFEST w/
Rise Against
,
Less Than Jake
,
Lagwagon
,
Deftones
, Social Distortion,
Rancid
,
Dropkick Murphys
,
FLAG
,
Bosstones
,
Fucked Up
,
The Menzingers
,
Polar Bear Club
06/15 Montebello, QC, Canada @ Amnesia Rockfest 2013
06/19 Albuquerque, NM @ Gasworks w/ A Wilhelm Scream, Such Gold
06/20 Scottsdale, AZ @ Pub Rock w/ A Wilhelm Scream, Such Gold
06/21 Santa Ana, CA @ Constellation Room w/ A Wilhelm Scream, Such Gold
06/22 Camarillo, CA @ Rock City Studios w/ A Wilhelm Scream, Such Gold
06/23 San Francisco, CA @ Thee Parkside w/ A Wilhelm Scream, Such Gold
06/24 Portland, OR @ Hawthorne Theatre w/ A Wilhelm Scream, Such Gold
06/25 Seattle , WA @ El Corazon w/ A Wilhelm Scream, Such Gold
06/26 Billings, MT @ Railyard
06/26 Vancouver, BC Canada @ The Rickshaw Theatre w/ A Wilhelm Scream, Such Gold
06/28 Edmonton, AB Canada @ Ritchie Hall w/ A Wilhelm Scream, Such Gold
06/29 Calgary, AB Canada @ Republik w/ A Wilhelm Scream, Such Gold
06/30 Regina, SK Canada @ The Exchange w/ A Wilhelm Scream, Such Gold
07/02 Winnipeg, MB Canada @ West End Cultural Centre w/ A Wilhelm Scream, Such Gold
07/03 Fargo, ND @ The Aquarium w/ A Wilhelm Scream, Such Gold
07/04 Minneapolis, MN @ Triple Rock Social Club w/
Dillinger Four
,
Banner Pilot
, A Wilhelm Scream, Arms Aloft, Such Gold, Our Own End
07/05 Chicago, IL @ Reggies Rock Club w/ A Wilhelm Scream, Such Gold
07/06 Detroit, MI @ Magic Stick w/ A Wilhelm Scream, Such Gold
08/03 Exeter, UK @ The Cavern
08/04 Bristol, UK @ Exchange w/ Gnarwolves
08/05 London, UK @ Underworld w/ Gnarewolves
08/06 Southampton, UK @ Joiners w/ Gnarewolves
08/07 Norwich, UK @ Waterfront Studios w/ Gnarewolves
08/08 Nottingham, UK @ Rockcity w/ Gnarewolves
08/12 Hannover, Germany @ Bei Chez Heinz w/ Teenage Bottlerocket
08/13 Leuven, Belgium @ SOJO Club
08/14 Saarbrucken, Germany @ Garage
08/15 Freiburg, Germany @ Walfisch
08/31 Lavaltrie, QC, Canada @ Parc Gerard Lavallee POUZZA PELOUZZA w/
Strung Out
, Living With Lions, and The Holy Mess
10/12 Sao Paulo, Brazil @ WROS Festival w/ Strung Out, Less Than Jake,
Hot Water Music
, Reel Big Fish,
Pulley