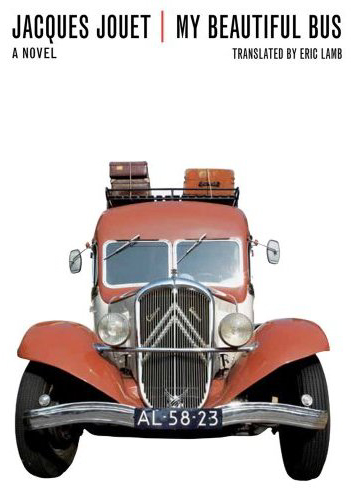 Dalkey Archive Press, 112 pages, paperback, $13.00
Bus riders are a different breed. Those who have to ride public transportation regularly are usually more jaded than the average citizen, but they also have a knack for finding beauty on both sides of those scratched windows. Jacques Jouet's My Beautiful Bus, published as part of Dalkey Archive Press's French Literature Series, is an ode to riding the bus, as well as a must-read for anyone who has sat in one with eyes drifting between the inside of the vehicle and the world outside, ears catching fragments of conversations.
Based on an actual bus trip across France taken by Jouet in the late '80s, My Beautiful Bus is a fictional reconstruction of that experience that the author created 20 years after the trip. More than the voyage itself, the narrative focuses on the scenery and, most of all, on his fellow travelers. Jouet takes the time to observe everything around him, but his immediate surroundings often lead him on detours through everything from Puss in Boots, to Pascal's maxims. Despite the richness of the story, the passengers are what the narrative focuses on the most. A silent, somewhat omniscient witness to their interactions, the narrator gives us every detail of some of the passengers' lives and conversations as the story slowly takes on a fantastical and timeless quality. As the story comes to an end, readers realize that they took an unexpected trip that has as much to do with Jouet's memories as with his talent as a storyteller.
Jouet was part of Oulipo, a French group of authors who wrote fiction using constrained writing techniques. In My Beautiful Bus, the first few pages give the impression that this will be one of his dense, almost academic tomes. However, the prose quickly changes into a relaxed, dialogue-driven pace that resonates with clarity. After this switch, Jouet's starts demonstrating his observational prowess:
"The school kids open and close the compartment door on their own. They board in bunches. There's the cocky kid, armed with a sole flap folder decorated with a garish sticker expressing his disdain for bulky schoolbags. There are those who rush toward the very back, the loudmouth boys with their little tiffs about who's on top. A girl has the right (or the cheek) to join them. She has entrusted her small backpack to her friend who has stayed up front, who isn't as pretty, and therefore doesn't have the same privileges…she resigns herself to isolation, but not without the pride of becoming, after the incident, a trustworthy confidante."
After the first third of the book, Jouet focuses mainly on the driver, Basile, and a female passenger, Odile. Their story of lost love is revealed in fragments, and then a German traveler gets on and, with his story of carrying a corpse in his luggage and seductive ways, brings about the last narrative twist, the moment in which reality is abandoned and the bus deviates from its original route to take riders on an impossible journey to "Tassili n'Ajjer, Borobudur and the Ming Dynasty tombs, the Ise mountain range, Easter Island, the Giant's Causeway, Mont Saint-Michel…"
My Beautiful Bus is an unexpected and very imaginative trip that showcases Jouet's stylish, eloquent prose in a very accessible way. It's also a book best read on the bus.
—
Gabino Iglesias is writer, journalist, and book reviewer living in Austin, TX. He's the author of Gutmouth and a few other things no one will ever read. You can find him on Twitter at @Gabino_Iglesias.