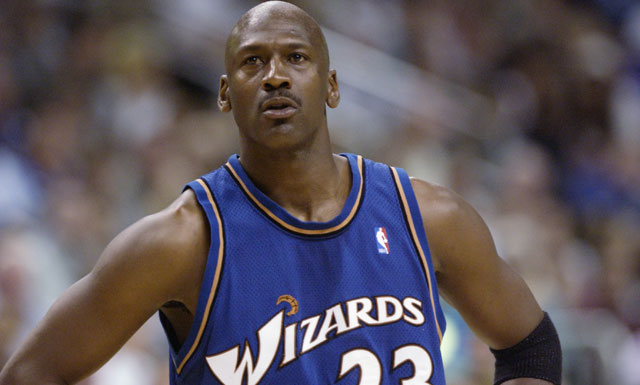 "Loyalty to any one sports team is pretty hard to justify," quipped Jerry Seinfeld during an opener to an episode of his show. "You're actually rooting for the clothes. Fans will be so in love with a player, but if he goes to another team, they boo him. This is the same human being in a different shirt!"
Jerry may have had a point — after all, in an era of free agency and increasing loyalty to money, players often suit up for numerous teams, and the idea of a franchise player seems to be a thing of the past. But still, despite the fact that athletes such as LeBron James and Albert Pujols routinely sell out a fan base that adores them for a few extra million bucks, there are still the David Ortizes and Derek Jeters who just wouldn't look right in any uniform other than the city that they've grown to symbolize.
Here are 27 athletes who, for whatever reason — a trade, a coaching opportunity, or a final attempt to squeeze just a bit more life out of their professional careers — found themselves wearing laundry that just looked plain wrong.
Babe Ruth, Brooklyn Dodgers
"The Great Bambino" started his playing career as a Hall of Fame-caliber pitcher with the Boston Red Sox and finished it as a sideshow attraction for the Boston Braves, playing 28 games with the club in 1935 before calling it quits. Odd as it might be to some to see him in the jersey of the two Boston clubs, it is even stranger to see him suited up for the Brooklyn Dodgers, for whom he served as a first base coach in 1938.
---
Mike Piazza, Florida Marlins
Mike Piazza started the 1998 season with the Los Angeles Dodgers and finished it with the New York Mets. However, in the middle of 1998, he played a meager five games with the Florida Marlins. To shed salary, the Marlins acquired Piazza from the Dodgers for a slew of pricey veterans, such as Bobby Bonilla and Gary Sheffield, and almost immediately shipped Piazza to New York for a trio of prospects, including Preston Wilson. Piazza did not hit a single one of his 427 career home runs for Florida — he did, however, hit one of his eight career triples while wearing a Marlins jersey.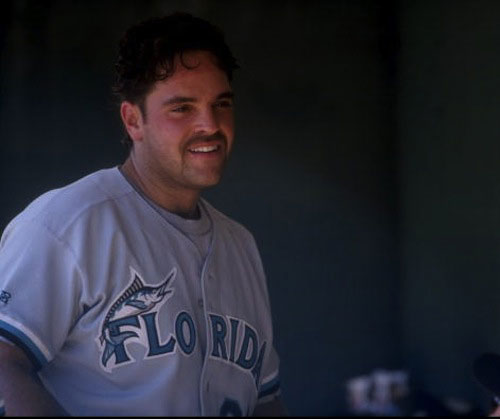 ---
Gordie Howe, Hartford Whalers
"Mr. Hockey" had a long, incredible career, suiting up for the NHL's Detroit Red Wings from 1946 until 1971. After taking a rest during the 1971-'72 and '72-'73 hockey seasons, Howe joined the WHA's Houston Aeros at the age of 45 — and played four seasons for them. Then he joined the New England Whalers, playing two more full seasons in the WHA. When the Whalers transitioned to the NHL, Howe came along with them — and played a career-high 80 games at the age of 51!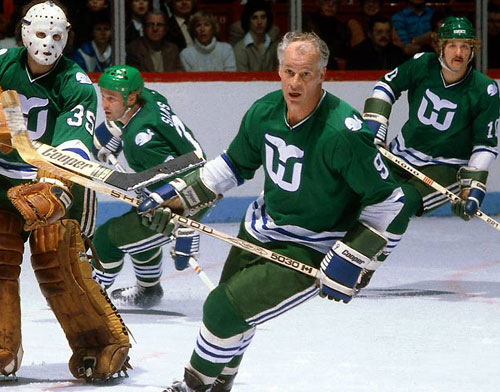 ---
Karl Malone, Los Angeles Lakers
After spending 18 years as the face of the Utah Jazz franchise, Karl Malone played 42 games for the LA Lakers during the 2003-'04 season in an attempt to finally win a championship. Despite scoring more points than anyone in NBA history other than Kareem Abdul-Jabbar, Malone would never come out on top — the Lakers were defeated in five games by the Detroit Pistons in the 2004 NBA Finals.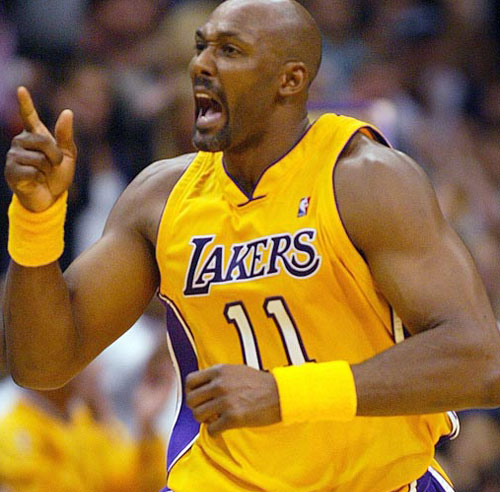 ---
Emmitt Smith, Arizona Cardinals
The NFL's all-time rushing leader won three Super Bowl championships in 13 years with the Dallas Cowboys. Though his two seasons with the Arizona Cardinals were largely uneventful, he did become the oldest player in NFL history to throw his first touchdown pass, throwing a 21-yard touchdown strike on a halfback option play. This passing attempt during his final season was the only one of his career.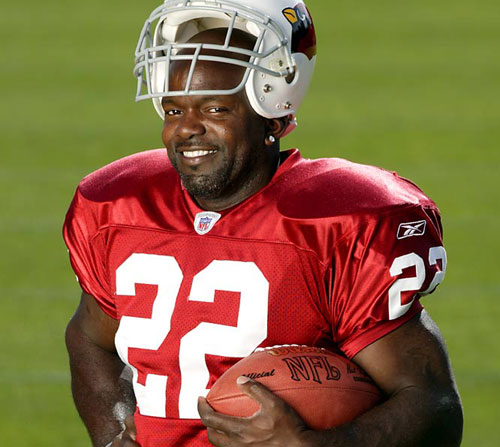 ---
Ken Griffey, Jr., Chicago White Sox
Ken Griffey, Jr. started and finished his career with the Seattle Mariners, and played the bulk of nine seasons with the Cincinnati Reds. However, in 2008 he joined the White Sox via trade for 41 regular season games as part of their push to the playoffs, and made his last of only three postseason appearance with Chicago. Unfortunately, he had just two hits in 10 at-bats in the ALDS against Tampa Bay, and struck out five times — including the final out of the series.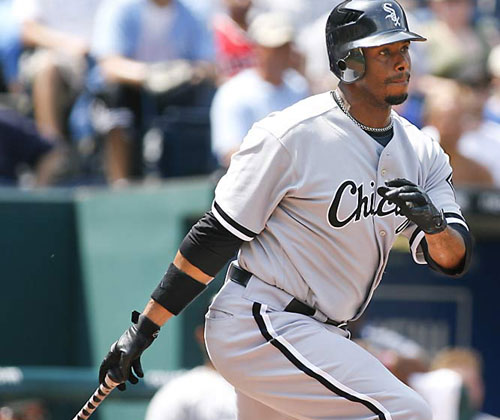 ---
OJ Simpson, San Francisco 49ers
Though most famous for wearing the uniforms of the Buffalo Bills and the Lovelock Correctional Center, OJ played his final two NFL seasons for San Francisco.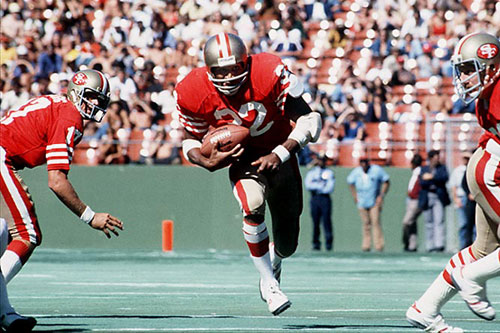 ---
Bobby Orr, Chicago Black Hawks
"Number Four, Bobby Orr" is a Boston sports legend. He won two Stanley Cup trophies with the Bruins, and revolutionized the style of play for defensemen, becoming the first (and only) defenseman to score nine hat tricks, and was the only defenseman to lead the league in scoring, which he did twice. Unfortunately, due to countless injuries to and surgeries on his left knee, Orr played only 47 NHL games after his 27th birthday — 26 of which came with the Chicago Black Hawks.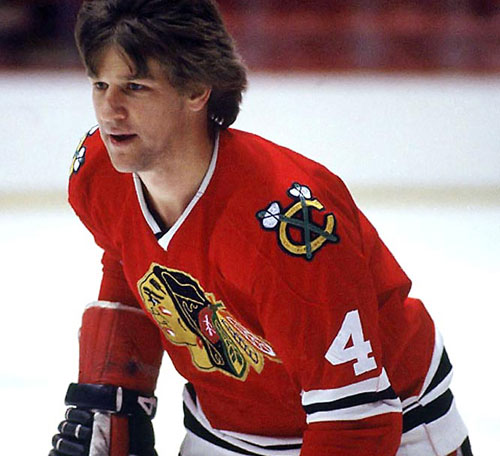 ---
Hakeem Olajuwon, Toronto Raptors
Olajuwon played 17 years for the Houston Rockets, with whom he won the 1994 MVP awards and two NBA championships. However, in August of 2001, Olajuwon declined a $13 million deal with the Rockets and was traded to the Toronto Raptors for draft picks. After one injury-riddled season in Toronto, he retired, and shortly after his number was retired in Houston.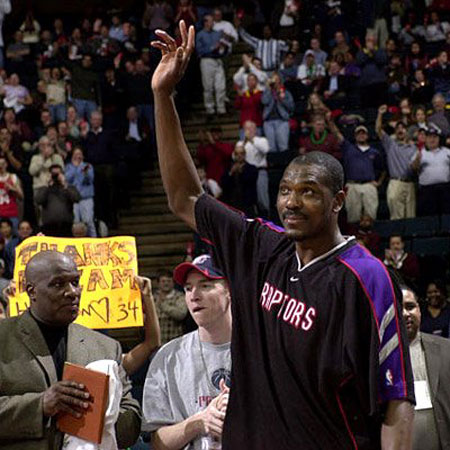 Page 1 of 3 — Click Below for Page 2