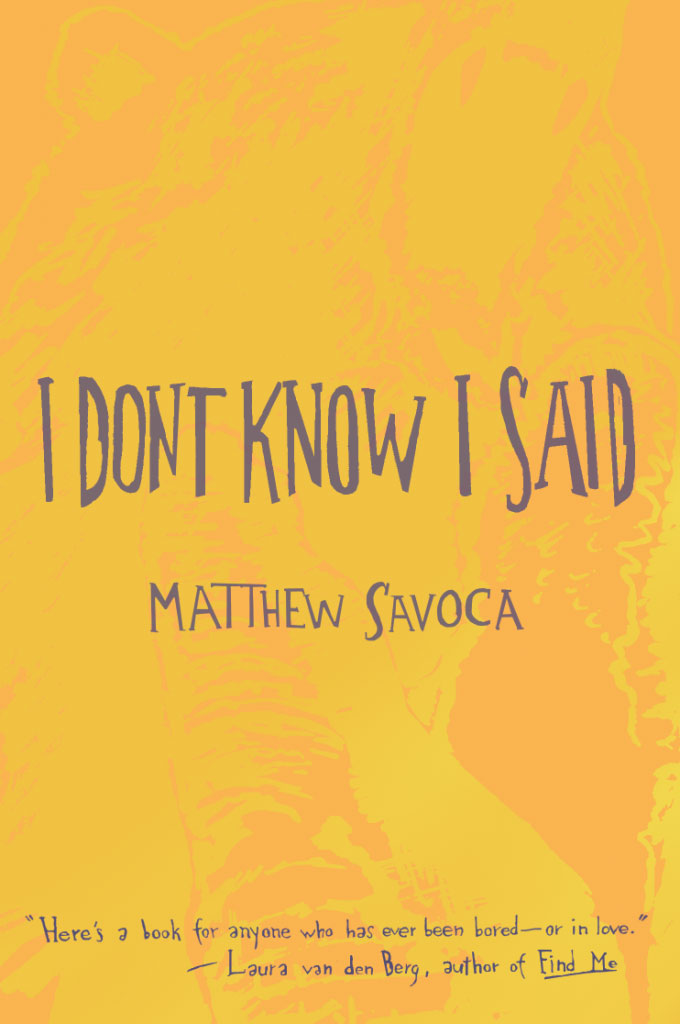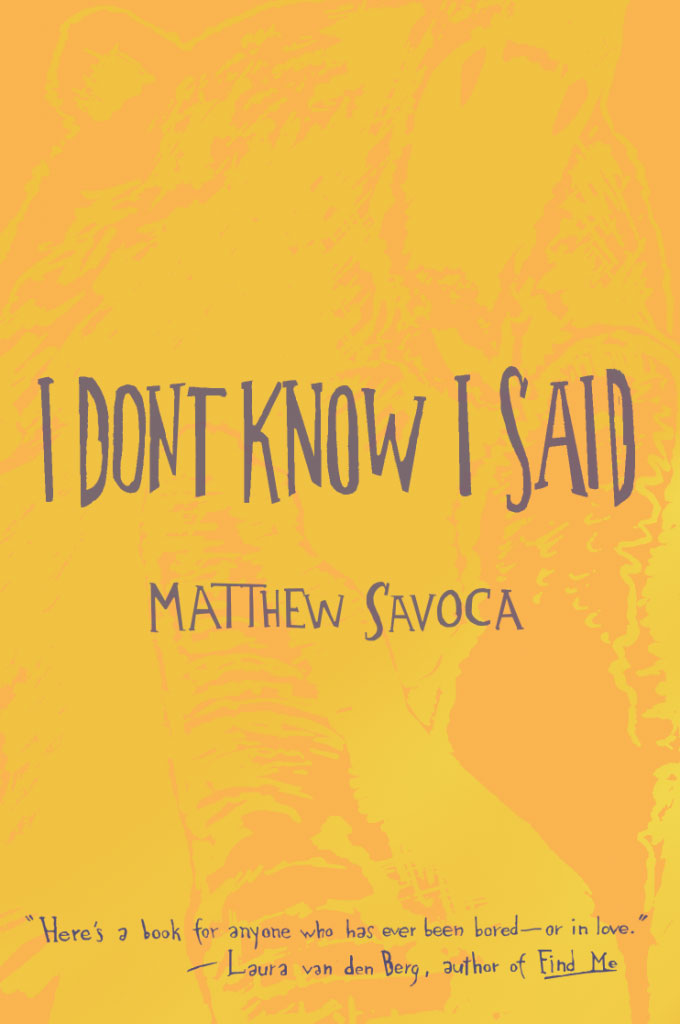 Publishing Genius Press, 200 pages, paperback, $11.00
Just like how a great song always has a bit of magic in it, great novels are the combination of an engaging story, excellent prose, and something ethereal, some intangible element that is as powerful as it is unidentifiable. Matthew Savoca's I Don't Know I Said is entertaining and well-written, but what makes it a superb narrative is that it seems to have be put together using that mysterious, insubstantial component as glue.
Arthur and Carolina are both twenty-something, in love, and have the opportunity to enjoy life without worrying too much about anything. Carolina was involved in a car accident and, while she didn't suffer any serious injuries, she received enough money to allow them to hit the road and travel around the country for a while. The couple's aimless, fast-paced wandering leads to many places, both deep and shallow conversations and, for Carolina, to start questioning their purpose and plans for the future. While constantly on the move, the couple is also stationary, mostly just waiting for whatever comes next.
While the plot of I Don't Know I Said might sound simplistic, Savoca's writing infuses it with beauty and intelligence until everything becomes relevant. Nothingness and lack of direction are used here as the starting point for questions, humor, and philosophy. Even when Arthur contemplates his disconnectedness from the real world, the result is outstanding:
"I thought about how I didn't want to live a real life. I wanted to live an imaginary life, but not entirely imaginary in the sense that everything is enclosed in that world. I wanted to think of things and enjoy the thoughts and think about and think about how things that I was thinking of and enjoying could be done, and I wanted to feel that they actually could or maybe even would be done. But at the same time, I wanted to not ever do anything, and I wanted to think that thought, and know it as a fact, but have it not affect the way I felt about the imaginary life I would have."
I Don't Know I Said is made up of little bits and pieces of overarching themes that all readers can relate to: love, anger, pointlessness, laughter, feeling lost, loneliness, desire for a brighter future, and fear of the unknown. The situations presented range from the hilarious to the uncomfortable, but what makes them special is the fact that we all feel like we've been there. Then there are the things that make it unique: a lamppost that resembles a top hat, a vegetarian sneaking in a hot dog and a soda, Carolina's depression, and Arthur's go-to reply, the three words that come to represent his personality and permeate the narrative: "I don't know."
Funny, sad, smart, and a bit too real, I Don't Know I Said dares to ask if having a plan, a focus, or the right answers is worth the hassle. Regardless of your answer, do plan on reading this one.
—
Gabino Iglesias is writer, journalist, and book reviewer living in Austin, TX. He's the author of Gutmouth and a few other things no one will ever read. You can find him on Twitter at @Gabino_Iglesias.