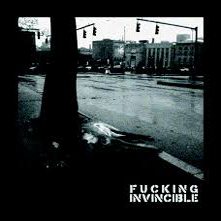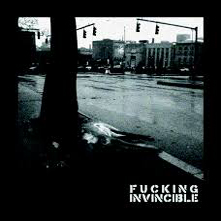 Last time I read about ex-Daughters lead singer Lex Marshall he seemed pretty content with life and was ready to let his soon to be ex-band die and move onto other things. What that entailed wasn't really made clear, including whether or not he would continue to make more music. Well, the serenity must be gone, because now he's back with a new band, which also features members of Dropdead and Soul Control, among others, and the music they play is fast, noisy, angry hardcore. It's a little more straightforward than the direction Daughters was moving toward on their last few records, and definitely reestablishes Marshall as one of the preeminent hardcore vocalists out there.
This EP is nasty, brutish, and short, and is one exciting slab of hardcore. They burn through eight songs in about nine minutes. It just hits fast and then moves on, leaving you stunned, but impressed. Fucking Invincible manage to pack a lot of ideas into these short songs. At first it seems like a blur, but when you go back and revisit it, you realize that there is a lot going on.
This vinyl EP opens with a blood-curdling movie sample, and "Please Await Further Instruction" is off with a thrashing, grind-like push before setting into a mid-paced chug at it's finish. "Too Much Black" hits fast and hard, featuring some paint-peeling screams from Marshall, while "On Paper" starts off with a noisy sludge crawl before going hyper-speed, and then downshifting again to a crawl at its end. "A Coma" features a slight drum break and detours into hardcore punk. "Standing Perfectly Still" features another creepy movie sample and manages to switch speeds quite effortlessly, ending with some screamed call and response vocals. The other three tracks, "Ingested & Infected," "Coffin Chaser," and "The Both Of Us Are Dying" are fast and short exhilarating blasts of noise and attitude.
On this second seven-inch, Fucking Invincible have crafted a mighty fine slab of noise-core, one that should keep fans of the weirder side of hardcore happy, along with people who just want to hear loud, mind-blowing music. It will be interesting to see where the band goes from here, because they are off to a fine start.
(Atomic Action!, 2030 West Main Road, Middletown, RI 02842)