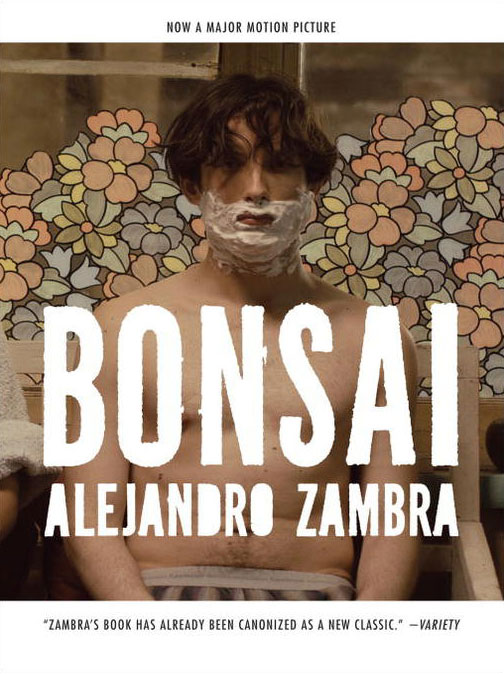 Melville House, 86 pages, paperback, $13.00
Alejandro Zambra's Bonsai actually resembles the miniature tree it's named after. For starters, its dwarfish dimensions bring to mind larger books. Also, just like a bonsai must look balanced and convey a sense of harmony between the size of the trunk, its branches, the roots, and the clusters of foliage, Zambra achieves an almost palpable equilibrium between what's said and what's left to the imagination, what's real and what's not.
Bonsai is the story of Julio and Emilia, a young Chilean couple who become lovers almost unintentionally. Although the narrative starts with them getting together, it also follows them for many years, situations, and relationships that happen away from each other. As the lives of Julio and Emilia move forward, they meet other people who play significant roles in their personal story, but still the two ex-lovers remain present, like quiet ghosts that hang around in shadowy corners. The vignettes Zambra presents vary in length and relevance, but they're all equally amusing and add to a nonlinear story line that can be devoured in a single seating and offers an onslaught of creativity and beautiful language.
In a roundabout way, this is a book about literature. The two lovebirds take central stage, but their props are books and their dialogue centers around the same thing for most of the first third of the narrative. As university students with a penchant for literature, Emilia and Julio share their love for the written word, lie to each other about what they've read, and read passages out loud to get "hot" before having sex. Also, Julio ends up writing a novel by hand when he decides to fake that he's helping a famous author transcribe his latest book. While Bonsai is very short, the fact that Zamora brings in and sometimes uses his characters to offer commentary on writers such as Juan Carlos Onetti, Raymond Carver, Yukio Mishima, Silvia Ocampo, Emile Cioran, and Marcel Proust, to name several, gives the story unexpected depth while simultaneously shining a light on the author's own undeniable talent.
Bonsai is Zambra's first novel after publishing two poetry books. The language and rhythm of his prose make it clear that he's a poet. In fact, the writing is so good it earned him Chile's Literary Critics' Award for Best Novel in 2012. Although I'd love to tell you about at least one thing that made this story worthy of a literary prize, the truth is that it'd be impossible to pinpoint a single element that eclipses all others. Why? Because Bonsai is multilayered, unclassifiable, and, most complicated of all, beautiful.
Despite its brevity, Bonsai is a satisfying read that gives the reader a sense of having experienced a long story. Also, special kudos go out to translator Carolina de Robertis, who managed to keep the poetry of the Spanish language in her translation. According to his online biographies, Zambra is being lauded as one of the greatest writers of Chile's younger generation. Judging by this book, that praise sounds about right.
—
Gabino Iglesias is writer, journalist, and book reviewer living in Austin, TX. He's the author of Gutmouth and a few other things no one will ever read. You can find him on Twitter at @Gabino_Iglesias.