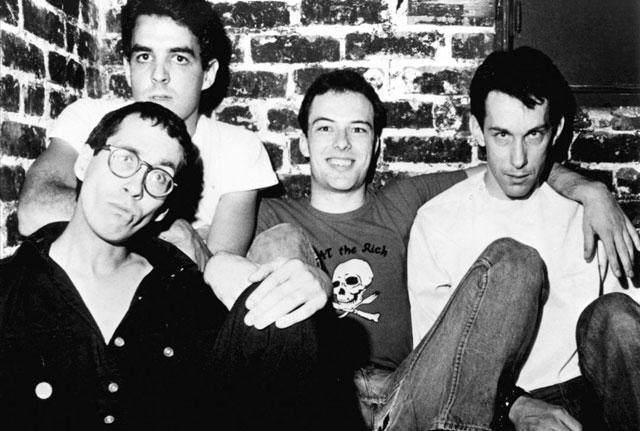 Earlier today, the Dead Kennedys posted the following message on their official Facebook page:
Jello Biafra is now currently playing many Dead Kennedys' classics like "Holiday in Cambodia" & "California Uber Alles" with his new band. East Bay Ray, Klaus Flouride, and DH Peligro play all those songs too. Fans are asking – who wants to see them play these classic songs together again?
The dubious statement caused some to believe that the band was possibly teasing a forthcoming reunion with Biafra, with Dying Scene posing the possibility to readers.
However, when questioned, general manager of Alternative Tentacles Records Jesse Townley stated, "Nothing like this is happening as far as I know."
Starting tomorrow, Jello Biafra and the Guantanamo School of Medicine is kicking off their touring for their new record, White People & the Damage Done at Coachella, and will be following it with a series of West Coast dates and Australia/New Zealand shows, which are listed below.
Jello Biafra and the Guantanamo School of Medicine on Tour
4/12 Indio, CA @ Coachella
4/13 Sacramento, CA @ Blue Lamp
4/14 San Francisco, CA @ Great American Music Hall
4/16 San Luis Obispo, CA @ SLO Brew
4/17 Long Beach, CA @ Alex's Bar
4/19 Indio, CA @ Coachella
4/20 Las Vegas, NV @ Country Saloon
4/21 Scottsdale, AZ @ Pub Rock
5/07 Wellington, New Zealand @ Bodega
5/08 Auckland, New Zealand @ Powerstation
5/10 Adelaide, Australia @ Fowlers
5/11 Melbourne, Australia @ Corner Hotel
5/12 Melbourne, Australia @ Corner Hotel
5/14 Perth, Australia Rosemount Hotel
5/16 Brisbane, Australia @ Hi-Fi
5/17 Coolangatta, Australia @ Coolangatta Hotel
5/18 Sidney, Australia @ The Metro
5/19 Newcastle, Australia @ Cambridge Tavern