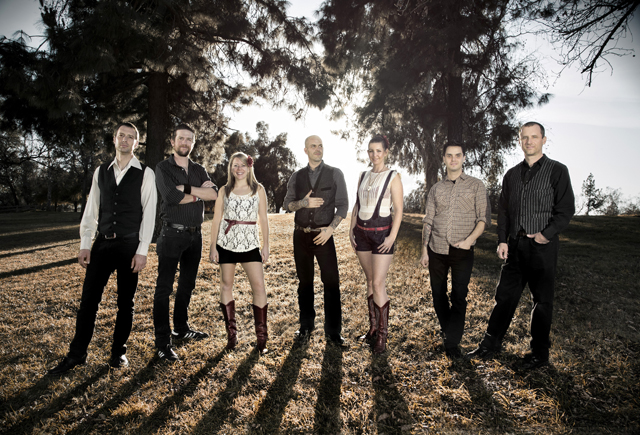 Whether you've had your eye on them since their inception in 2007, or whether this is the first time you've heard of them, there's no denying that Old Man Markley is a rapidly rising band. With a great fusion of bluegrass and punk rock, this Los Angeles-based band creates a sound that everyone can enjoy –from your near-deaf grandmother, to the safety-pin-faced punker washing your windshield.
I caught up with lead vocalist and guitar player John Carey during Old Man Markley's tour with Dropkick Murphys to discuss future tours, his relationship with punk rock legends, and his band's newly-released second full-length album, Down Side Up.
Where are you headed tonight?
Right now, we're headed to Pensacola Beach in Florida. It's our day off from the Dropkicks tour; we have our own little venue there, a place called Patty O'Leary's. We've been there about four times now and we sell out this little bar-stop. Good times. It has about 150 capacity; it's a little Irish pub. First time we played there I think was probably on our first tour with NOFX in 2011.
Can you fit the whole band on stage?
It's not even a stage. They set up a corner of the room. It's really rad. We squeeze into there, [and] it's really intimate. Like I said, it's probably our fourth time returning and we just pack the place and have a great time.
How long have you been on tour for?
First show was in Phoenix, Arizona on the 16th of February. We're a couple weeks in and we'll be home on the 25th of March. So almost a five-week tour.
And then you're blasting off to Japan?
Yeah, we're home for about four days to get our things together. We pack all our gear and we're headed to Japan. We're doing PUNKSPRING, which is a huge festival in Tokyo. That's really exciting. We're only going to be there for about a week.
But then you have some dates in Europe?
Yeah, after Japan we'll be home for a few more weeks, then we're gonna be heading out to Europe. We got booked onto a festival in Belgium called Groezrock, which we played in 2011 when we were out there with NOFX. It was a huge success for us. We had an amazing time and we did great as far as getting our point across. We got invited back and we're turning that into what will end up being another month at least in Europe. We're doing some dates with Pennywise and I expect it to be great.
What's it like touring with the Dropkick boys?
This tour has been unbelievable. The band is just a machine; they're amazing to watch play and watch how they work. Definitely something we aspire to be one day — to be as kick-ass as they are. They're great guys, and the music seems to really complement that.
We've had a great set every night, the fans are really receptive — we're making tons of new fans every night. For us, it's the perfect tour, especially now that we're supporting our new album, Down Side Up. Most people, I think, have maybe heard of us but didn't know what to expect. It's great for us, especially with what we're trying to do [which is] introducing bluegrass with a side of punk rock, it's the perfect crowd. And it reflects every night with our merch sales and how much music we're getting out there. It's going really well.
Let me get this straight, how many members are in your band? Your website lists eight, but I'm counting nine in the pictures.
We're a seven-piece, [but] we spent a good time as a nine-piece. Our first album we recorded with nine members. Once we started touring, we went to eight. It all depends on what was working being on the road. We got down to seven people who have been extremely committed to this. For Down Side Up, we're officially a seven-piece. Our mandolin player played on a few songs on this record but this is the line-up as of now: it consists of Katie Weed on fiddle, John Rosen on the banjo, Joey Garibaldi (we call him Joey Balls) on the washtub bass, my wife, Annie [DeTemple] on the auto-harp, and Ryan Markley on the washboard.
Is Ryan the one the band is named after?
That's right. He acquired the nickname several years before we even had this band. He earned it at a young age, so there's the irony of calling him Old Man Markley. He's not old at all.
What would you say are the pros and cons touring with a big band?
There's definitely a lot more pressure on us working on someone else's schedule. We're trying not to get in anyone's way. I feel Dropkick Murphys is such a huge production, they start setting up around two o'clock every day.
The pros are that we get to experience more professional production; the cons are we get less time to play our songs. On this tour, we're doing 40- to 45-minute sets. However, if you were to come see us play tonight on our own, we'd probably play a 90-minute set. We'd have our own crowd that wants to see us, [and] more of an opportunity to do our own thing, playing songs we're working on, new material. Which is great for us because we're just constantly creating.
Are you working on any new punk covers?
Yes, we just finished a No Use For A Name song that's actually going to come out on a benefit comp that Fat Wreck Chords is going to do. We just got out of the studio and it turned out amazing, it's probably one of my favorites that we've done as far as the covers go. I don't really know the release date, I'm assuming April or May; it's going to be the one-year anniversary of Tony [Sly]'s death. I know there's going to be a lot of great bands that are also part of it.
We got into the punk rock covers initially because we wanted a B-side that was exclusive to our seven-inches. With Fat, we originally recorded the "Science of Myth" [by Screeching Weasel], that was on our first seven-inch. Not everyone knows, but we actually did another punk cover on BYO Records of "We're In!" [by Youth Brigade] back in 2009. The whole punk rock cover thing has become something that the more we do it, the more fun it is. Maybe at some point, we'll even release all our B-side punk covers on one album. Joey Balls and I spent a few years playing with Youth Brigade; we did several tours with them around the world. It's what got us on that comp to start.
What was it like playing with the Stern brothers?
It was wild. Just for us, it was our dream come true, [and] we probably would still be doing it if Old Man Markley hadn't taken off as it has. We grew up listening to Youth Brigade; Mark and Shawn Stern are great guys. Mark Stern has been managing us since the beginning of our second year together. It's wonderful, he's almost like our mentor or father-figure in a lot of ways to a lot of us. There's a lot of love.
And what was it like working with Fat Mike on this new record?
It was totally rad, I was really excited. We didn't know how it was going to go as far as his availability. We spent most of June working on that album; NOFX was on tour that whole time. A lot of working with Mike was in the pre-production and the demo process. He did his input on the tracks. In a lot of ways, we produce ourselves, so Mike [is] there [to] give us his OK on everything. He had some great input and he made it really easy for us.
I think it's the beginning of a long relationship. He was so supportive from day one; he signed with our band just off of our album, he had never even seen us play live. Once he saw us play, he was like, "Oh Jesus, I love you guys even more!" For Mike, I think he's proud that we take his advice; we work extremely hard and it reflects with how we do as a band.
You played with NOFX during Occupy LA, right?
Yeah, me and my washboard player, Ryan met up with Mike and Melvin in LA. The week before, Mike and Melvin did a little appearance in San Francisco where only 40 people turned out. I hit Mike up and said, "Hey, are you going to do LA? Let me know if you do. I wanna come with you." And he wrote back "Yeah, it'll be so much fun, let's do it! Do you have any guitars? Do you have any equipment? Because we don't have anything." So Ryan and I rolled up and there was probably 4,000 people there. We played for about maybe an hour. It was amazing and it was a great thing to be part of.
I noticed this album was a lot more political than the last. Did the Occupy Wall Street movement influence any of the new songs on the new record?
We support something that affects us. We're middle class, maybe lower class. Annie and I are homeowners; we're on a mortgage. We all struggle day to day just to survive at this point.
We felt like our involvement was important. We do have some political songs on our album and they support what we believe in. We have a song that we had written when we wrote Guts N' Teeth — it didn't make that album, but we decided to put it out on this record, as it seemed more relevant for the times. A song called "America's Dreaming" is about having an open mind and to think about the big picture — but that was before we participated in the Occupy movement at all. You can hear that song on our new album.
It's a pretty good track. Personally, I like "Come Around Here"
I love that one. Annie sings on that song, and it was one of the first couple that we wrote for this album, so we've been playing that song live for a while. I like it because it's lyrically like a "fuck off" song, but it's got this super-fun positive melody that it rides over. That song features the mighty kazoo, and it also features Annie's godfather Darrell Leonard, who's a Blues Brother concurrently. He's an amazing trumpeter, and he's played on thousands of records, from The Band, to Janis Joplin, to the Grateful Dead. He's a studio player, top call in LA for the past 45 years. He did some backing trumpets on that song, under the kazoo. It turned out really good.
How did you get into bluegrass?
Initially we were coming from punk rock, but we were connected to bands like the Devil Makes Three and more bands that do a folky-punk blend. We have a punk rock energy and try to incorporate different instrumentation. I never feel like our writing style has changed — it was just arranging with bluegrass instrumentation, which just opened up this whole new world of influence for us. Punk rock is folk music, if you really want to define it; it's music for the people — as is bluegrass, it's punk and country. It's an obvious marriage. It was so easy for us to keep doing what we do, but have a new sound, especially coming out of LA.
And how did you go about finding a banjo player or a washboard player? Did Annie always know how to play the auto-harp?
The washboard player, Ryan Markley, was our drummer. When we started Old Man Markley, we were talking about this project with Ryan, and he called washboard. It was something from back in the day watching bands like Throw Rag, who had a washboard player in the early days. I knew Ryan had a few other bands that he mentioned, it's just funny that he always wanted to do it. He said, "Oh, I wanna play washboard! Let's start this acoustic bluegrass punk band." It came to him so naturally.
Our first time [implementing] a banjo was a different player than we have currently, with Nick Gerow. Nick wrote a few songs with us, so he was involved with the band in that way. We still play some of those songs. He played with us for the first two years before leaving the band and John Rosen joined in 2010. Right when John joined, we were preparing to go into the studio to record Guts N' Teeth, so John recorded on the album. At that point, we knew the banjo was a big part of our sound. It's an important instrument to bluegrass — you gotta have it.
[The banjo] wasn't anything foreign to us; it's been part of our lives. For example, my father-in-law, Michael DeTemple, moved here to LA and we run a company together called DeTemple Guitars. And Mike's an old folk player, he's a banjo player, mandolin player. When he was 15 years old, he played in a truck band, really similar to what we're doing. If you can imagine six people in their 60s playing jugs, banjos, kazoos, and washboards. We were just reaching out to what was available to us, instrumentally. Annie went out and grabbed an auto-harp, and after a few practices, she picked it up quick. I guess that's how we've come to be.
Is there anything else you would like to add?
Unfortunately, our website has been useless for the last few years, but we're launching a new site, and we're definitely going to be on the road for a few years. We have Australia in the works and we're talking about Canada. And I'm sure we'll be coming back to the East Coast again at the end of next year. Keep yours eyes and ears open — if we're coming to your town, come check us out!