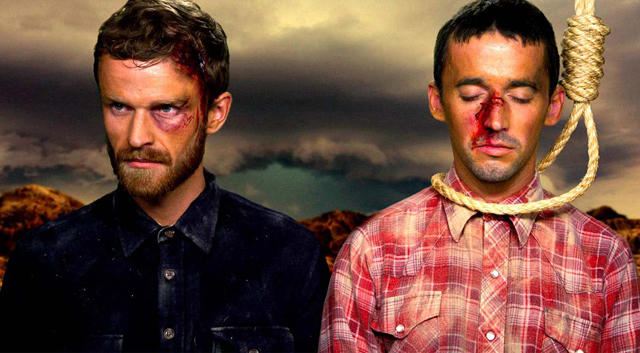 One could argue that Javelin's breakthrough came at a 2008 performance at the Museum of Modern Art. The event, whose surreality on the heels of a performance at a local library in New England — the shifting venues without a clutch is described as "hilarious" by the band, cousins George Langford and Tom Van Buskirk — preceded a move to Brooklyn and a drawing of the admiring eye of the music website Pitchfork. Javelin's self released EP Jamz n Jemz made the site's 2009 staff list of the 50 best albums of the year, and the song "Vibrationz" was deemed a "Best New Track," among other compliments — a fair amount of admiration in a borough choked with musicians. Eventually, Langford and Van Buskirk caught the eye of David Byrne's Luaka Bop label, which signed the duo in 2010. (To answer your question, no, they have not met Byrne, but they did ride the city bus with him in a dream once.)
No Mas, the band's debut LP, featured cover art by Van Buskirk, further cementing the band's connection to the visual arts aspect of the va/noise scene they sprung from in Providence, Rhode Island.
"Providence absolutely shaped us," Tom Van Buskirk says. "We learned to take weirdness seriously and to go down your own rabbit hole." Tour dates with acts like Sleigh Bells and Major Lazer and continent hopping followed, as did a road weariness that manifested itself in Canyon Candy. Steel guitars melt down like votive candles amidst rattling prairie schooner drums as the band engaged their inner Ennio Morricone.
"Other bands have said to us that they listen to the record on the road through the US and it is the perfect soundtrack to their semi-exhausted state and to the American wilderness. That's what inspired the album in the first place." Canyon Candy was accompanied by a film and art installation helmed by Mike Anderson.
Javelin's newest release, Hi Beams, is a return to a more gallery pop aesthetic, one which marries just enough avant-garde sensibilities to resist the electro-pop label but retains the tightness and urgent pleading for physical movement. The result is an album that is odd and approachable, bright and shimmering and a touch off, like a dance floor on ketamine.
The dances comes in flavors; "Nnormal" features a low end which grabs a hold of the ribcage and bounces a smattering sounds on top of it until a twin, slithering vocal/synth line winds through the ink like a sea snake. In juxtaposition, the brassy arena rock of "Judgement Nite" calls to mind the unbridled, slightly raw enthusiasm of Japandroids or the primal, howling sexuality of Warrior Ke$ha. Jittery, Starfucker-esque bass-driven pop drives the infectious "Airfield."
An infusion of bubblegum melodies puts a pink veneer on some tracks, a breath of the distinct, perfumed scent of Beatles influence wafting from each harmony. Indeed, when asked about current musical tastes, Buskirk champions Tame Impala before mentioning that they "grew up on the Beatles, so the arrangements and vocal quality hits me right in the center of my musical brain" — a claim that the piano-driven "City Pals" corroborates.
As strange as it may seem — maybe not, however, considering you are currently on a website that spends a fair amount of time writing about music, which, when one thinks about, is quite ludicrous; akin to "dancing about architecture," as Martin Mull (supposedly?) put it — the visual art influence to Javelin lies deeper than just their roots or album covers. For those of you out there whose nights consist of hopping from one gallery to the next in a crimson-lipped, ornately stockinged, delicately cravated, upper-fueled haze, Javelin has graciously provided you a soundtrack; you only must provide the art and cocaine.