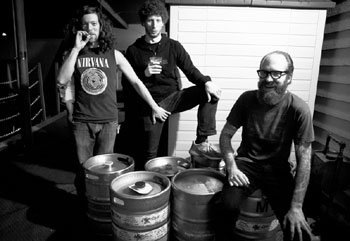 Sandrider play the type of fist-pumping, non-ironic, loud, grungy rock that you thought vanished in the late '90s. But here we are in 2013, and this Seattle band consisting of ex-Akimbo members Jon Weisnewski (guitars/vocals) and Nat Damm (drums), as well as Jesse Roberts (bass) of The Ruby Doe are here to remind us of the finer points of musically throwing down and rocking out.
Sandrider's self-titled debut album came out in late 2011 via Seattle-based Good To Die Records, and is chock full of catchy, head-snapping riffs and big, primal, slamming rhythms and catchy choruses. It was easily of one the best hard rock records that year, and left listeners wanting more. So, I contacted Weisnewski to gain some insights to the band's past and, more importantly, to see what they have in store for the future.
How did the band form, and what was the impetus to put it together? When did you decide to make performing in Sandrider your main concern?
The band formed purely from a personal desire I had to start playing guitar again after years of just crushing shit on my bass. There's only so much low-end domination these hands can toss out there before they get restless. We started just playing around with ideas and asking different dudes to come around and get loud. I would argue that even though it's currently our "primary band," it still isn't our main concern, as you say. Our main concern is more just having fun and being rad rockers. Sandrider fits in there nicely, as does drinking beer, playing XBox, reading comics, and yelling at UFC fights.
Jon, you and Nat have been playing with each other for years in Akimbo, and now in Sandrider. What type of musical bond, if any, do you share?
Hell yes there's a musical bond. At this point we can pretty much read each other's minds. I know how to write songs that will fit right into Nat's wheel house, that he will be able to pummel his drums to like a beast. We both know exactly how drunk the other person can be to rock some shit but not fuck up too bad.
Why the name Sandrider? Is it a sci-fi geek reference, or does it just fit the big, burly rock you play? Or a little bit of both?
It is purely a Dune reference. I was reading a lot of Dune when we were starting the band, and Herbert's shit just kind of worms its way into your head. It is really good stuff, and I highly recommend it to anyone who hasn't read the original series. It will occupy your mind completely. I dare you not to name a band after it.
Who came up with the statement "Louder Than Louder Than Love"? And was it inevitable you make it into a really cool looking t-shirt?
Nat and I both came up with it independently. He made the design everyone knows, but when I saw it I opened the design up on my phone and it was all blown out and huge. I had to scroll around to see the whole image, so I missed the spoof tag line. I replied to the mail and was all "Are we huge jerks if we make it say Louder Than Louder Than Love?" and Nat was all "That's what it says, dumbass" — again, going back to that bond question and reading each other's minds.
At first I was a little dubious about it because we're all huge, legitimate Soundgarden fans. I love that band. But then they started leaking out tracks from King Animal and I was like, fuck it, gloves off, print that shit. Still a huge fan though. I can't say if we're really louder than they were when that album came out. Nat and I were lucky enough to get into that secret Showbox show a few years back when they first reunited, and I have to say that was one of the loudest shows I've ever seen, and I have seen all the "loud" bands that people brag about being super loud. So [to answer the second part of the question], probably not, no.
How would you say Sandrider is different from Akimbo? How would you say it is similar? Why the shift to a more straightforward, noisy rock band?
Sandrider has a much more impulsive writing process. The songs that make the cut are the ones that jump to my mind, are easy and fun to play, and have this cerebral sticking factor when I'm writing. I don't censor or redirect myself and go for any particular vibe, or make sure it doesn't sound like some other band or song. We end up straight ripping other songs as a result, but who cares? Good rock is good rock. It was less of an intentional "shift" to a different sound than it was just opening up and not trying to control the process so much.
Do you think the type of noisy, loud rock the band plays is coming back into style? Not just in your hometown, but elsewhere?
I don't think good, loud rock has ever really gone out of style, but there are definitely more people willing to spend their Friday nights watching rock bands than there were a few years ago, which makes a musician's life much more fulfilling. So yeah, seems like that is accurate. Bring it people!
What are the future plans for the band? Is there going to be more extensive touring, possibly hitting the East Coast, and other places you haven't played? Is there another record in the pipeline?
Probably not so much touring. Nat and I are both getting married to our lovely lady friends this year, and I'm still pretty tied down to my awesome day job. There is definitely a new album in the works right now, and we're always up for fly-ins if its not going to break our banks. This band has thrived on not taking itself seriously and not "trying" to be a full time band, so we aren't going to interrupt that. It makes for a very personally rewarding experience when you don't have to kill yourself and destroy your home life just to make a band "happen," if that makes sense. "Not giving a shit is the new DIY," I guess is a way to say that. Heh.